New Stuff
[hide]
Photos of the Day
[hide]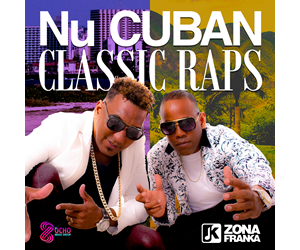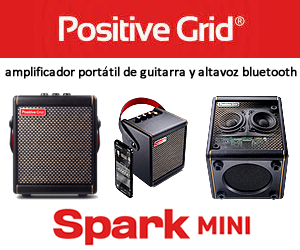 JoJazz 2017 Day 3 - Composition Competition
JoJazz 2017 Day 3 - Composition Competition
November 18, 2017
Sala Avenida, La Habana, Cuba
Photos and commentary by Bill Tilford, all rights reserved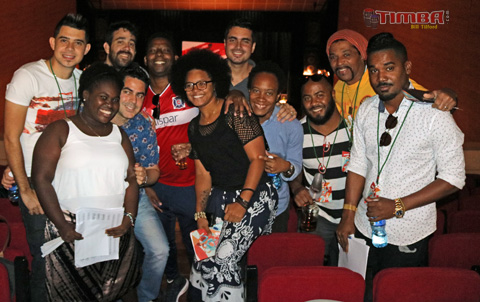 Part of the Jury....

ENGLISH: For the Composition competition, each composer must present a work of a minimum duration of 3 minutes. The format is otherwise free. There was variety both in the styles of the works presented and the formats of the interpreters. A couple of unusual items of note were the tuba in Mario Salvador Rodríguez Morales' work (tuba is rarely seen in a modern Jazz setting in Cuba) and the Manouche style employed by tresero/composer Juan Miguel Sánchez Vidal. Alexey León, who has already released a recording, utilizes influences from Cuba, Spain and Russia for an interesting result.
ESPAÑOL: Para la competencia de Composición, cada compositor debe presentar una obra de una duración mínima de 3 minutos (no hay máxima). El formato es libre. Hubo variedad tanto en los estilos de las obras presentadas como en los formatos de los intérpretes. Un par de elementos inusuales fueron la tuba en la obra de Mario Salvador Rodríguez Morales (la tuba rara vez se ve en un ambito moderno de jazz en Cuba) y el estilo Manouche empleado por tresero / compositor Juan Miguel Sánchez Vidal. Alexey León, que ya ha lanzado una grabación, utiliza influencias de Cuba, España y Rusia para obtener un resultado interesante.
The winners of the Composition Competition were: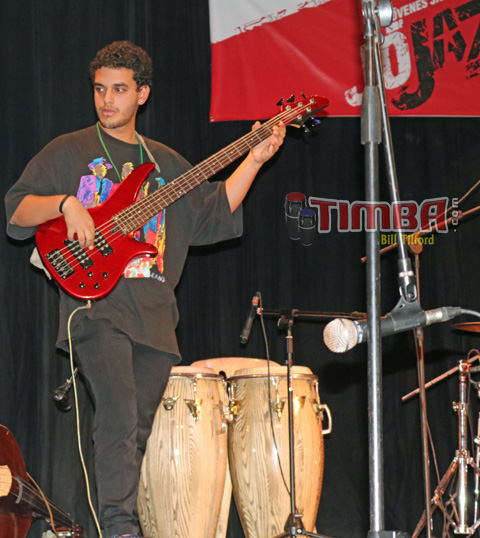 1st Place: Roberto Mario Álvarea Serra (bassist, Conservatorio José María Ochoa de Holguín)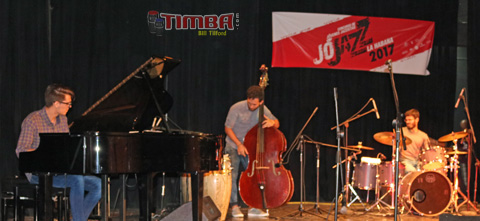 2nd Place (shared): Adrián Estévez Rodríguez (pianist, ISA)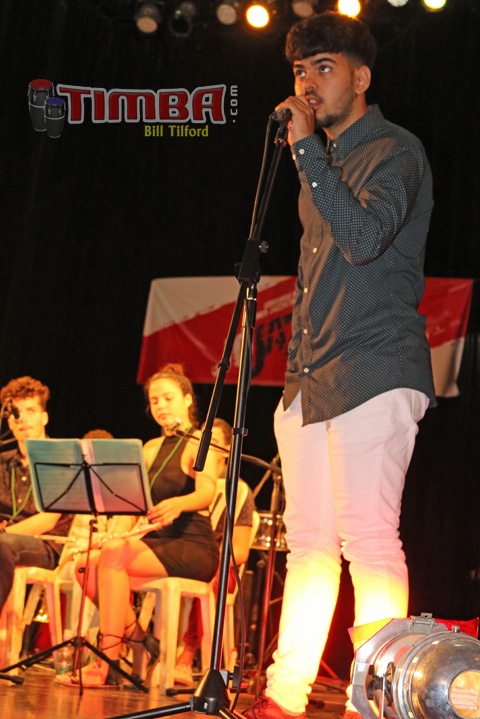 2nd Place (shared): Mario Salvador Rodríguez Morales (tresero, ENA)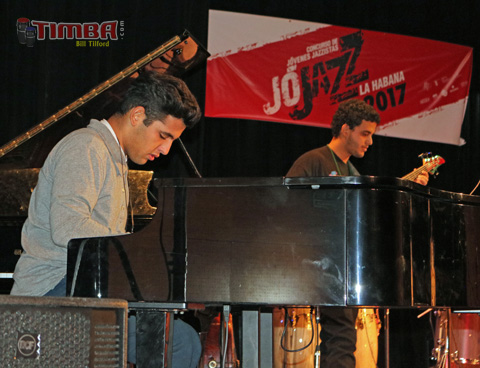 3rd Place: Alberto Luis Cuenca González (pianist, Conservatorio José María Ochoa de Holguín)
Mentions (shared):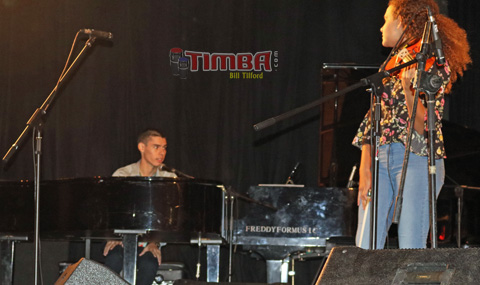 Rodrigo García Ameneiros (pianist)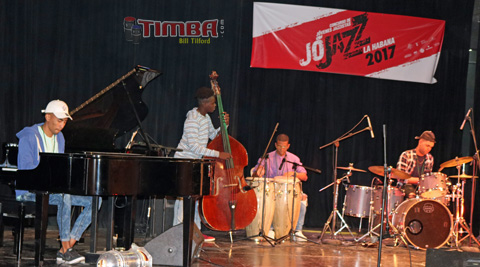 Jorge Daniel Pérez Cuesta (Camagüey)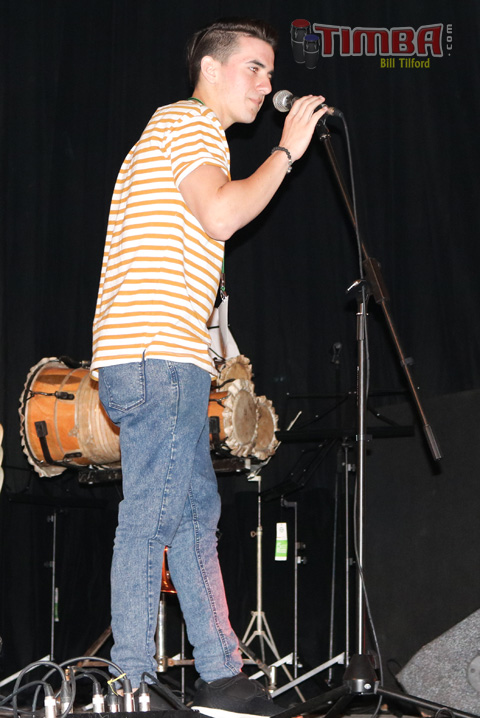 Ernesto Hernández Viña (trumpet)
ENGLISH: Click on the miniatures below to view photos of the contestants. If there are any errors, corrections and additions to the names of the contestants may be sent to bill.tilford@timba.com
ESPAÑOL: Haga clic en las miniaturas que siguen para ver las fotos de los concursantes. Si hay algún error en la lista publicada aquí, las correcciones se pueden enviar a bill.tilford@timba.com

Composition/Composición:

Rows 1-2: Mario Salvador Rodríguez Morales with others - La Habana (ENA)
Rows 3-4: Rodrígo García Ameneiro (piano) with others - La Habana (Amadeo Roldan)
Rows 5-6: Marlon Castro Delgado (flute) with Bladimir Linares (piano), Diego Barrera (guitar), Diego Miguel Hernández González (trumpet, Camilo BOnne and Ronny Orta Betancourt - La Habana (ENA)
Row 7: Adrián Estévez Rodríguez (piano) with Marcos Morales (percussion) and Samuel Burgos (bass) - La Habana (ISA)
Row 8: Steve Rodríguez Águila (piano) with Pedro Luis Leal Águila (percussion) - Villa Clara)
Rows 9-10: Juan Miguel Sánchez Vidal (tres) with Yilian Valera O'farril (bass), Maria Miranda Quintero (violin), Abdiel Alarcón (clarinet) and Erick Mediaceja (percussion) - Villa Clara
Rows 11-12: Alexey León (sax) with Miguel Ángel García (piano) and Samuel Burgos (bass) - Spain
Rows 13-14: Enrique A. Carballo González (bass) with Jonli Benitez Rodríguez (sax), Ernesto Hernández Viña (trumpet), Nolberto Reyes (bass), Yunior García (percussion) and Jaila Gesto Garcés (vocalist) - Holguin
Row 15: Jorge Danial Pérez Cuesta (piano) with Enrique A. Carballo González (bass), Jonli Benitez Rodríguez (sax), Ernesto Hernández Viña (trumpet), Nolberto Reyes (bass), Yunior García (percussion) and Jaila Gesto Garcés (vocalist) - Holguin
Row 16-17: Roberto Mario Álvarez Serra (bass) and Alberto Luis Cuenca González (piano) with Ana M. Lamotte González (sax), Carlos A. Leyva Sarmiento (clarinet/sax), Neyla O. Meriño Caballero (flute) and Arián Benigno Boloy Stivan (drums)
































































Bill Tilford - Tuesday, 02 January 2018, 01:36 AM