Lo Nuevo
[hide]
Fotos Del Día
[hide]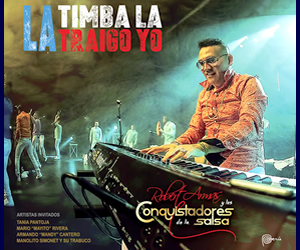 Jazz Plaza Gallery 3
Jazz Plaza, Havana, Cuba, December 2013 / Jazz Plaza, La Habana, Cuba, Diciembre 2013
Gallery III / Galeria III
by/por Bill Tilford, all rights reserved / todos los derechos reservados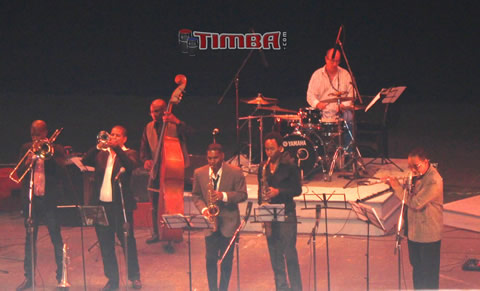 Part of the Habana Jazz Collective plus Maraca
ENGLISH
Night Three (December 21) offered us even more difficult choices with Carlos Miyares scheduled to play at the Sala Maxim Rock and Bobby Carcasses at the Casa de Cultura de Plaza, but we knew that we would see both of them tomorrow night, so we opted for the Teatro Mella once again. Bassist Jorge Reyes opened the performance, and his segment ended with a nice bass duo with Gaston Joya. Later in the evening, the Habana Jazz Collective performed. This segment included trumpeter Yasek Manzano and cameos by flautists Andrea Brachfeld and Orlando "Maraca" Valle. Although this is not a pure Avant-garde Jazz ensemble by any means, it does delve into that part of the spectrum; we are reminded a little of the period of when Sun Ra was first incorporating Avant-garde into his reportoire. It will be fascinating to see where this group goes musically in the future.
After the Mella performance, we relaxed for a while before heading off to catch Los Van Van at the Casa de La Musica Galliano. We had to leave our camera in the coatroom (club policy) and don't have photos to share with you, but it was fun to see them live on their home turf.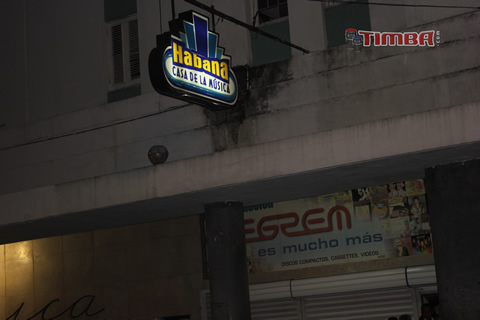 (Our camera didn't make it all the way inside, but the rest of us did...)
The final night (December 22) was the grand climax, and even though each of the eight venues listed had music worth hearing, the programme at the Mella (William Roblejo, Carlos Miyares and Bobby Carcassés, who is also a founding father of Jazz Plaza) brought us back to the Mella yet again. William Roblejo is a progressive Jazz violin virtuoso with a remarkable stylistic range that demonstrates a full command of the history of instrument in Jazz. Carlos Miyares has been described in other places as a post-Coltrane saxophonist, and listening to him does induce a similar level of euphoria. Bobby Carcassés closed out the night with a large ensemble that included a roaring brass section, Andrea Brachfeld on flute, Don Pancho Terry on chekere and a few other surprises. In addition to playing excellent trumpet, Bobby is also a fine scat singer, and when he is in that mode, he might be the closest thing that Cuba has produced to a Mel Torme (listen to each of them scat separately, and you'll see what we mean). This was a phenomenal finish to a festival that had already been world-class.
Click on the images below to view and enlarge them.
Row 1: Jorge Reyes
Rows 2-3: Habana Jazz Collective
Rows 4-6: William Roblejo
Rows 6-7: Carlos Miyares, Bobby Carcassés
Rows 7-10: Bobby Carcassés
ESPAÑOL
La tercera noche (21 de diciembre) nos ofreció aún más opciones dificiles con Carlos Miyares programado para tocar en la Sala Maxim Rock y Bobby Carcassés en la Casa de Cultura de Plaza, pero sabíamos que ibamos a ver a los dos mañana por la noche, así que optamos para el Teatro Mella una vez más. El bajista Jorge Reyes abrió el show, y su segmento terminó en un bonito dúo de bajos con Gaston Joya. Más tarde, el Habana Jazz Collective actuó. Este segmento incluyó trompetista Yasek Manzano y cameos de los flautistas Andrea Brachfeld y Orlando "Maraca" Valle. Aunque el HJC no es una "Ävant-garde" grupo por cualquier medio, se ahonda en ese parte del espectro; nos recordamos un poco a la época temprano de Sun Ra cuando él empezaba a incorporar los primeros elementos del Avant-garde en su reportoire. Será fascinante ver donde este grupo pasará musicalmente en el futuro.
Después de la actuación en Teatro Mella, nos relajamos un rato antes de ir a escuchar Los Van Van en la Casa de la Música Galiano. Tuvimos que dejar nuestra cámara en el guardabolsas (la politica de la Casa), y por eso no tienen fotos para compartir con uds, pero fue muy divertido gozar LVV en vivo en su propia casa.
La última noche (22 de diciembre) fue la gran culminación, y a pesar de que cada una de los ocho lugares listado tenía música que vale la pena eschuchar, el programa en el Mella (William Roblejo, Carlos Miyares y Bobby Carcassés, que es también uno de los fundadores de Jazz Plaza) nos trajo de vuelta a la Mella otra vez. William Roblejo es un virtuoso del Jazz violin progresivo con una gama estilistica notable que demuestra un dominio casi completo de la historia del instrumento en el Jazz. Carlos Miyares ha sido descrito en otros lugares como saxofonista post-Coltrane, y escuchar a él pueda inducir un nivel similar de euforia. Bobby Carcassés cerró la noche con un gran final que incluyó una sección rugiente de vientos, Andrea Brachfeld en la flauta, Don Pancho Terry en chekere y algunas otras sorpresas. Además de tocar un trompeta excelente, Bobby también es notable cantante de Scat, y cuando esté en ese modo, prodía ser el hombre más cercano a un Mel Torme que Cuba ha producido (escuche a cada uno de ellos por separado, y se puede oír lo que queremos decir). Fue en final espectacular a un festival que ya hábia estado de clase mundial.
Haga clic en las imágenes par ver y ampliarlas:
Fila 1: Jorge Reyes
Filas 2-3: Habana Jazz Collective
Filas 4-6: William Roblejo
Filas 6-7: Carlos Miyares, Bobby Carcassés
Filas 7-10: Bobby Carcassés








































Bill Tilford - Saturday, 04 January 2014, 07:53 PM