New Stuff
[hide]
Photos of the Day
[hide]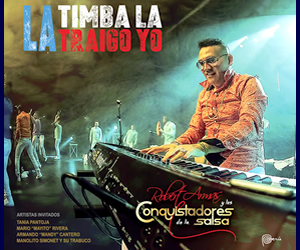 Jazz Plaza Gallery 2
Jazz Plaza, Havana, Cuba, December 2013 / Jazz Plaza, La Habana, Cuba, Diciembre 2013
Gallery II / Galeria II
by Bill Tilford, all rights reserved / todos los derechos reservados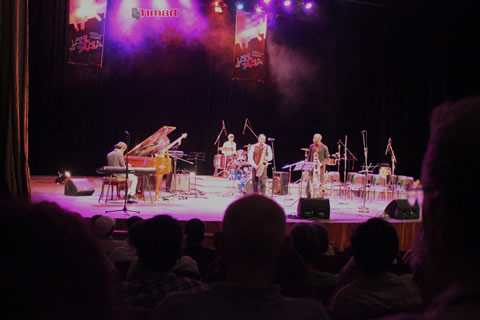 Michel Herrera, Teatro Mella
ENGLISH
The second night (20 December) of the official festival once again provided some tempting and rather difficult choices, but Teatro Mella was presenting some of the "young lions" of Cuban Jazz, so this was the final choice for much of the evening. The offerings included rising saxophonist Michel Herrera, pianist Aldo López Gavilan and Joaquin Betancourt y la Joven Jazz Band. This last group was a modern big band; all three of these ensembles played progressive arrangements, and we expect all of these names to become more widely known internationally in the future. Based upon what we heard from the young people in these performances, we believe the future of Jazz in Cuba to be in good hands.
After the performance at Teatro Mella, we went over to the Casa de Cultura de Plaza, where a performance by the Kranzelbinder/Hoffmann Quartet from Austria (a Blues-oriented group) was already in progress. Our true motive for this choice, however, was to see Klimax. a Timba band whose musicians also have the ability to play Jazz. Indeed, at the beginning, the music was complex enough that people remained seated, listening intently. However, once the singers came on, a dance party broke out, and this continued for some time. Since this writer usually only sees Timba groups live in the US, it was truly refreshing to be at an event where people were actually enjoying the music and dancing without a throng crowding the front of the stage obsessed how many things they could capture with their i-phones and tablets.
Finally, more Jazz at the hotel before sleeping.
Click on the images below to view and enlarge them:
Row 1: Michel Herrera
Row 2-3: Aldo López Gavilán
Row 3-4: Joaquin Betancourt y la Joven Jazz Band
Row 4: Kranzelbinder / Hoffmann Quartet
Row 5-6: Klimax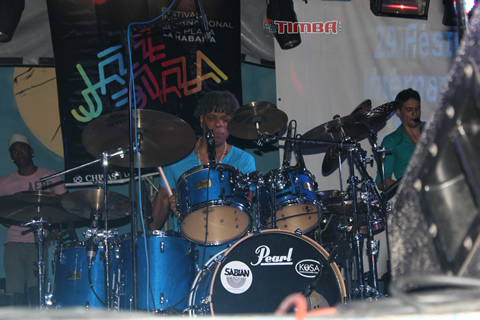 ESPAÑOL

La segunda noche (20 de diciembre) del festival oficial previsto una vez más algunas opciones tentadoras y bastante dificiles, pero el Teatro Mella estaba presentando algunos de los "leones jóvenes" del Jazz Cubano, por lo que esto fue la elección final de gran parte de la noche. Las ofrendas incluyeron el ascendente saxofonista Michel Herrera, pianista Aldo López Gavilán y Joaquín Betancourt y la Joven Jazz Band. Este último grupo fue un big band moderna, y estos tres grupos tocaron arreglos progresivos; esperamos que todos ellos serán conocidos a nivel internacional más ampliamente en el futuro. Sobre la bases de lo que hemos escuchando de los jóvenes en estas actuaciónes, creemos que el futuro de Jazz en Cuba estará en buenas manos.
Después de la actuación en el Teatro Mella, nos fuimos a la Casa de Cultura de Plaza, donde la actuación de la Kranzelbinder / Hoffmann Quartet de Austria (un grupo orientado de Blues) ya estaba en marcha. Nuestro motivo verdadero de esta elección, por supuesto, era ver Klimax, un grupo de TImba cuyos músicos también tienen la capacidad de tocar Jazz. De hecho, al principio, la música era suficientemente complejo que la gente se quedó sentado, escuchando atentamente. Sin embargo, una vez que aparecieron los cantantes, una fiesta de baile estalló, y esto continuó por un rato. Dado que este escritor usualmente sólo ve conciertos de Timba en vivo en EE.UU. fue verdaderamente refrescante estar en un evento donde la gente estaba realmente disfrutando de la música y el baile sin una multitud delante del escenario obsesionado con la cantidad de cosas que se pueden capturar con sus celulares y tabletas.
Al final, más Jazz en el hotel antes de dormir.
Haga clic en las imágenes para ver y ampliarlas:
Fila 1: Michel Herrera
Fila 2-3: Aldo López Gavilán
Fila 3-4: Joaquin Betancourt y la Joven Jazz Band
Fila 4: Kranzelbinder / Hoffmann Quartet
Fila 5-6: Klimax























Bill Tilford - Friday, 03 January 2014, 09:18 PM