Lo Nuevo
[hide]
Fotos Del Día
[hide]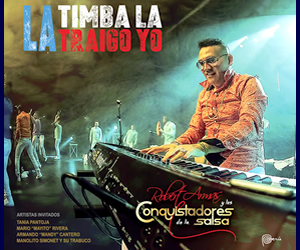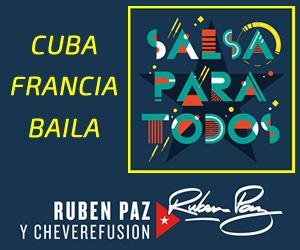 Macabeo 2nd AC Fest
Orquesta El Macabeo at the 2nd Annual Afro-Carribean Improvised Music Festival
Bottom Lounge (Salsa/Bachata Fridays), Chicago IL 14 December 2012
&
Willowbrook Ballroom, Willow Springs. IL 16 December 2012
Review and Photos by Bill Tilford, All Rights Reserved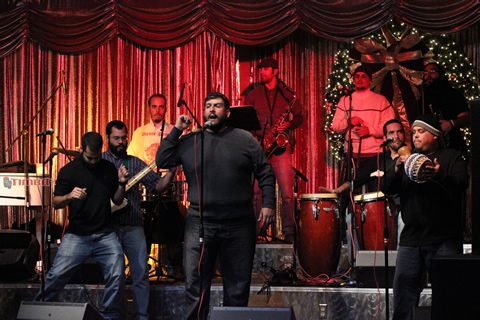 Orquesta El Macabeo at the Willowbrook Ballroom
Omar Torres-Kortright of Agúzate first brought this group to our attention last year during the record fair associated with the first festival. Their Chicago (and we believe their mainland) debut was in July of 2012. You can read about that and more about the band here. We were glad to see them back, and so were the dancers. Orquesta El Macabeo is a 12-piece ensemble from Puerto Rico that travels as a unit (no substitutes) and puts on a show that is tight enough to be impressive while still loose enough to get some great chemistry going with audiences. In a word, these guys are as much fun as you are permitted to have in Salsa without getting arrested for it.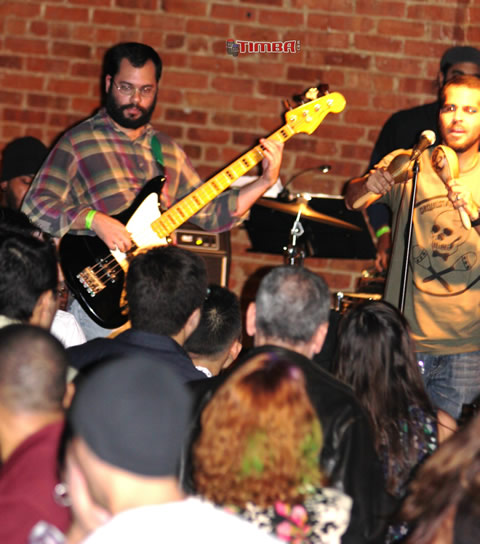 Orquesta El Macabeo at the Bottom Lounge
In our first article earlier this year, we stressed the cutting-edge stuff that this band does, and the dancers really got into this, but this group does also have some respect for tradition; while it can and does crank at high speed as well as any "Salsa" band we've heard, it also includes a few slower numbers in its set -- even some bolero, which contrary to rumor is not extinct - we had the pleasure of seeing some young people on the floor during the bolero and - gasp - dancing close and sometimes (the horror, the horror) even holding each other just like we did back in the old days before they started teaching people that these dances are supposed to be like Zumba exercises or something (as in ok to hold hands like they are parts of a steering wheel or the back if you really must when you dip but no further than that, oh no...) Next thing you know, a lot of people may even start recognizing what the different rhythms are called. On second thought, no, probably not. But they are having a lot of fun here, and that's a good place to start.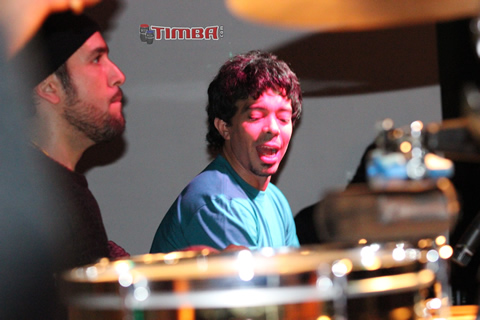 Orquesta El Macabeo at the Bottom Lounge
In between the Friday night show at the Bottom Lounge and the Sunday night show at the Willowbrook Ballroom, El Macabeo received a very enthusiastic reception during a Saturday show in St. Louis. The Bottom Lounge and the St. Louis shows were very well attended; we had been forewarned that the Willowbrook show was something of an experiment in terms of both time and location, and it was the least well-attended of the three. (That didn't dampen the band's spirit a bit - they played as hard as they would have played for a thousand people.) It's a very nice ballroom, one of the nicest we've seen for its type in fact, and in theory it would make an excellent facility for future events of this type, but more research would probably be needed to find the best way to draw larger audiences before using it for other major live Salsa events on a regular basis.
José Ibáñez Reyes, the leader of the band, tells us that a new recording is in the works for 2013, and we look forward both to it and what we are reasonably sure will be the band's return some time next year. If they can avoid the kinds of accidents that befall so many rising bands, these guys will be going places.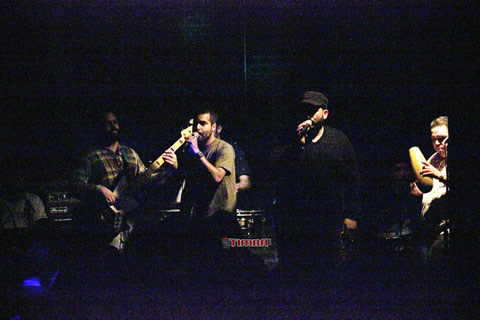 (No, it wasn't really that dark in the Bottom Lounge, but we thought this might make a good companion for one of their "heavier" songs. We'll let you guess which one.)
The pictures to follow are from both the Bottom Lounge and the Willowbrook Ballroom. This is just part of the feast, for some really great action shots from the Bottom Lounge, see Joshua Bennett's special gallery. The band's website (they have 2 CDs and some vinyl for sale along with other things) is orquestaelmacabeo.com. But first, you can click on the thumbnails below to enlarge the images. The top row and the first three images from the left in the second row are from the Bottom Lounge; the remainder are from the Willowbrook Ballroom:

























Bill Tilford - martes, 15 enero 2013, 07:37 am