Maqueque Jazz Showcase June 16
Jane Bunnett & Maqueque, Jazz Showcase, Chicago, Illinois
16 June 2017
Photos and commentary by Bill Tilford, all rights reserved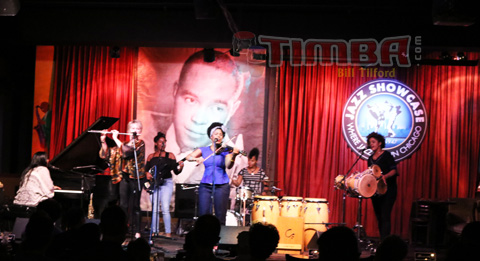 ENGLISH: Jane Bunnett & Maqueque are in Chicago for a 4-night performance at the Jazz Showcase touring in support of their new album Oddara. This photo gallery is from their early show on Friday, June 16. This edition of Maqueque includes Jane on flute and reeds, Elizabeth Rodríguez on violin, Danae Olano on piano, Celia Jimenez on bass, Yissy García on drums and Magdelys Savigne on percussion.
This is a serious Cuban Jazz & Rumba project, but it also has moments of good humor, especially La Flamenca Maria & El Chivo as well as a unique treatment of Leon Russell's Song For You.
It is worth catching this group if you can.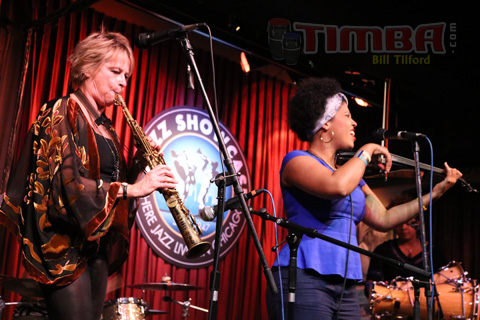 ESPAÑOL: Jane Bunnett y Maqueque están en Chicago 4 noches en Jazz Showcase de gira en apoyo de su nuevo álbum Oddara. Esta edición de Maqueque incluye a Jane en flauta y saxo, Elizabeth Rodríguez en violín, Danae Olano en piano, Celia Jiménez en bajo, Yissy García en batería y Magdelys Savigne en percusión.
Es un proyecto serio de Jazz cubano y Rumba, pero también hay momentos de buen humor, especialmente La Flamenca María y El Chivo, así como un tratamiento único de Song For You de Leon Russell.
Vale la pena ir a un show si puedes.

Click on the images below to enlarge them / haz clic en las imagenes para ampliarlas




















Bill Tilford - Saturday, 17 June 2017, 11:39 AM