Lo Nuevo
[hide]
Fotos Del Día
[hide]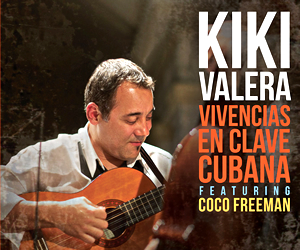 Me Dicen Cuba, Teatro Karl Marx, May 22, 2014
Me Dicen Cuba live at the Teatro Karl Marx, La Habana, Cuba, 22 May 2014
Photos and review by Bill Tilford, all rights reserved

ENGLISH:

EGREM has been throwing quite the celebration for its 50th Anniversary with a variety of events including special concerts. It has also been working on the final release of a 2CD plus DVD package titled Me Dicen Cuba that is designed to express Cuban values and capture the spirit of the nation and people through a wide range of music from Classical to traditional Cuban music to current styles such as Timba. A limited edition copy of a 2-CD package was released during Cubadisco (which this writer attended), and you can read a review of that here. A large part of the world is aware of some of the project due to the Havana d'Primera video with that titlle, and that song is indeed part of a much larger work to be fully released to the public in the months to come.
During Cubadisco, a combination live + audiovisual performance of Me Dicen Cuba was held at the Teatro Karl Marx, and the project was presented with a Special Prize during the performance. This was an impressive, rousing performance that included some video not yet seen by the global public along with live dance performances to some of the music. (Remember that the scope of Me Dicen Cuba includes a wide range of genres from Classical to Timba, so needless to say, some of the music is not dance music.)
One of the most touching moments in the performance was an appearance by Los Van Van, who did quiet well in spite of the recent loss of Juan Formell. We hope that this proves to be a positive signal regarding the band's ability to carry on in the future.
Click on the thumbnails below to enlarge the images.
ESPAÑOL:

La EGREM está celebrando su 50° aniversario en una manera muy impresionante con una gran variedad de eventos, incluyendo conciertos especiales. También ha estado trabajando en la versión final de un paquete de 2CD más DVD titulado Me dicen Cuba que está diseñado para expresar los valores cubanos y capturar el espiritu de la nación y el pueblo a través de una amplia variedad de música y artistas desde la clásica hasta la música cubana tradicional y los estilos actuales, tales como la Timba. Una copia de una edición limitada de un paquete de 2CD fue lanzado durante Cubadisco (este escritor lo asistió), y se puede leer una reseña aquí. Una gran parte del mundo es consciente de una parte del proyecto debido al video de Havana d'Primera con ese titulo, y esa canción es de hecho parte de una obra mucho mas grande con una fecha de lanzamiento del producto completo al público en los meses venideros.
Durante la feria Cubadisco, un concierto en directo + audiovisual de Me dicen Cuba se celebró en el Teatro Karl Marx, y el proyecto fue presentado con un Premio Especial durante el concierto. Esto fue una actuación impresionante y entusiasta que incluyó video clips no todavia visto por el público mundial, junto con espectáculos en directo del baile y de la música. (Recuerde que el ámbito de Me dicen Cuba incluye una amplia gama de generos desde el clásico hasta la timba. por lo que no hace falta decir algo de la música no es la música de baile).
Uno de los momentos más emotivos del espectaculo fue un segmento de Los Van Van, que fue excelente a pesar de la reciente pérdida de Juan Formell. Esperamos que esto resulta ser una señal positiva sobre la capacidad del grupo para continuar en el futuro.
Haga clic sobre las imágenes para agrandarlas.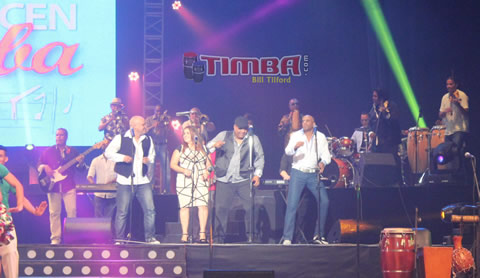 Bill Tilford - martes, 03 junio 2014, 02:56 pm