OFarrill @ Mella May 2015
Gala por el centenario de Chano Pozo, con Arturo O'Farrill y invitados
Teatro Mella, La Habana, Cuba, 17 May 2015
Photos and commentary by Bill Tilford, all rights reserved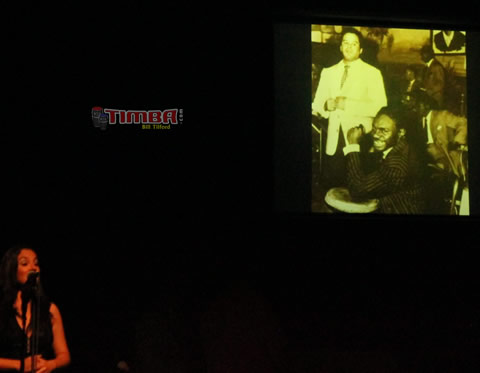 ENGLISH: One of the most important cultural ties that bind the United States and Cuba is Jazz, a genre to which Cuba's contributions have been indispensable since the beginning and never really ceased even in the most tense moments between the two countries during the past half century. This concert was for the purpose of honoring the centennial of Luciano "Chano" Pozo's birth. Chano was born on January 15, 1915 in Havana and died in 1948 in New York. During his all too brief time in New York, he was a powerful musical influence on Dizzy Gillespie and is considered to be one of the founding fathers of what is now called Afro Cuban Jazz (and Latin Jazz generally).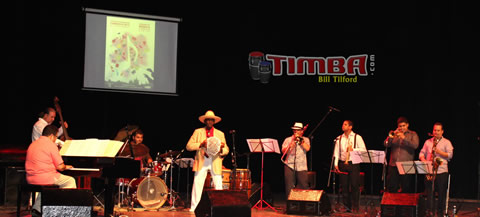 The evening began with a review of Chano Pozo's life, which was followed by an intense concert by a group organized by Arturo O'Farrill which included (among others) Don Pancho Terry, Alexis Bosch, Yasek Manzano, Adel González and the Coro del ICRT. Arturo happens to be the son of another very important figure in the evolution of Latin Jazz, Chico O'Farrill, but he is not living in his father's shadow. He recorded a project in Havana recently, Cuba: The Conversation Continued, and his projects in the United States have been distinctive.
Within the United States, there is a perpetual conversation in some circles about whether Jazz is in a state of creative stagnation. To those who believe that the answer is 'yes", I would say "come to Cuba and listen".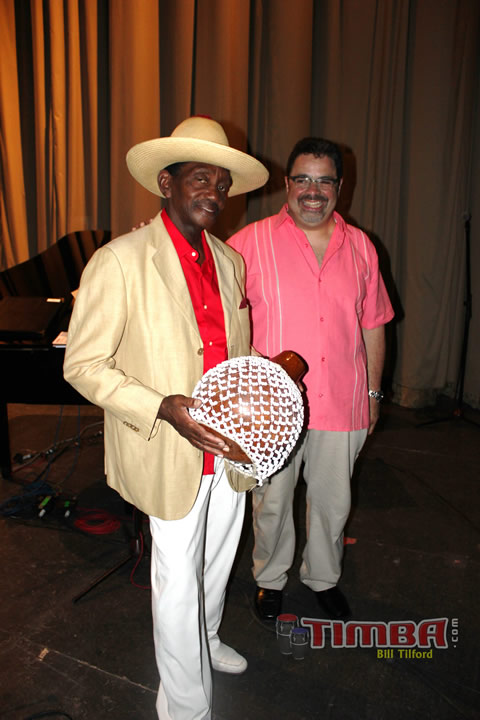 ESPAÑOL: Uno de los lazos culturales más importantes que unen a los Estados Unidos y Cuba es el jazz, un género al que las contribuciones de Cuba han sido indispensables desde el principio y nunca cesaron, incluso en los momentos más tensos entre los dos países durante el último medio siglo. Este concierto fue con el propósito de honrar el centenario del nacimiento de Luciano "Chano" Pozo. Chano, nació el 15 de enero de 1915 en La Habana y murió en 1948 en Nueva York. Durante su demasiado breve tiempo en Nueva York, fue una poderosa influencia musical en Dizzy Gillespie y es considerado como uno de los padres fundadores de lo que hoy se llama Afro Cuban Jazz (y el Jazz Latino en general).
La velada comenzó con un repaso de la vida de Chano Pozo, que fue seguido con un concierto intenso por un grupo organizado por Arturo O'Farrill, que incluía (entre otros) Don Pancho Terry, Alexis Bosch, Yasek Manzano, Adel González y el Coro del ICRT . Arturo pasa a ser el hijo de otra figura muy importante en la evolución del jazz latino, Chico O'Farrill, pero él no está viviendo en la sombra de su padre. Él grabó un proyecto en La Habana recientemente, Cuba, la conversación continuada, y sus proyectos en los Estados Unidos han sido distintivos.
Dentro de los Estados Unidos, hay una conversación perpetua en algunos círculos sobre si Jazz está en un estado de estancamiento creativo. Para aquellos que creen que la respuesta es "sí", yo diría "vengan a Cuba y escuchen".
Click on the images to enlarge them / Haga clic en las imagenes para ampliarlas.




















Bill Tilford - jueves, 30 julio 2015, 10:13 pm