New Stuff
[hide]
Photos of the Day
[hide]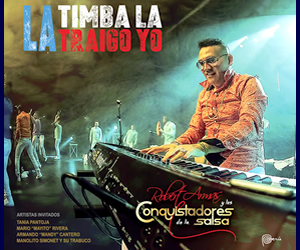 Pedrito Martinez Group at City Winery
PMG 20/20: Timba Fusion Now Fortified With Its Own Wine...
(Pedrito Martinez Group at City Winery, Chicago, 15 March 2014)
Photos and Review by Bill Tilford, All rights reserved

The Pedrito Martinez Group has garnered international respect and developed a base of fans that follow them with near-religious fervor in places New York and the San Francisco Bay Area, but Chicago, even with multiple visits, had proven to be a bit more of a mixed bag for them in the past due to some misadventures with sound systems in some other venues coupled with a historical reluctance on the part of what could be some of its fan base there to open its wallets for concerts and a relatively small number of Chicagoans who are able to dance to this style compared to the dancers on both coasts. It was therefore a pleasure to see them in a Chicago setting where almost all of the right things came together - the sound system and the acoustics were excellent, the band and the audience were completely at ease with each other, and the room was nearly full in spite of the fact that many of the same Chicagoans who love to wave the flag at a free (or $5.00) concert of Cuban music (and frequently complain of a shortage of same) were once again absent. The takeaways are what they always have been for this city - market the right music properly to a broad audience, and it will come, as it did here; fail to reach out to everyone, and there will be a shortage of bodies in the audience.

The expression "sticking to the basics" may be an oxymoron in the case of this group, which functions like a complicated watch that also swings, but the set was more emphatically Cuban than one might have anticipated from some of the reviews of their last CD, which included a cover of I'll Be There that may have attracted excessive attention (and mixed reactions) in some circles at the expense of the more fundamental aspects of their music. This repertoire worked beautifully for the concert, and although dance space was limited due to the blessing of a full booking of tables, the Cubanas who were present were quite visible in the aisles (and later on stage). The vocal harmonies are rich and tight enough that this trombonist enjoys them in spite of the absence of brass, and Ariacne's piano lines keep getting deeper and more varied. Their cover of Que Palo Es Ese, one of their signature tunes, keeps getting better with age as well.

A new, self-labeled wine (not tested by this low-carb reviewer) was unveiled for the occasion, and the group has worked more banter into their show than we remember hearing the last time that they did Chicago. Near the end of the performance, some of the dancers were allowed onstage to show their stuff.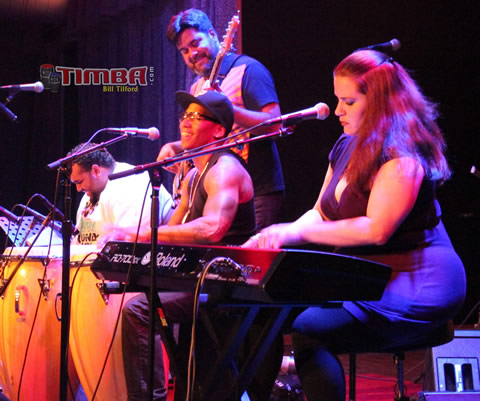 Even many of the people who weren't dancing later told this writer that they really enjoyed sitting and listening (a high compliment for what is, after all, dance music at its core), and it is hoped that the success of this event will inspire Chicago's City Winery (the flagship of which is in New York) to book more of this genre in the future. Much work remains to be done in Chicago to help spread the knowledge of how to dance this style, and presenters should note this concert as another piece of evidence that this genre appeals to all ethnic groups when properly marketed; indeed, the success or failure of these performances is usually contingent upon the attendance of that broad-spectrum audience.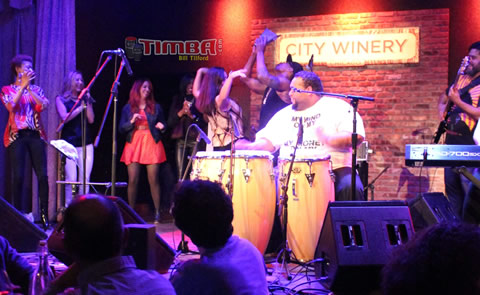 Click on the thumbnails below to enlarge the images:



















Bill Tilford - Sunday, 16 March 2014, 08:21 PM