New Stuff
[hide]
Photos of the Day
[hide]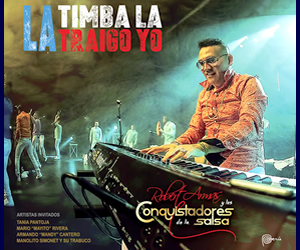 Roberto Fonseca Lotus
"If You Don't Move SOMEthing, we go......"
--Roberto Fonseca to the audience right before the encore at the
Lotus World Music & Arts Festival
Bloomington, Indiana, 27 September 2013
Report and Photos by Bill Tilford, all rights reserved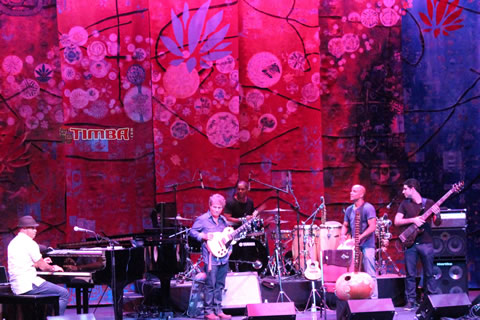 I put aside my raw photos and notes for a few days after the concert just to make sure that I wasn't floating merely because of the sight of one of the most beautiful house managers i have ever seen, or the wonderful vibe of the Lotus festival, an annual jewel in Southern Indiana, or the quality of the theatre. No, all of those things were there all right, but it really was the concert that had me feeling euphoric. I wasn't alone - the audience was shouting, clapping, and - during one of Roberto's musical jokes - laughing throughout the performance when they weren't rapt with awe. Since most of this was concert music, they weren't dancing until the encore, when Roberto explained that the encore would be a dance number, and the "I can't dance" excuse would not be accepted. The audience complied - everyone was out of their seats moving something or other.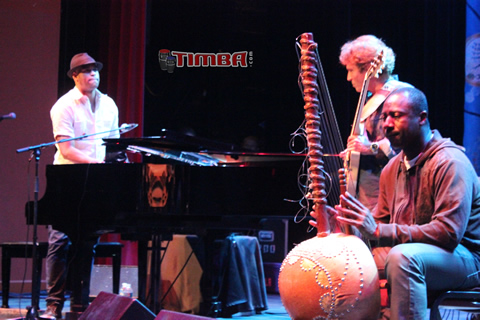 Go get a copy of Roberto Fonseca's latest recording Yo. Don't worry about what kind of music it is, even he thinks that labeling it is a hassle. Just do it. If you didn't know who he is before this tour, you will know soon enough. Even if your tastes are limited, something in it will touch you. This concert had a slight tweak in the touring personnel and leaned a little more in the Jazz direction than the recording, which defies easy description (as does the concert). The bassist for the concert was Yandy Martínez, who is a powerful force both on upright Jazz bass and Funk electric slap bass. His many other credits include the bass role in Ernán López-Nussa's Pas de Trois. The kora role was handled by Yacouba Sissoko, who fits the music perfectly. If you just came here from another planet, you might even be excused for believing that the kora was a standard Cuban musical instrument. Jorge Chicoy wailed on guitar and also contributed some tasty cavaquinho, and Joel Hierrezuelo should soon have a more widely-known reputation as a percussion machine.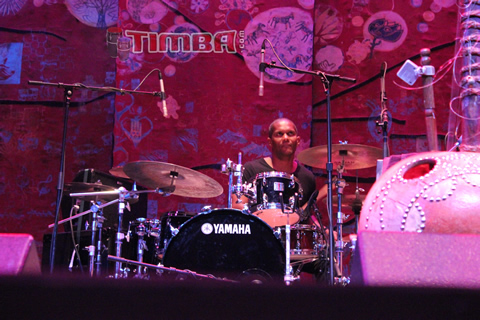 One of the most powerful moments in the concert could be described as almost a percussion concierto in 7/8 by drummer Ramsés Rodríguez. Most drummers are happy to survive an extended passage in that meter; Ramsés played like he was born with it.
The Lotus World Music and Arts Festival happens every September in Bloomington. The lineup was phenomenal and presented well. If you are in the Midwest or in a position to travel there, watch for the 2014 edition. If I were part of a first-tier world music ensemble, I would certainly covet the privilege of performing there.
Click on the thumbnails below to enlarge the images.


















Bill Tilford - Sunday, 06 October 2013, 11:46 PM