Lo Nuevo
[hide]
Fotos Del Día
[hide]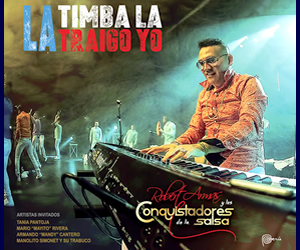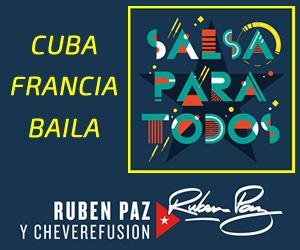 RedHotCuba
Red Hot + Cuba
BAM Howard Gilman Opera House, Brooklyn, New York
30 November and 1 December 2012
Review by Bill Tilford, All Rights Reserved
Photos by Jack Vartoogian of Front Row Photos (All Rights Reserved)
(With special thanks to Cindy Byram and Sandy Sawotka for their assistance)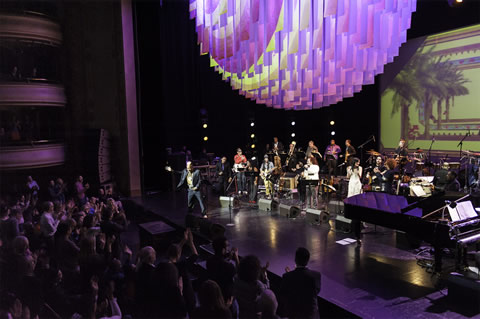 And to think that this writer almost missed this show! Fortunately, he ran into El Tosco at S.O.B.s earlier in the week and was persuaded that he could and should go (can't very well ignore one of the founding fathers of Timba, can we?) There were identical shows on Friday and Saturday night; we caught the Friday night performance. If this (or something like it) had been touring the United States at the same time that the Buena Vista Social Club machine was rolling through the circuit, it is quite possible that the entire genre of Timba might have reached a much broader audience here. Certainly it won some converts last weekend - although the ensemble was an integrated mix of Trova, Son, Rock and Timba musicians, it functioned (yes, we know that this defies conventional wisdom, but we heard what we heard) as a cohesive unit, and the key ingredients of El Tosco (now sporting a three-colored Mohawk, perhaps fitting given that the original tribe lived in what is now upstate New York), Gerardo Contino (of fabled Timba band NG La Banda) on vocals, Alexander Abreu (today's Timba sensation) and other key members of his band in the brass section such as Amaury Perez on trombone; Cucurucho (of Los Van Van) on piano and Jimmy Branly on trap drums gave them the firepower to come charging out with a totally credible version of Los Sitios Entero right at the beginning of the show. It was almost as if they had channeled the original NG La Banda for that moment.
For fans of Alexander Abreu and El Tosco, one of the great things about this show is that it featured the two of them on their instruments as well as vocals. In Alexander's band, he does so much of the lead vocal work that we see less of him on trumpet there nowadays, and he was back at it for this show. One of the high points for this writer had Alexander on trumpet playing off CuCu Diamantes on vocals (CuCu also co-directed the show with Andres Levin. Andres, who played guitar and electronics during the performance, was also the Co-Producer with Paul Heck/The Red Hot Organization). Likewise, El Tosco put in some flute work in addition to functioning as a sort of Master of Ceremonies at times. When he was out front, the show was basically his, and he basically had the audience in the palm of his hand (and on their feet, as with the Murakami Mambo number) for parts of the evening.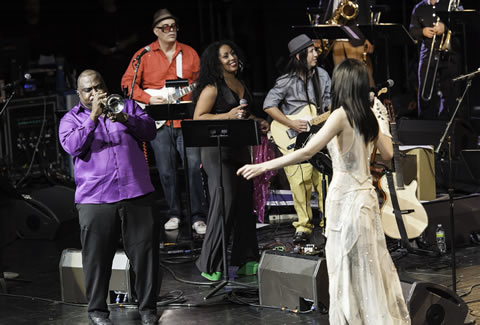 Vocalist Osdalgia contributed some beautiful vocals for part of the traditional segment of the program, and Kelvis Ochoa, David Torrens and Carlos Varela all pitched in some Trova and Cuban Rock. Of the three, Mr. Varela represents the style that is probably closest to conventional Rock. An interesting feature of these songs was a touch of pyschedelica in both the videos in back of the ensemble and the light show during some of the Trova pieces. It fits, but it is also something that most US audiences probably haven't seen before with this music. CuCu also contributed some musical humor (El Burrito) as well as a piece that we'll choose to describe as a boogie for lack of a more definitive term (Show Me The Money Papi) and a sort of soulmerenconga (Alguien).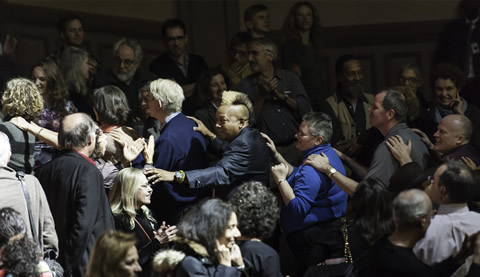 Although several different styles of modern Cuban music were presented in the program, it really was the Timba numbers that cranked up the audience to fever pitch. This was a pretty lively place for an opera house, especially when El Tosco taught the audience the moves for Echale Limon, and even the Conga line that snaked around the theater at the end of the show started with a Timba song. As you can see from the photograph below, that line ultimately found its way onstage for the finale.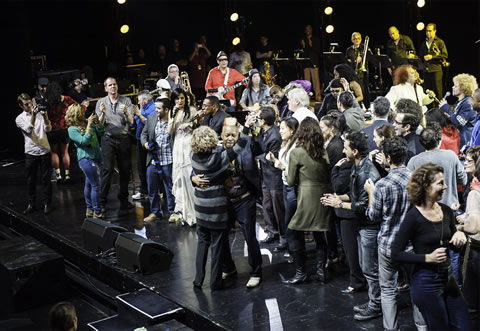 If Saturday's circumstances were similar to Friday's, then this show was a great success musically as well as in terms of audience engagement AND attendance (Friday was very well attended, our hope is that Saturday's audience was similar). Part of the theme for the program was in recognition of World AIDS Day, and part of the proceeds are to be donated to AIDS awareness and prevention in Cuba.
As we said in the beginning, if this show had been on the circuit at the same time as the Buena Vista Social Club tour, it might have done good things for Timba awareness in the US as well. Apparently this was conceived as a two-night stand. It was done well enough, and the audience clearly loved it enough, that there is a case to be made for taking it other places if the responsible parties were inclined to attempt it.
Incidentally, this was our first time at the BAM (Brooklyn Academy of Music) complex in person. This is a really impressive place. We encourage you to learn more about it, especially since it is currently celebrating 150 years. You can do that at their website, BAM.org
Bill Tilford - Thursday, 06 December 2012, 01:15 AM