Scenes from JoJazz 2016, Day 2
SCENES FROM JOJAZZ 2016, DAY 2
EL CIERVO ENCANTADO Y JARDINES DEL MELLA, VEDADO, LA HABANA, CUBA
SALA AVENIDA, PLAYA, LA HABANA, CUBA
18 NOVEMBER 2016
Photos and commentary by Bill Tilford, all rights reserved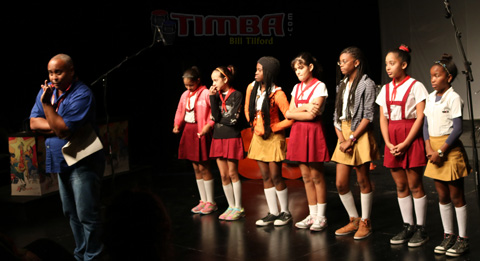 Estudiantes infantiles de Jazz

ENGLISH: Day 2 featured an encounter with very young music students and the Jazz Band Infantil del conservatorio followed by the interpretation competition for mayores. Percussionist Degnis Bofill, who received two awards this year, was one of the highlights, but all of the entries were interesting including some intriguing vocalese (scat). Early in the evening, many of the competitors and some of the judges held a jam session in the Jardines del Mella, and still later, the Joven Jazz Band del Maestro Joaquin Betancourt gave a concert at the Sala Avenida in Playa. Mr. Betancourt tells me that the new album by the Jazz Band should be ready next year.
One thing that emerged from the encounter with the youngest students that is worth sharing is that although many in North America are involved with helping students with instruments, there is also a need for more instructional materials (transcriptions, arrangements) for Jazz as these are, for the most part, made in the US. Music instructors and publishers in the US, please note.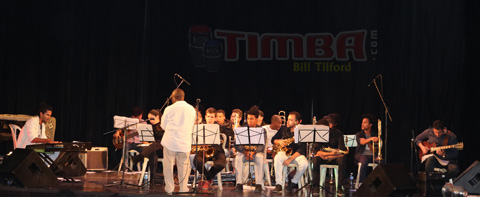 Joven Jazz Band del Maestro Joaquin Betancourt
ESPAÑOL : El día 2 contó con un encuentro con estudiantes de música infantiles y la Jazz Band Infantil del conservatorio seguida por el concurso de interpretación para mayores. El percusionista Degnis Bofill , que recibió dos premios este año, fue uno de los momentos más destacados, pero todas los concursantes fueron interesantes, incluyendo algunas vocales interesantes (scat). Muy temprano por la noche, muchos de los concursantes y algunos de los jueces participaron en una descarga en los Jardines del Mella, y aún más tarde, el Joven Jazz Band del Maestro Joaquín Betancourt dio un concierto en la Sala Avenida en Playa. El Sr. Betancourt me dice que el nuevo álbum de la banda debe estar listo el próximo año.
Una cosa que surgió del encuentro con los estudiantes infantiles que vale la pena mencionar es que, aunque muchos en Norteamérica están involucrados con la ayuda a los estudiantes con instrumentos, también hay una necesidad de más materiales de instrucción (transcripciones, arreglos) para Jazz, ya que en su mayor parte, ellos son realizados en Estados Unidos. Los instructores de música y los editores en EE.UU., tomen nota por favor.

Click on the images below to enlarge them / haga clic en las imágenes para ampliarlas

Row 1-2: Encounter with Jazz Band Infantil del conservatorio
Row 3-5: Interpretation, Mayores (incluyendo Degnis Bofill , multipercussionista)
Row 6: Judges discussion
Row 7-9: Jam Session, Jardines del Mella
Row 9-11: Concert, Jóven Jazz Band del Maestro Joaquin Betancourt








































Bill Tilford - Wednesday, 09 August 2017, 07:10 PM