Scenes From JoJazz 2016, Day 3
SCENES FROM JOJAZZ 2016, DAY 3
EL CIERVO ENCANTADO, JARDINES DE MELLA Y FÁBRICA DE ARTE CUBANO (FAC)
VEDADO, LA HABANA, CUBA
19 NOVEMBER 2016
Photos and commentary by Bill Tilford, all rights reserved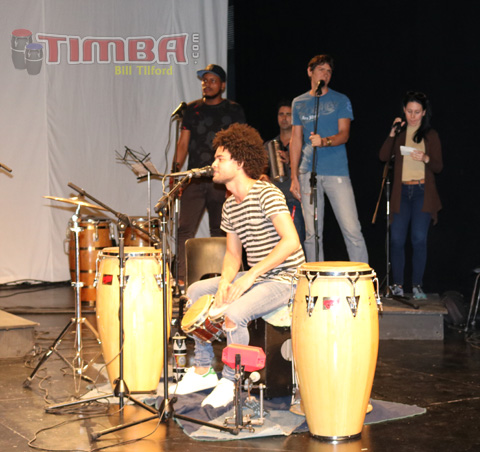 Degnis Bofill returns as a composer on Day 3
ENGLISH: Day 3 of JoJazz included the competition for composers, many of whom also participated in the earlier interpretative competitions. In the afternoon, Radio Taino's program A Buena Hora broadcast live from the Café Jazz Miramar, where Delvis Ponce & Experimental Jazz formed the centerpiece of a jam session that included his group, Zule Guerra , Albertico Lescáy , William López and some of the young participants in JoJazz. In the evening, Ruly Herrera's Real Project formed the basis of a jam session in the Jardines de Mella that included a multitude of guests, among them Rolando Luna , Rodney Barretto , Luna Manzanares and many JoJazz participants. Late in the evening, percussionist Oliver Valdés performed with his group at the Fábrica de Arte Cubano, a converted factory that is now one of Cuba's most intriguing art and music complexes. Radio Taino's website is here.
Incidentally, A Buena Hora, which is on every day on Radio Taino, is one of Cuba's most interesting cultural programs on the radio and broadcasts live from a Jazz Club (currently Café Miramar) every Saturday. If you understand Spanish, you can listen to Ana María Domínguez and Marieta Meijide explain the program here.
Radio Taino's website is here.
Maríeta Meijide (l) & Ana María Domínguez (r) of A Buena Hora (Radio Taino)

ESPAÑOL: Día 3 de JoJazz incluyó el concurso para compositores, muchos de los cuales también participaron en los concursos interpretativas anteriores. Por la tarde, el programa radial A Buena Hora de Radio Taino tuvo lugar en directo desde el Café Jazz Miramar, donde Delvis Ponce & Experimental Jazz formó la pieza central de una descarga que incluyó a su grupo, Zule Guerra , Albertico Lescáy , William López y algunos de los jóvenes participantes en JoJazz. Por la noche, el Real Project de Ruly Herrera formó la base de una descarga en los Jardines de Mella que contó con una multitud de invitados, entre ellos Rolando Luna , Rodney Barretto , Luna Manzanares y muchos participantes de JoJazz. Más tarde en la noche, el percusionista Oliver Valdés se presentó con su grupo en la Fábrica de Arte Cubano, una fábrica convertida que ahora es uno de los complejos de arte y música más intrigantes de Cuba.
Por cierto, A Buena Hora, que se emite cada día en Radio Taino, es uno de los más interesantes panoramas culturales en la radio en Cuba y transmite en directo desde un club de jazz (en la actualidad Café Miramar) cada sábado. Se puede escuchar a Ana Maríá Domínguez y Marieta Meijide explicando el programa aquí.
El sitio web de Radio Taino está aquí.

Click on these images to enlarge them: / Haga clic en estas imágenes para ampliarlas:

Rows 1-7: Composers' competition / Concurso de compositores
Rows 7-9: Descarga / A Buena Hora in Café Miramar
Rows 10-11: Descarga in Jardines de Mella
Row 12: Oliver Valdés at FAC


















































Bill Tilford - miércoles, 09 agosto 2017, 07:10 pm