Lo Nuevo
[hide]
Fotos Del Día
[hide]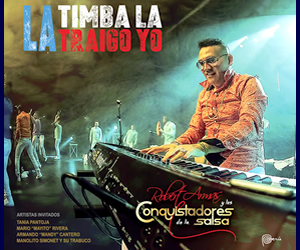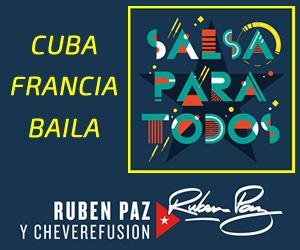 Septeto Santiaguero at the Casa de La Trova
Septeto Santiaguero at Home, Part II: Casa de la Trova
Santiago de Cuba, 15 December 2015
Photos and commentary by BIll Tilford, all rights reserved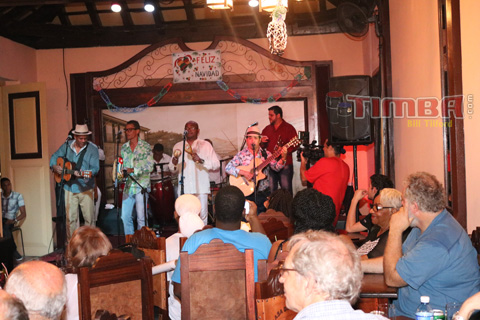 ENGLISH: The Salon de los Grandes is in the upper floor of the Casa de la Trova, a large music complex operated by EGREM. This complex also hosts several concerts during the daytime in the lower floor. It is one of many buildings on the block that present live music; most of them keep the doors and windows open, and music is frequently flowing into the street. I will say more about this place in a separate item in the future.

For me, this was a second portion of Septeto Santiaguero, which is fresh off its Latin GRAMMY® win and currently a nominee for a GRAMMY®. There is a little room to dance in the Salon, but it is more of a listening hall. Some very accomplished (and costumed) dancers did join the band during the set. Musically, it is among the best of the current Son bands, and it is also a show band - the trumpeter goes out into the audience for a few songs, and the percussion has its own choreography.

I know that I have said this many times, but it is time for this group to have a proper tour of the US. I will keep saying that until it happens.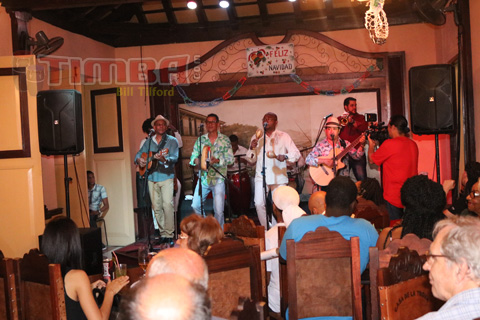 ESPAÑOL: El Salón de los Grandes se encuentra en el piso superior de la Casa de la Trova, un gran complejo musical dirigido por la EGREM. Este complejo también alberga varios conciertos durante el día en la planta baja. Es uno de los muchos edificios en la cuadra que presenta música en vivo; la mayoría de ellos mantienen las puertas y ventanas abiertas, y la música fluye con frecuencia a la calle. Voy a decir más sobre este lugar en un punto separado en el futuro.
Para mí, fue una segunda porción del Septeto Santiaguero, que es recién salido de un premio Latin GRAMMY® y actualmente nominado para un GRAMMY®. Hay un poco de espacio para bailar en el salón, pero es más una sala de escucha. Algunos bailarines muy talentosos (y vestidos en ropa tradicional) se unieron al Septeto durante el set. Musicalmente, es uno de los mejores de los grupos actuales que tocan el Son, y también es una "banda espectáculo" - el trompetista toca en la audiencia para algunas canciones, y la percusión tiene su propia coreografía.
Se que lo he dicho muchas veces, pero voy a seguir diciendolo hasta que suceda: Es hora de que Septeto Santiaguero tenga una gira adecuada de los EE.UU.
Click on the images to enlarge them / Haga clic en las imagenes para ampliarlas:
















Bill Tilford - domingo, 03 enero 2016, 08:43 pm