Son Radical Chicago January 2017
Son Radical at Club Mambo, Chicago, Illinois, Friday, 13 January 2017
Photos and commentary by Bill Tilford, all rights reserved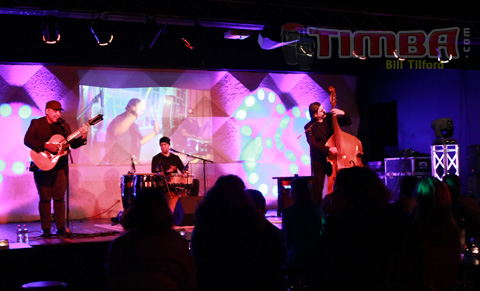 ENGLISH: Son Radical is a side project of Juan-Carlos Formell, son of the late Juan Formell. Juan-Carlos now plays bass in Los Van Van, but in this trio, he plays guitar along with Chuito Quintero, (percussion) and Ben Willis (bass). Ben, who is now a New Yorker, was the leader of La Tira, one of Chicago's best dance bands, during his time in Chicago years ago.

Although a trio, Son Radical is a trio for dancing, and the small but enthusiastic audience formed a rueda de casino during parts of the performance. The sound is more energetic than one might expect from a trio.

In 2000, I had the pleasure of seeing Juan-Carlos Formell perform at Ravinia (in the small concert venue, not on the main stage), and this trio deserves a larger audience than I witnessed at this latest concert. Hopefully those who saw this performance will spread the word to their friends about this excellent trio.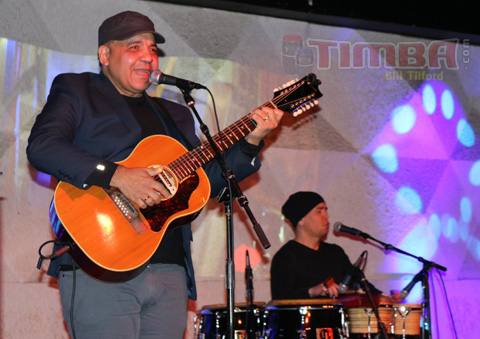 ESPAÑOL: Son Radical es un proyecto paralelo de Juan-Carlos Formell, hijo del fallecido Juan Formell. Juan-Carlos toca el bajo en Los Van Van, pero en este trío toca la guitarra junto con Chuito Quintero (percusión) y Ben Willis (bajo). Ben, que ahora es un neoyorquino, fue el líder de La Tira, uno de los mejores grupos tocando música popular bailable en Chicago durante su tiempo aquí hace años.
Aunque un trío, Son Radical es un trío para bailar, y el público pequeño pero entusiasta formó una rueda de casino durante partes de la presentacion. El sonido es más enérgico de lo que uno podría esperar de un trío.
En 2000, tuve el placer de ver a Juan-Carlos Formell en concierto en Ravinia (en la pequeña sala de conciertos, no en el escenario principal), y este trío merece una audiencia más grande de la que presencié en este último concierto. Esperemos que aquellos que vieron este concierto se extenderán la palabra acerca de este trio excelente a sus amigos.

Click on the images below to enlarge them / haga clic en las imágenes por abajo para ampliarlas





Bill Tilford - sábado, 21 enero 2017, 11:07 pm