Lo Nuevo
[hide]
Fotos Del Día
[hide]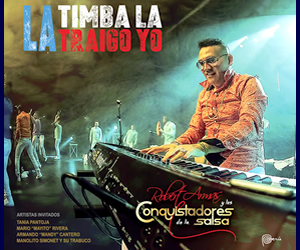 Changuito Tribute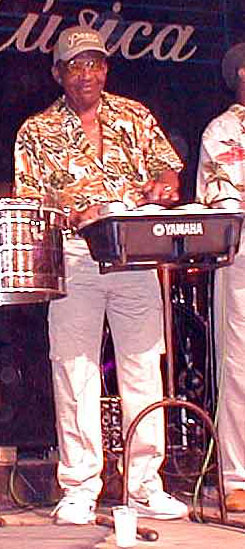 Jose Luis Quintana was such a great influence on my playing. He still is! Growing up in Miami, I'd go to the beach and tune in to Cuban radio. Radio Taino, Radio Rebelde, Radio Reloj...and some great music coming from the island. I'd go to the beach, my colada (café Cubano) and pasteles de guayaba in a brown paper bag, plop down on the sand, turn on my radio and Superscope tape recorder, and start recording. It was there that I heard my first Los Van Van, amongst other great groups. This was in the early and mid 70s. I was turned on to the LVV album with Guarare de la Pastora, and that was IT for me.
Whoever that drummer was, I wanted to be like him....JUST like him. I started, in my own way, to transcribe what I was hearing; to try and get a feel for the amazing drumming I was hearing. Very fortunately, at that time I was playing drumset in a band, Paquito (Hechevarría) y sus Flyouts. The things I was listening to Changuito play , I'd try to play on stage with the band. Emphasis on the word "try"! What a learning experience!
As time went on, my listening to Changuito also progressed, until the time when we met in Havana. I took a memorable lesson with one of my idols. Changuito "quizzed" me on my knowledge of, in order: 1. clave 2. cáscara and clave 3. bell patterns 4. double bell patterns. then....soloing. Yeah right! I don't remember exactly what we did. It was just being in the presence of such a Master was so gratifying and humbling.
In 1996 I was honored to co-write a book with the Master, Mastering the Art of Timbales. Really, what an honor. Changuito picked me up at the airport in Havana. The crowds at customs and immigration actually parted as he walked in the room, such is his importance and history within Cuban culture. This was Changuito! Drummers in Cuba are thought of in such a different way then they seem to be thought of anywhere else. I had that experience with Piloto Barreto as well.
My experience with Changuito during the writing of this book will never be forgotten. Believe me! There are two many stories to tell at this time. Two come to mind. We went to hear Yoruba Andabo perform in Vedado. Changuito was wearing a suit I helped him to purchase when he was in Miami visiting his borther, and hanging out at my house (!!). He was looking good. When it came time to really get down, Changuito was on stage, playing quinto on timbales during a rumba and then, to really get the crown going, he played during an abakwa performance. Oh yes! This was more than great!
Another amazing experience was when, after a night out, Changuito came to my apartment and invited me to a rehearsal with a band he didn't really know. They had asked him to sit in on one of their more important gigs. We rocketed through the streets of Havana and arrived at the rehearsal. Changuito was obviously still feeling the effects of his night out. But, when he hit the stage, it was like he had been in the band forever. He just totally took over and made the band sound 100 times better than they had ever sounded. To me, it just showed how much of a master he really was and is.
To this day, I practice my lessons from Changuito. Every time I hear a LVV with Changuito, there's always something new to learn. I mean, listen to Guarare de la Pastora. That's from when, the early 70s!? That's some serious drumming! I pass on this man's genius to my students, and I'm happy to do so. Lessons from the Master continue, on and on. Thank you Changuito. You changed drumming forever!!
miércoles, 23 marzo 2011, 03:32 am