New Stuff
[hide]
Photos of the Day
[hide]
Curuye in L.A. - Los Angeles Timba Report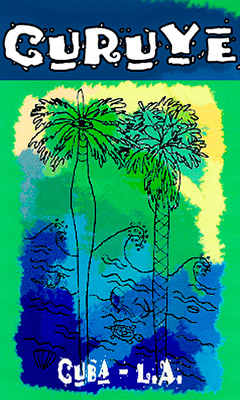 November 19, 2012:
8 DAYS in L.A.: CHUCHO VALDÉS QUINTET! ALEXANDER ABREU y HAVANA d'PRIMERA! IVÁN MELÓN GONZÁLEZ LEWIS accompanying CONCHA BUIKA! DAFNIS PRIETO PROVERB TRIO!
Well, yes, it's been quite an amazing week to be in L.A. I was able to attend the first three of these music happenings that L.A. had to offer this week...DICHOSA SOY YO! Here I'll report on ALEXANDER ABREU & HAVANA d' PRIMERA, and a bit on CHUCHO VALDÉS.
+++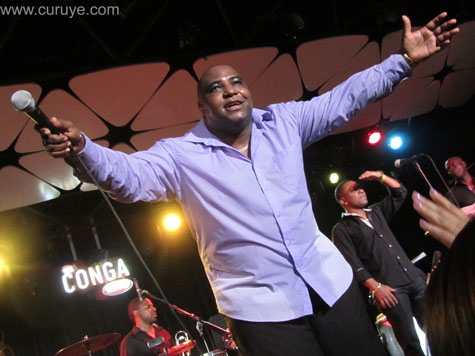 ALEXANDER ABREU y HAVANA d' PRIMERA, PRESENTE!
Last Thursday in Los Angeles ALEXANDER ABREU y HAVANA d' PRIMERA kicked-off their U.S. PASAPORTE TOUR. It's always nail-biting to know your city is the first on a Cuban group's U.S. tour, but they made it!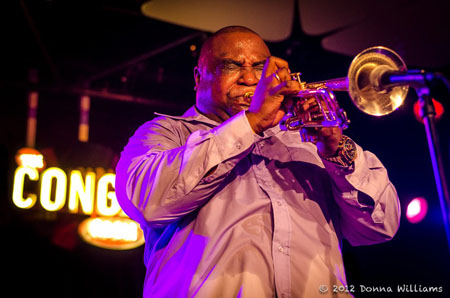 And Southern California gave HAVANA d' PRIMERA a warm welcome! An estimated 500 fans clamored into L.A.s CONGA ROOM for what was to be, for most, their first opportunity to experience live this awesome band. ALEXANDER ABREU y HAVANA d' PRIMERA opened with RESUMEN de los 90, then continued to thrill the crowd with a non-stop, high energy, performance, dándole duro y con todo corazón for more than an hour and a half ! About half the repertoire of the evening came from their first HACIENDO HISTORIA cd, the other half from the new cd, PASAPORTE. From the new cd, CARITA de PASAPORTE, and AL FINAL de la VIDA, two songs which have already gotten a great deal of international exposure, drew a huge response from the audience, but the emotion and intensity of ABREU singing, and the band playing, SE OLVIDÓ QUIEN SOY YO commanded one tremendous ovation! Another favorite of the evening is a new number that is lamentably on neither cd, LA BAILARINA. Whoa! ...the melody, tempo changes, funkiness of the bass, horns, syncopation is just ...ay por diós! Delicious!
Abreu seemed humbled by the tremendous response of the public, with so many fans singing the lyrics to the songs they have waited so long to enjoy live! At the end of the concert, Abreu jumped into the crowd to receive the love of the audience--quite a mob scene!
Disappointments: The sound wasn't the best. I thought it was just that I was mashed up against the stage, maybe too close to the speakers, but then friends in the back also complained about the overall sound quality. Also, unlike other Havana d' Primera performances I've had the joy of attending in the past, it seemed there was less opportunity to appreciate master Abreu on trumpet. SABROSO offered a tease of his musicianship, and that of his musicians, but it just gave you ganas to hear more. Incidentally, if you miss HAVANA d' PRIMERA's usual timbalero/drummer RODNEY BARRETO, look for him as a featured musician in the CHUCHO VALDÉS QUINTET that is concurrently touring the U.S.
Suggestion: If you want the new PASAPORTE CD with DVD that the band is selling, scope out the source early. L.A.'s quota disappeared quickly! Many Angelenos went home disappointed.
Hollywood/NBA note: Jazz fan, and NBA legend KAREEM ABDUL-JABBAR was one of the So Cal fans enjoying the music of HAVANA d' PRIMERA! (He is often seen at concerts of Cuban groups!).
+++
CHUCHO VALDÉS QUINTET, November 10, 2012 @ the Luckman Fine Arts Comples, Los Angeles, California
I'll share some reactions from socios who also attended this concert that help describe this incredible musical evening:
Ricardo Lois: "Great show...One of the best, if not THE best, jazz groupings out there. My hat is off to Chucho...he lets these young lions shine."
Gloria Herrera: "Chucho always chooses the most incredible musicians. Angel Gastón Joya Perellada, the bass player ,was truly in the stratasphere! WOW! WOW! WOW!"
Michael Cherashore: "I'm speechless. Chucho just never 'phones it in' does he?
+++
Thanks to GLORIA HERRERA for her input on this and other Latin music reports (and for snatching up a hard-to-get PASAPORTE cd for me!); and also to photographer DONNA WILLIAMS for sharing one of her many amazing concert photos.
-------------------
OCTOBER 17, 2012:
LOS ANGELES HAPPENINGS! HAVANA d' PRIMERA, CHANGUITO, CURUYE's ANNIVERSARY CELEBRATION, ORQUESTA ARAGÓN, JANE BUNNETT, CHUCHO VALDÉS, DAFNIS PRIETO, JUAN de MARCOS & AFRO CUBAN ALL STARS ...read on...!
FINALLY in LOS ANGELES! The CONGA ROOM has officially announced ALEXANDER ABREU & HAVANA d' PRIMERA for a THURSDAY, NOVEMBER 15 performance! THE BUZZ IS ON! Tix are only $20 now, but I've been advised those prices may go up closer to show date! For tix: www.congaroom.com. (Knowing that they'll be up in the Bay later in the month, I'll bet some Southern Californians won't be able to resist traveling north on that long Thanksgiving weekend for another hit of this awesome band!)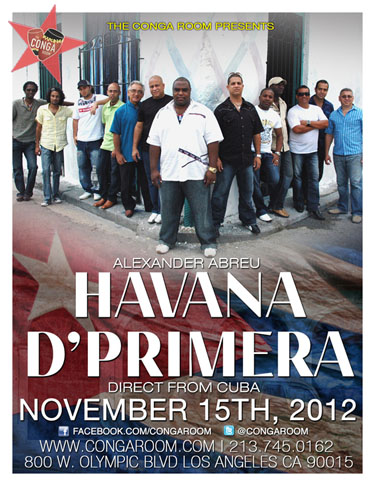 ---
'CHANGUITO' JOSÉ LUIS QUINTANTA in LOS ANGELES -OCTOBER- NOVEMBER 2012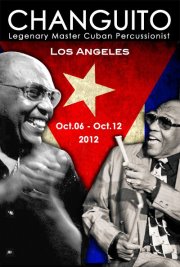 Also in town this month and next is 'CHANGUITO' JOSÉ LUIS QUINTANA, Cuba's legendary percussionist, and one of LOS VAN VAN's founding musicians. Drummers galore from L.A.'s music scene are seeking him out for private classes, and filling up his percussion workshops. On SATURDAY, NOVEMBER 24 he'll be featured with the AFRO CUBAN JAZZ PROJECT which includes former MARACA trumpet player JOSIEL PÉREZ, along with FERMÍN SIFONTES on keyboards, SAWA PÉREZ on bass, BRIAN DE LA FÉ on congas at VITELLO's JAZZ & SUPPER CLUB in the Studio City area of L.A. Last week he performed with the jazz funk grouop HAAKON GRAFF ALL STARS at The BAKED POTATO. KATI HERNÁNDEZ had CHANGUITO accompanying her AFRO CUBAN DANCE CLASS, with 'CUSITO' JESÚS LORENZO PEÑALVER (Rumberos de Cuba) singing! IMAGÍNENSE! Contact PEGGY JO OLIVA @ pj@lucumiyque.com for classes and bookings. Visit www.lucumiyque.com for performance schedule.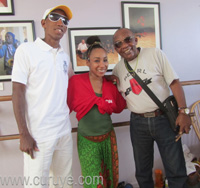 ...TREMENDA GOZADERA at CURUYE.COM's DOUBLE ANNIVERSARY CUBAN DANCE PARTY!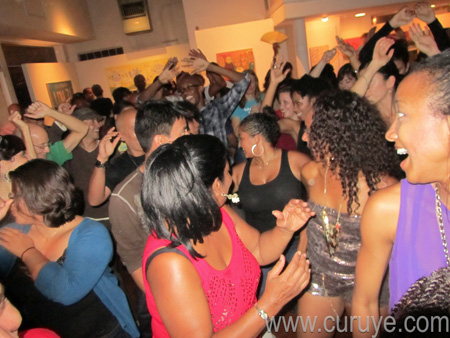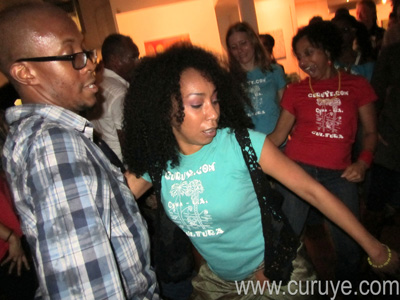 CURUYE.COM THIS WEEK CELEBRATED 9 YEARS of the CULTURAL WEBSITE www.CURUYE.COM (keeping Southern California informed of select CUBAN HAPPENINGS), and 3 YEARS of CUBAN TIMBA DANCE PARTIES in L.A. with DJ SAOCO, who was truly 'en talla y ARRASANDO!' CURUYE was thrilled to have most of L.A.'s timberos help celebrate, and was honored to welcome the presence of the one and only CHANGUITO at the celebration! (photo below: Changuito with Gloria Herrera, Kay Torres (Curuye), DJ SAOCO-Vicente Lantigua)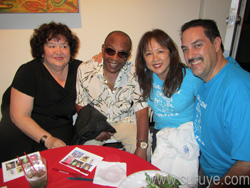 ...UPCOMING IN L.A. ...
FRIDAY, OCTOBER 26: ORQUESTA ARAGÓN presented by ALBERT TORRES @ Stevens Steakhouse in the City of Commerce. A few tix still left: salsadeb@earthlink.net
SATURDAY, NOVEMBER 3, RHAPSODY CUBANA with JANE BUNNETT on sax and flute, HILARIO DURÁN on piano, and CANDIDO on congas @ the MUSICIANS INSTITUTE in Hollywood, in conjunction with the JAZZ BAKERY. http://www.mi.edu/news/11/3/2012
SATURDAY, NOVEMBER 10: CHUCHO VALDÉS at the LUCKMAN FINE ARTS CENTER. http://www.luckmanarts.org/events/
THURSDAY, NOVEMBER 15: ALEXANDER ABREU & HAVANA d' PRIMERA @ the CONGA ROOM @ downtown's L.A. LIVE. www.congaroom.com
SUNDAY, NOVEMBER 18: Master drummer DAFNIS PRIETO's PROVERB TRIO with KOKAYI (poetry/vocals), and JASON LINDNER (piano) perform @ the MUSICIANS INSTITUTE in Hollywood, in conjunction with the JAZZ BAKERY. jazzbakery.org
FRIDAY, MARCH 1, 2013: JUAN de MARCOS & the AFRO CUBAN ALL STARS at the CERRITOS PERFORMING CENTER for the ARTS. www.cerritoscenter.com
------
April 7, 2012
FROM CUBA to LOS ANGELES:
TIMBA! SON! RUMBA! CHARANGA HABANERA! SIERRA MAESTRA! JESÚS 'CUSITO' PEÑALVER!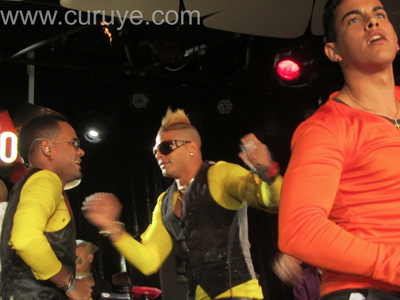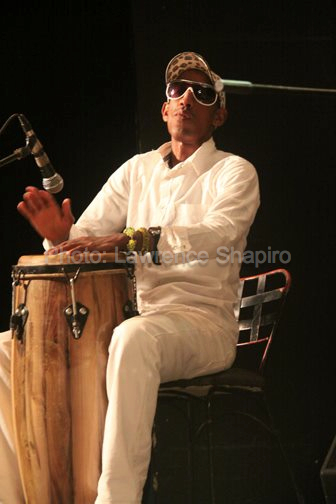 No one can deny the importance of Afro Cuban roots, and son in the evolution of, and expression in, timba music. Within a month's time Los Angeles has had the opportunity to enjoy some of the best exponents of TIMBA, SON, RUMBA with the presence of , direct from CUBA, DAVID CALZADO y LA CHARANGA HABANERA, ORQUESTA SIERRA MAESTRA, and JESÚS 'CUSITO' PEÑALVER.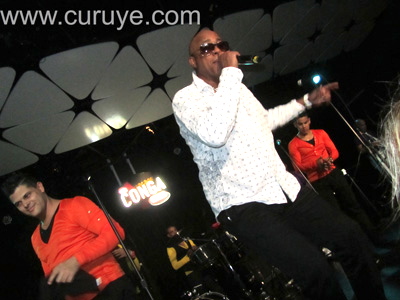 TIMBA: On the evening of Thursday, April 5, CHARANGA HABANERA fans were 700 strong at the CONGA ROOM, at L.A. LIVE! Los Angeles' downtown entertainment complex. Establishing their front row presence well before the concert started were L.A.'s Peruvian CHARANGA HABANERA fans...and FIRMES they remained! When DAVID CALZADO yelled out "PERUANOS!", the bulla was equal to the shout back from" "los CUBANOS!"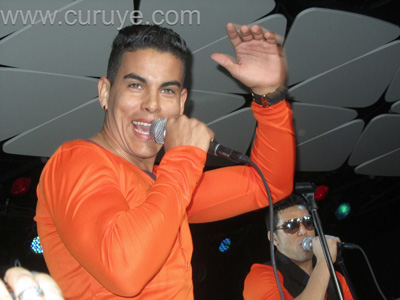 DAVID CALZADO y LA CHARANGA HABANERA gave their all in another energetic (understatement) performance! Their one-set, non-stop concert lasted more than two hours! Most of the selections they performed came from their ACABAÍTO de NACER cd (however, alas! they did not perform LA MIRADERA, nor YUCA...)...seemed like the crowd belted out entire songs, (not just coros!) from this, the Charanga's latest cd. Oldies that rocked the house were 'LOLA, LOLA', and 'NUBE PASAJERA'. The ageless DAVID CALZADO was in true form, keeping the show flowing with his sharp musical direction, and maintained the audience smiling with his glib introductions, and with his usual singing his heart out "in the background" to the songs off mic.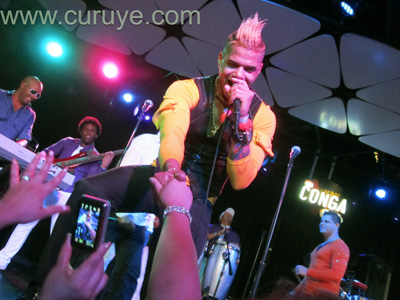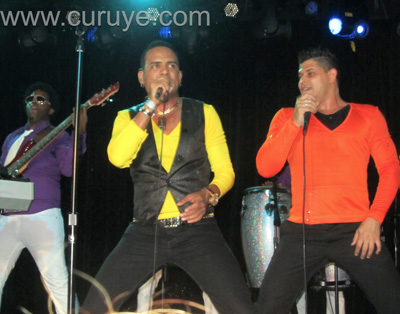 Keeping up with the stage action is always tough with the CHARANGA HABANERA--don't wanna miss the action on the right, which is totally different than the action on stage left...Whoa! and before you know it, they're all off dancing back to stage right. TREMENDO ESPECTÁCOLO. "There's no question the audience loved their performance!" stated one Conga Room staff member at the end of the show, "especially 'las muchachas'!" "Just a boy band," grumbled one attendee, whose girlfriend screamed, clamored, and sighed throughout the evening.. I can only say, you can't deny the top notch musicianship of all the Charangueros...and the front line vocalists? Admit it! They're not just great lookers and dancers, they're all darn good singers as well. The new, young Charanguero PEDRO NIETO MORA was highly featured and warmly received. The ever-popular DANTE 'RIKI RICÓN' CARDOSO that he replaced did not seem to have been missed as I'd thought he might be. LÁZARO 'LACHY' MAYA's voice and expression were at his best, and one never-ending "WOW!" could be heard running through the crowd feeling that incredible bass line of ERNESTO MAZAR (how could you not feel it?).
DJ WARAPO had the honors of keeping dancers on the dance floor before and after the concert.
+++
SON: SIERRA MAESTRA: This iconic Cuban orchestra unfortunately performed the SAME NIGHT as the CHARANGA HABANERA across town at the westside SKIRBALL CENTER. Diehards like Latin music aficionadas GLORIA HERRERA, and KATHY 'La RUMBERA' DÍAZ (of KPFK's CANTO TROPICAL), actually attended both concerts. They reported that the SKIRBALL theater was filled to capacity (around 300), and that SIERRA MAESTRA had the audience dancing from the very beginning of the concert anywhere there wasn't a seat attached to the floor! They played all exquisitely, from son to danzón to jazz. After rushing across the city, they made it in time to catch the CHARANGA HABANERA show. "What a panorama of great Cuban music we've been able to experience in just this one night!" the ladies exclaimed.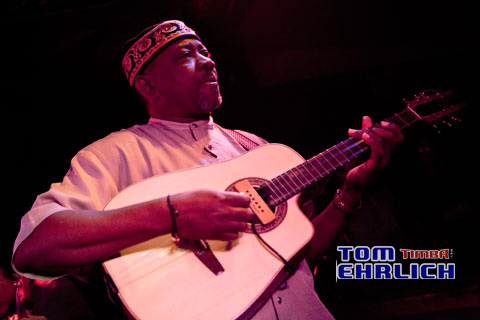 photo by Tom Ehrlich
+++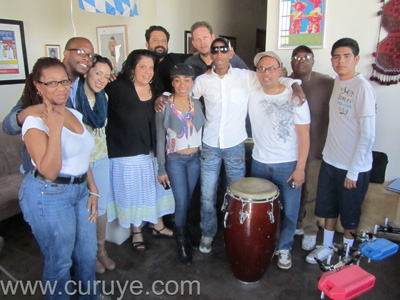 RUMBA: JESÚS 'CUSITO' PEÑALVER. For the past month, Los Angeles has been star struck with the presence of one of Cuba's young legends of AFRO CUBAN musical traditions. CUSITO was invited to Southern California to teach AFRO CUBAN percussion and song for the Department of Music at POMONA COLLEGE. Presently one of the dynamic, creative forces of LOS RUMBEROS de CUBA, CUBADISCO-winning Havana rumba group, CUSITO also performed with Cuba's esteemed folkloric company RAÍCES PROFUNDAS (who has been invited to perform at the SAN FRANCISCO INTERNATIONAL ARTS FESTIVAL in May). CUSITO can also be heard playing and singing--as only he can play and sing-- on the ABBILONA series of recordings of cantos from Cuba's Yoruba sacred traditions. The community here has clamored to study AFRO CUBAN percussion, and song with him while he is here. He has made some unannounced appearances at some presentations, and at some toques de santo, and has on occasion showed up to accompany KATI HERNÁNDEZ's AFRO CUBAN dance classes*. Last week at the event BANTU: MUSICAL TRADITIONS in the AMERICAS, CUSITO got on stage with LÁZARO GALARRAGA, (another master of AFRO CUBAN traditions, and founding member of the CONJUNTO NACIONAL FOLKLÓRiCO de CUBA) who lives in Los Angeles. The two took turns as lead singer/lead drummer in some delicious yambú, and guaguancó...SABROSO! In Habana you can see CUSITO perform with LOS RUMBEROS de CUBA at the PATIO EGREM on Friday afternoons, or at special presentations of the group at the PALACIO de la RUMBA. (Watch CUSITO singing, and drumming!).

*On SUNDAY, APRIL 15, CUSITO will be teaching an AFRO CUBAN SONG CLASS (10:30-11:30 AM), accompanying an AFRO CUBAN DANCE CLASS (11:30 AM-1 PM) taught by JUAN CARLOS BLANCO (former lead dancer of Habana's RAÍCES PROFUNDAS), followed by an AFRO CUBAN PERCUSSION class on quinto (1:15-2:30 PM).at UNIVERSAL DANCE DESIGN, 6009 W. Olympic Blvd., L.A. 90036. A workshop of KATI HERNÁNDEZ's ORICHA THERAPY SUNDAY CLASS. For more information, contact KATI HERNÁNDEZ @ happyhappykati@yahoo.com.
+++
OTHER UPCOMING CUBAN EVENTS in LOS ANGELES: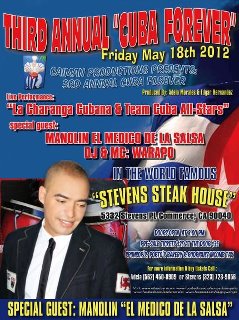 -Friday, May 18: MANOLÍN, EL MÉDICO de la SALSA at STEVENS STEAKHOUSE
-Thursday, June 7: BAMBOLEO at the CONGA ROOM www.congaroom.com
For more Southern California Cuban cultural events and classes, visit www.curuye.com
/kt
------
September 17, 2011
VAN VANEANDO en L.A.: LOS VAN VAN @ the CONGA ROOM-SEPT 15, 2011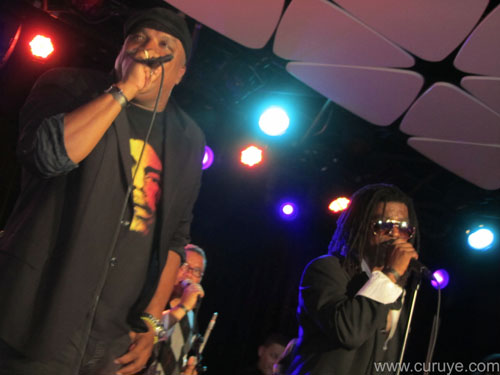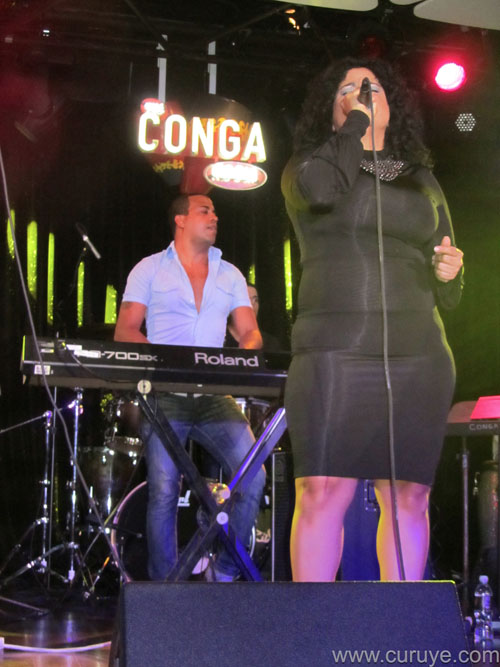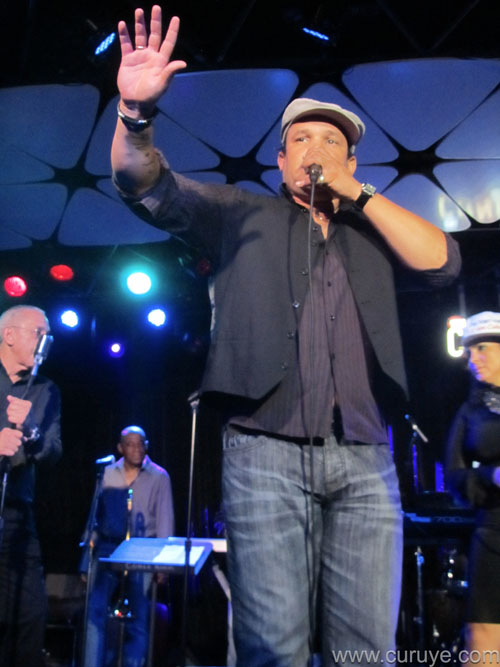 YES! It was worth the wait! LOS VAN VAN's CONGA ROOM PERFORMANCE was LO MÁXIMO! Did the six-week delay from the original August date hurt attendance as many expected? NOT! Conga Room staff advised me the evening was sold out with over 800 VAN VANEROS singing and dancing to every song of their two-hour set.
CHAPEANDO kicked off the high-energy evening of non-stop music. The repertoire was similar to their last two December concerts, and the audience couldn't have been more delighted! Who doesn't want to hear YENNY belting out DESPUÉS de TODO one more time? Or LELE leading ME MANTENGO and ANDA VEN y QUIEREME? VAN VAN oldies performed included EL QUE BAILA GANA and SANDUGUERA, the latter bringing down the house with the solos by CUCURUCHO on piano, and by guest drummer LEO GARCÍA who had his chance to shine as SAMUEL's sub. MAYITO soneando in SI NO TE QUIERES TÚ, con todo corazón, is an experience I'll not soon forget. ROBERTÓN EL GUAYACÁN had his old special energy, and was definitiely in his dance groove, as well as PEDRO FAJARDO wailing on violin while getting down! By the time VAN VAN performed the last song of the evening, ESTO TE PONE LA CABEZA MALA, the floor of the CONGA ROOM shook from the seismic enthusiasm of the crowd.
LEO GARCÍA, director of Miami-based TIMBALIVE did a more than admirable job of filling in for SAMUEL FORMELL. Wow! To fill in for SAMUEL on a VAN VAN tour after less than a week of rehearsing with the band is no short order! How well did he do you ask? You judge: Towards the end of the concert when director JUAN FORMELL preseented the musicians, GARCÍA was introduced as "GRAN LEO!" At concert's end VAN VAN musicians were high-fiving GARCÍA without reservation!
Backstage talk from GLORIA HERRERA: LOS VAN VAN said the L.A. audience's enthusiastic reception just fueled the musicians tonight! L.A. expressed a lot of love for them in December, but at this concert they felt it even more.
Most heard adjective after the concert: "AMAZING!"
To answer a question I was asked earlier this week re: VAN VAN's current tour: YES! I would drive six hours to go see them! Go fill up your tank B.! Wish I could join you for another round!
+++
September 14, 2011
PHEW! THEY MADE IT! LOS VAN VAN ARRIVED in L.A. WEDNESDAY NIGHT! ... in TIME FOR THEIR CONCERT @ THE CONGA ROOM ON THURSDAY, SEPTEMBER 15! Some tix still available www.congaroom.com. Will update you after the concert!
September 9, 2011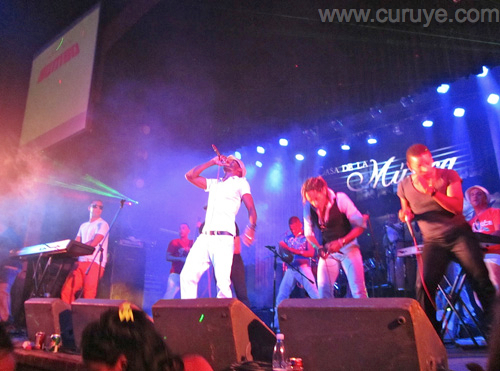 MAYKEL BLANCO in L.A.: RAYDEL (Deejay WARAPO) MÁRQUEZ of WARAPO PRODUCTIONS announced today that tickets for MAYKEL BLANCO y SU SALSA MAYOR's THURSDAY OCTOBER 20 concert in Long Beach (southeast Los Angeles) are now on sale! Purchase your tickets--$40 general, $75 VIP seating--for the Southern California concert at http://warapoproductions.tix.com. The concert takes place at THE REEF 880 Harbor Scenic Drive, Long Beach CA 90802.
LOS VAN VAN in L.A. UPDATE: Angelenos anxiously await the arrival of LOS VAN VAN for their rescheduled SEPTEMBER 15 concert at the CONGA ROOM. Don't you just hate it when your city is the first stop of a long-awaited Cuban band's tour? Just announced today: L.A.'s favorite timba band, RUMBANKETE, will open for LOS VAN VAN to warm up the crowd with new music from their just released (very hot!) cd "QUE NO PARE LA FIESTA"! (P.S. You'll love it, as all the dancers here in L.A. do!) For tix: www.congaroom.com.
MARACA in L.A.: Just three days after LOS VAN VAN's performance, L.A. will get a chance to experience MARACA. After all the rave reviews you've all given the group, we can hardly wait! We even have Cuban dancer KATI HERNÁNDEZ teaching a class before the concert, and Cuban DJ SAOCO (VICENTE LANTIGUA) spinning between sets. SUNDAY, SEPTEMBER 18 at The GRANADA, 17 First St., Alhambra (east side of L.A.) 91801. Door open at 6:45 PM, show time is at 8:30 PM. Tickets $20 in advance, $25 at the door available on www.lucumiyque.com
ORQUESTA ARAGÓN in L.A.: This legendary band has been scheduled for a THURSDAY, OCTOBER 13 date at the CONGA ROOM at downtown's L.A.LIVE! Tickets are on sale at www.congaroom.com.
JOIN US IN L.A.!
August 2, 2011
Hey! Didn't this already happen in December?? Sadly, as you have read, LOS VAN VAN 's delayed arrival to the U.S. from Cuba has once again resulted in the cancellation of concert dates. HAPPILY HOWEVER, L.A.'s CONGA ROOM has announced that they are in the process of rescheduling the concert (likely to be in September). The CONGA ROOM guarantees that ticket purchases for the August 4 concert will be honored at the rescheduled, (date yet-to-be-determined concert). Van Van fans choosing to get refunds are welcomed to do so. Conga Room representatives are contacting those who purchased tickets to update and discuss options. Curuyé is definitely not asking for a refund..yet! . My optimism is connected to the fact that we experienced this initial disappointment in December, and then LOS VAN VAN showed up and blew the roof off the CONGA ROOM!
By the way, THURSDAY, SEPTEMBER 8, PABLO MILANÉS gives a long-awaited concert at the GIBSON AMPHITHEATRE at UNIVERSAL CITY !
+++
July 29, 2011:
ATENCIÓN VANVANEROS! TIX STILL AVAILABLE for LOS VAN VAN's THURS AUG 4 CONCERT @ the CONGA ROOM @ L.A. LIVE!
LOS VAN VAN is scheduled back, with L.A. the first stop of el tren 's 2011 U.S. tour! They're only giving one So Cal concert this time, so we're expecting a sell out crowd ... but I'm here to tell you that there are still tix available.

More L.A. news ...MARACA in L.A.! MARACA is finally scheduled to appear in L.A. on SUNDAY, SEPTEMBER 18 They'll be giving a concert @ The GRANADA in Alhambra, a venue in northeast L.A. Details to follow soon! - www.curuye.com
+++
July 2, 2011:
JUAN FORMELL y LOS VAN VAN BACK IN LA @ THE CONGA ROOM! TIX ON SALE NOW.
The CONGA ROOM has announced THURSDAY, AUGUST 4 as the return performance date for LOS VAN VAN in L.A.! The group packed the CONGA ROOM to capacity two consecutive nights on its December U.S. tour.. The August date promises to be Southern California's hottest summer concert !
The CONGA ROOM is located at 800 W. Olympic Blvd. in downtown's L.A. LIVE!
+++
June 2, 2011 DAVID CALZADO y LA CHARANGA HABANERA @ L.A.'s CONGA ROOM!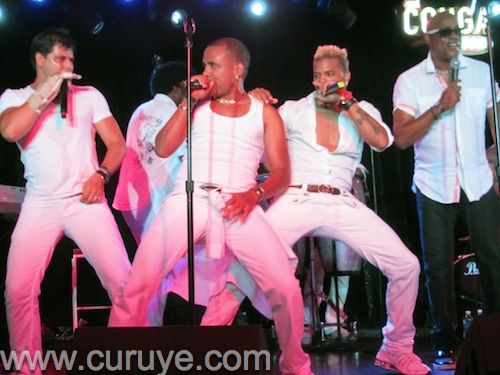 Returning to L.A. after an absence of eleven years, DAVID CALZADO y LA CHARANGA HABANERA delivered a polished, powerhouse performance to the 900 fans who filled the CONGA ROOM @ L.A. LIVE !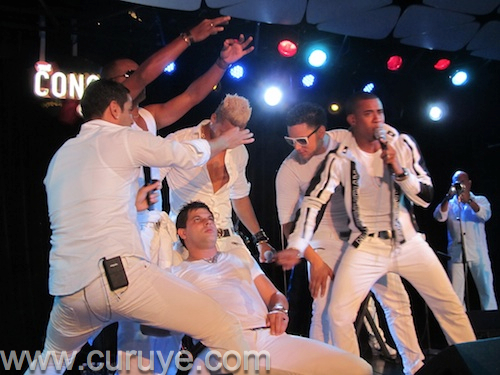 The CHARANGA delighted us with selections from their just released LA SUERTE cd of which "DIME QUÉ TÚ QUIERES FORMAR?" was a particular delicious favorite! They featured songs from their 2009 NO MIRES LA CARATULA cd: J UANA MAGDALENA, GOZANDO EN MIAMI and LA CARATULA drawing the biggest audience response. Whether recent hits such as these,or hits from the past like LOLA LOLA or NUBE PASAJERA , the audience jumped in to sing along with the Charanga with heart and soul. Estamos en la isla, o qué??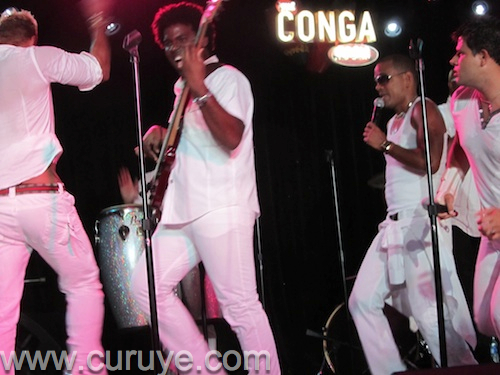 Curuyé recognized maybe a third of the audience from those two original L.A. appearances, but many were seeing these musical heroes for the first time LIVE! A great part of the audience this time were from a fan base that has grown strong with the CHARANGA 's frequent tours to Perú in recent years. With every shoutout to the Cubans in the audience, Calzado included a shoutout to the throng of Peruvians affirming their presence loud and clear! In these eleven years Dantes 'Ricki Ricon' Cardoso has left and returned; Conguero Orlando Mengual continues "bailando encima de su instrumento" , Yulien Oviedo and other talented Charangueros have moved on, but let's face it DAVID CALZADO has continuously proven his genius, vision and leadership evolving this twenty-two year old band into a dynamic, unforgettable force with carefully chosen musicians and singers with undeniable talent ...and that stage--from horn section to front line--always in continuous motion!
THANK YOU CONGA ROOM for bringing us the CHARANGA HABANERA , the SEPTETO NACIONAL and LOS VAN VAN in recent months! We look forward to seeing LOS VAN VAN there again later this month, June 23! We'll be there! (A little tweaking on sound would have made the Charanga concert perfect!) Kudos for allowing us to have Cuban music between sets to keep the energy going. Good job DJ WARAPO !
GOOD WORK L.A.! I think we've proven that L.A. LOVES AND APPRECIATES CUBAN MUSIC ,so maybe this means that we won't have to continuously go up to the Bay to see our favorite Cuban bands on tour!
*** May 2011: CHARANGA HABANERA in L.A. THURS JUNE 2 !!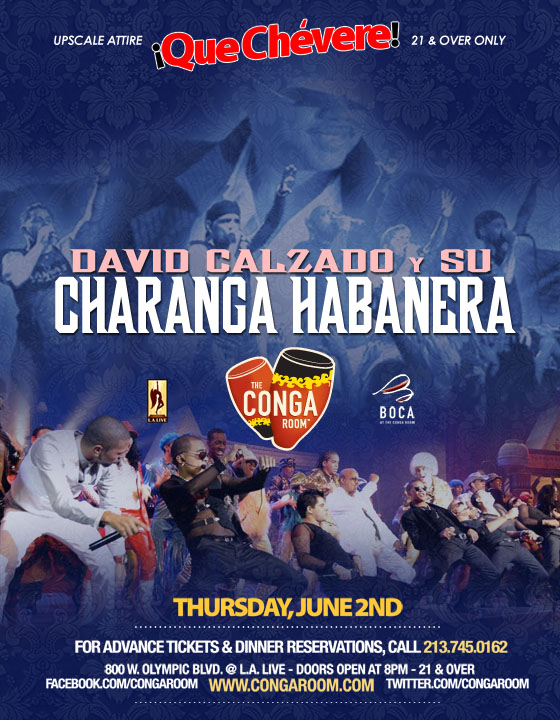 +++ Follow UP
Pa' que sepan, LOS VAN VAN estaba EN TALLA, y LOS ANGELES estaba PRESENTE! Both nights of LOS VAN VAN 's Conga Room performances were packed, and as Juan FORMELL promised at the Conga Room press conference on Monday, the makeup concerts of the earlier scheduled L.A. dates would be unforgettable. A crowd of musicians and music-lovers (of all genres) Cubans and Cubanophiles, salseros , timberos and Hollywood celebrities--all jumping on 'el tren' !
At the Conga Room this Tuesday and Wednesday, LOS VAN VAN gave the crowd two solid, powerhouse hours of their music! They performed about twenty songs spanning the band's forty-one years, each one with the audience joyously joining in on the chorus. (Yes, LOS VAN VAN is the music of all generations, and it was entertaining to hear comments from Cubans of various ages present recalling nostalgically that this song or that one was THE HIT in the year they left the island!). Yenni 's interpretation of DESPUÉS de TODO is each time enthralling and more amazing. Were there one or two other songs that brought the house down?? SOY TODO ? ME MANTENGO ? ESTO TE PONE LA CABEZA MALA ?? There were continued shout outs from the public requesting favorites, and whatever they chose to play exuded the same delirious response from the audience. The musicians truly responded, and Maestro FORMELL seemed truly animated! They basically performed the same repertoire as they did at the San Francisco concert I attended last Friday. Although I love going to the Bay to see performances of Cuban groups, the vibe is always so good, and the sound and intimate atmosphere of Yoshi's is great, it was wonderful having LOS VAN VAN play the one long set they usually like to play, allowing their energy and music to swell, instead of breaking their performance up into two short sets.
LUIS ERIC GONZÁLEZ, RIGOBERTO LÓPEZ, RAÚL PINEDA, ADONIS PUENTES, EMILIO VALDÉS, YURI MENDIOLA , and EMILIO CAMACHO were just some of the notable Cuban musicians now residing in the U.S. that were spotted in the audience, along with jazz/pop percussionists MUNYUNGO, FAUSTO CUEVAS, and KEVIN RICCARD . To make it an even more of a LOS ANGELES/HOLLYWOOD happening, music buff and former Laker star KARIM ABDUL-JABBAR showed up at Wednesday's concert, and celebrity Conga Room co-owners assisted Conga Room CEO BRAD GLUCKSTEIN introduce the band: percussionist SHIELA E. on Tuesday, and actor JIMMY SMITS took the honor at Wednesday's concert. (By the way, in case you're wondering, the VAN VAN members who attended JAMIE FOXX' s Monday birthday celebration at the Conga Room said they were treated as true special guests, partaking in the evening's great food, festivities and r & b music).
Pa' qué tú veas como es el tren ... Given their driving, energetic performances here, it is hard to believe that several members of the band have been suffering from bad colds and high fevers. The tren moved on at 6 AM this morning for Florida where they'll complete their U.S. concert tour with two last performances. Someone tell me, Is it true that they'll be back in February??
(Thank you Gloria Herrera for some backstage insights!)
Kevin Moore - Monday, 19 November 2012, 09:24 PM