CD Review: Abre todas las puertas by Ernesto Blanco (Bis Music 2013)
Review by Bill Tilford, All rights reserved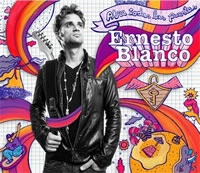 This is the second release by guitarist/singer/arranger/composer Ernesto Blanco, and it includes the song La buena suerte which became a hit on Cuban radio and television in 2013. Most of this could be broadly described as Pop - there is a lot of Disco and House in some of the tracks, and a few of the lyrics are in English. There is also some Rock, some surf guitar and some Latin Pop. La buena suerte is a merengue on steroids. Ernesto is an excellent guitarist, and the most enjoyable parts of the album for this writer were those where he opened up with guitar solos (such as in Realidad sin ti).

Abre todas las puertas has been nominated for a Cubadisco in the Pop category in 2014. It is performed very well, but it will of course be a matter of generational taste for many listeners. This genre is becoming more popular in Cuba, and this recording will give North American observers some insight into what is increasingly appearing on radio stations such as Frecuencia Total nowadays.
The liner notes contain the lyrics. Most of this recording, with rare exceptions is multitrack recordings of Ernest Blanco playing various instruments with mixing and mastering by Lois Durán. This was recorded at "Blanco & White Studios"
Tracks:
Abre todas las puertas
Every sigle day
Chica dinamita
Cenizas del corazón
Por los viejos tiempos
La buena suerte
Vuelve
Adrenalina
Realidad sin ti
Habana
Adrenalina remix
Abre todas las puertas (Acoustic version)
Bill Tilford - Saturday, 10 May 2014, 09:58 PM