SpanishEnglishAlma de sonero - (Connector Records) Released 11/06/2013
CD Review: Alma de Sonero by Mayito Rivera & Soneros de Verdad
(Connector Records 2013)
Review by Michelle White , all rights reserved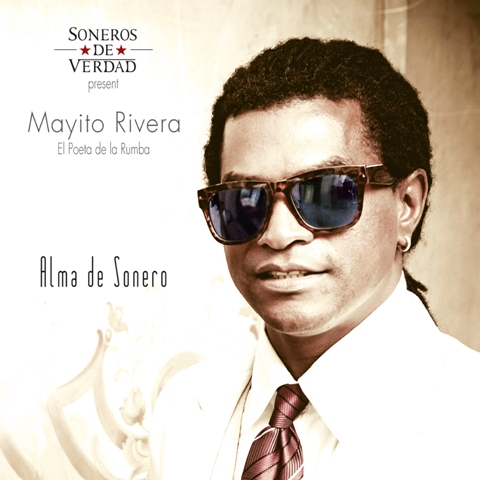 During his 20 years with Los Van Van, Mario "Mayito" Rivera came to be one of the iconic voices of the contemporary Cuban dance music that we refer to as Timba. In 2011 he left Van Van to pursue a solo career, and after two years of touring the Americas and Europe, Mayito has released his second solo album. His first, the 2005 "Negrito Bailador" ("Llegó la Hora" in the US release), was nominated for a Latin Grammy. Mayito has taken a risk with the new CD. It is not a timba album, or even a salsa album. As the title indicates, "Alma de Sonero", recorded with Soneros de Verdad, is a celebration of Cuban traditional dance music. Mayito presents his mission statement in the son "Tienen Su Brillo" - Yo quiero cantar un son, un son que me suene bien, que tenga el sabor de hoy y la elegancia de ayer. And he does, with aplomb'!
The album contains ten original compositions, all written and arranged by Mayito. The CD closes with an instrumental version of the first song. The album is not strictly son ; it also includes boleros and a ballad. Moreover, the songs take us on a journey across Cuba beginning in the westernmost province of Pinar del Río where Mayito was born with his tribute to his childhood home in the song "Río Seco". It is a bolero-son , starting as a bolero and switching to son at the montuno. Mayito gives us a delicious son montuno in "Tributo", dedicated to the great Soneros who originally defined the genre. "Oye mi quinto", an orchestrated guaguancó, takes us to the province of Matanzas, the cradle of rumba, and features a stand-out conga solo by "El Vivo". "No Hay Pa' Nadie" is a changüí with a taste of Guantanamo, Cuba's easternmost province.
Nowhere is the mix of the modern sensibility with traditional interpretation as obvious as in "Son pa' Shakira", a song that could be called a tribute to Shakira's honest hips, and the fulfillment of a promise made by Mayito to a young Shakira before her international breakthrough. The subject is contemporary but it is delivered by means of a son that will get your own hips moving with the coro Skakira, tú bailas, tú bailas como una prieta . One of the more unusual tracks on the album is the ballad "Mi Primer Amor", an ode to none other than Music herself. It is a rich arrangement with no percussion, just piano and sweeping strings, that brings to mind the ballads and musicals of the 1940s and 50s, and Mayito's use of rubato heightens the dramatic effect.
And what about Mayito's singing? Although his fame is based on his skill as a timbero, Mario Rivera demonstrates his vocal dexterity, moving effortlessly from bolero to son to guaguancó to changüí. Those of you who have heard "Pa' bachatear…Chappotín" or seen Mayito and Osdalgia's duet in the movie "Música Cubana – Sons of Cuba" are already aware of his versatility and command of the numerous Cuban genres. Those who have not are in for a treat when you hear his unmistakable voice and superb delivery. Here we are dealing with a consummate singer who has a full grasp of how to sing with cubanía .
Guest artists include Alexander Abreu who performs an evocative and passionate trumpet solo in the ballad "Lorena Mia" and San Miguel Pérez with some brilliant tres work in "Río Seco", "Tienen Su Brillo" and my personal favorite, changuisera that I am, the changüí "No Hay Pa' Nadie". Luis A. Chacón Bruzon "Aspirina" guests stars on bongo and cajón, and the ballad "Mi Primer Amor" features Alejandro Falcón on piano and strings by Alejandro Junco Romero (violins 1 and 2), Malin Hav Abon (viola) and María Carla Llera Soler (cello).
"Alma de Sonero" gives lie to the claim that son in Cuba has been reduced to a music form reserved for tributes and remakes. Mayito has given us ten original, vibrant compositions, masterfully blending the traditional music styles with a modern attitude and beautifully performed by top notch musicians. It is absolutely a dance album, and the variety is a delight for son dancers. I also recommend it to dance teachers and DJs alike. Mayito's familiar voice is the perfect vehicle to introduce a new generation of casino dancers to the joys of son. Highly recommended!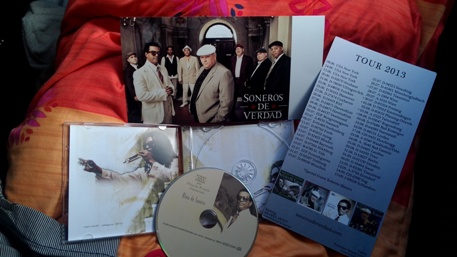 Yo quiero escribir un son que responda nuestros tiempos, que tenga los elementos de antes, que no pierda el sazón y quiero que suene como antes.
- Mayito Rivera "Tienen Su Brilla"
Track list
Río Seco
Tienen Su Brillo
Sin Diana No Hay Guaguancó
Son pa' Shakira
Lorena Mía
Tributo
No Hay Pa' Nadie
Oye Mi Quinto
Recordándote
Mi Primer Amor
Río Seco (instrumental with coro)

Album preview
Role - Instrument
Name
Producers
Detlef Engelhard,
Nicolas A. Sirgado Llanes
Director
Soneros de Verdad
Nicolas A. Sirgado Llanes
Musical Directors

Mario "Mayito" Rivera Godínez ,
Nicolas A. Sirgado Llanes
Lyrics
Mario "Mayito" Rivera Godínez
Arrangements
Mario "Mayito" Rivera Godínez
Lead Vocals
Mario "Mayito" Rivera Godínez
Acoustic Guitar
Nicolas A. Sirgado Llanes,
Carlos Querol Aldana
Coros
Nicolas A. Sirgado Llanes,
Fabian Sirgado Pérez
Bass
Nicolas A. Sirgado Llanes
Timbal, Percussion
Fabian Sirgado Pérez
Conga
Alexander Garcia Barrera "El Vivo"
Trumpet, Flugelhorn
Lázaro A. Oviedo Dilout
Guest Artists
San Miguel Pérez Tres.
Luis A. Chacón Bruzon "Aspirina"
Bongos, Cajón de Rumba
Alejandro Junco Romero
Violins 1 and 2 in "El Primer Amor"
Malin Hav Abon Viola in "El Primer Amor".
Maria Carla Llera Soler Cello in 'El Primer Amor"
Alexander Abreu Trumpet Solo in "Lorena Mía"
Alejandro Falcón Piano in "Mi Primer Amor"

Recorded by
Ramón de la Paz Obregón at "SamNic Studios" Havana, Cuba
Mixed by
Johannes Wohlleben at Bauer Studios GmbH, Ludwigsburg, Germany
Photos
Mario Rivera Godínez (personal archive),
Termidor Musikverlag, Kramer Artists
CD Design
Roald "El Ronaldo" Weinstock,
Ludwigsburg, Germany
Production Assistant
Hilda Gilda Perez Pacheco,
Lorena Carrasco Alonso
Michelle White - Monday, 26 August 2013, 03:07 AM