Carnaval En Piano Charango (Chuchito Valdés/Eddy Navia)
CD Review – Carnaval En Piano Charango by Chuchito Valdés and Eddy Navia
(Sukay-Pachamama May 27, 2013)
Review by Bill Tilford, All rights reserved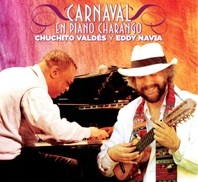 Yes, that's charango with an "o" at the end - the charango is a string instrument that is considered part of the lute family. It was first created in Bolivia in the early 1700s and spread throughout the Andes over time. The original version of the instrument used the back of an armadillo for the body, but wood is now the most common material (armadillos now being on the endangered species list), and the most common versions have ten strings (this is not the only configuration for the instrument, but it is the one that Mr. Navia uses). Both the instrument and the indigenous music played on it were prohibited by some Spanish colonial governments at different points in history, and even as late as the second half of the 20th century, the instrument occasionally was an object of controversy in some South American countries (especially Chile) during times of political strife.
Carnaval En Piano Charango is an interesting collaboration between Chuchito Valdés (born in Cuba) and Eddy Navia (born in San Luis Potosi, Bolivia and a resident of San Francisco since 1989). This is their second studio outing of this type - last year's Piano & Charango was nominated in the Best Folkloric Album category (Lila Downs won the final award) in the 13th Latin GRAMMY awards. Chuchito is already well-known to Timba.com readers as the youngest active member of the Valdés dynasty. Eddy Navia attained international fame with the folkloric ensembles Savia Andina and later Sukay, which he continues to direct today. In addition to his work with those ensembles, he has recorded eight solo albums for a total output of well over thirty. He and his family are also associated with Peña Pachamama Center in San Francisco.
There is enough of a folkloric foundation here to justify the Andean Folkloric label that Carnaval has been given by critics and the press in its travels, but that rather oversimplifies the description of the music – a case could be made for calling this a Fusion project as well but for the fact that the term "Fusion" always seems to ignite certain preconceptions and prejudices in the minds of readers and listeners. There are moments in this album, such as the opening tracks Rosa Tropicana and Carnaval del Mundo, when there is no mistaking the fact that some Cubanos (including sonero Fito Reinoso) are also in the house, and the closing track La Bamba is a new version of the Mexican classic. Carnaval Del Mundo is a tropical take on Carnaval that could catch fire on North American dance floors if the right DJs hear it. Leyenda De Carnaval provides a more Andean perspective featuring an interesting dialogue between the zampoñas (a South American member of the pan flute family also known as antara in Quechua or siku in Aymara) and Chuchito's piano lines. Tributo a Pachamama begins as a piano solo by Chuchito and later adds percussion (including bata) in a nice Cuban-Andean fusion. Tacuaral begins with Chuchito playing a wonderful piano intro that hands off to Eddy for some of his best charango passages in the recording along with some Jazz saxophone lines by Melesio Magdaluyo. Estrella del Sur features an extensive workout by Eddy on charango and Miguel Sisniegas on zampoñas. One thing that stands out in this song is the almost harp-like tone that the charango can produce in some of its registers. Una Lagrima, Jumechi and Caripuyo Torrecita dig deeper into Bolivian Folklore, and the album ends with the Mexican classic La Bamba.
This writer appreciates the artistry and musicianship involved in Andean folkloric music but rarely listens to the "pure" form of it for extended periods of time and usually won't go see it live unless there are known virtuosos involved (that does happen from time to time), so he first opened this disc with his fingers crossed; it really was the Valdés and Navia names rather than the genre itself that inspired him to give the recording a front to back listen. It turned out to be well worth the time. The project shows a side of Chuchito Valdés that many listeners haven't heard before, there is great chemistry between Chuchito and Eddy Navia, and the compositions and arrangements expand the folkloric base of the music to build something refreshing. One also walks away from this recording with a new appreciation of the charango as an instrument - it offers musical possibilities that often go unappreciated.
Carnaval En Piano Charango has been nominated in the Best Folkloric Album (Mejor Album Folclórico) category in the 14th Latin GRAMMY Awards. If Andean folkloric music is part of your normal diet, this is probably a must-have. If, like this writer, you ration your consumption of that genre, this is still an intriguing recording, enjoyable on its own terms and more high-spirited than much of its ilk, and it should be at or near the top of your short list of what to listen to next when you happen to be in the mood for that flavor.
Tracks:
1. Rosa Tropicana
2. Carnaval Del Mundo
3. Leyenda De Carnaval
4. Tributo A Pachamama
5. Tacuaral
6. Estrella Del Sur
7. Una Lagrima
8. Jumechi
9. Caripuya Torrecita
10. La Bamba
Personnel in Carnaval En Piano Charango
| Role - Instrument | Name |
| --- | --- |
| Piano & Keyboard | Chuchito Valdés |
| Charango | Eddy Navia |
| Guitar, Bass | Gabriel Navia |
| Vocals | Arwin Lawrence, Quentin Navia |
| Trumpets | Niche Romero |
| Trombones | Abel Figueroa |
| Percussion | Colin Douglas |
| Saxophone | Melesio Magdaluyo |
| Zampoñas | Miguel Sisniegas |
| Violin | Georges Lammam |
| Producers | Marcel Castaneda & Quentin Navia |
Bill Tilford - miércoles, 16 octubre 2013, 01:56 pm