Lo Nuevo
[hide]
Fotos Del Día
[hide]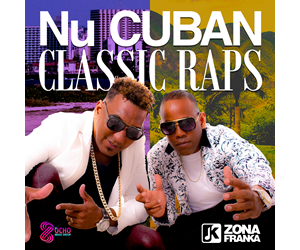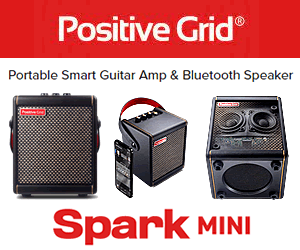 PMO at Wirt-Emerson, Gary, Indiana
Concert Review - Pacific Mambo Orchestra at Wirt-Emerson Theater Auditorium
Gary, Indiana 26 October 2013
Review and photos by Bill Tilford, All rights reserved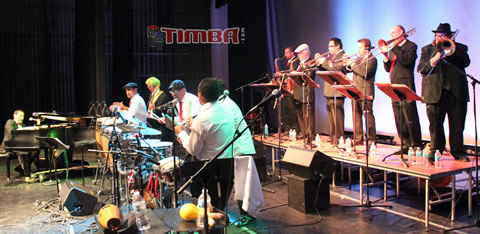 ♫♫ Gary, Indiana, Gary, Indiana, Gary, Indiana ♫♫......Well, Gary might have been too scary for li'l Donnie Trump (the Majestic Star is there now where once he was moored in their harbor), but we Chicagoans are made of better stuff. After all, Gary gave us the original Jackson family including Michael, and it's right next door to Chicago - the newspaper that this event was advertised in, the Post-Tribune, is even a member of the Chicago Sun-Times family of newspapers, so there's no real reason why Chicago and Gary couldn't be announcing and/or advertising their Latin music events to each other save that people just haven't thought in those terms very often before (we'll see if we can help fix that). The venue for this, the Wirt-Emerson Visual and Performing Arts Academy, specializes in arts education for high-school age children. I already knew about the Pacific Mambo Orchestra from having reviewed their fine CD by the same name, so this was a must-go for me, and some of Chicago's heavy hitters from the Chicago International Salsa Congress came as well.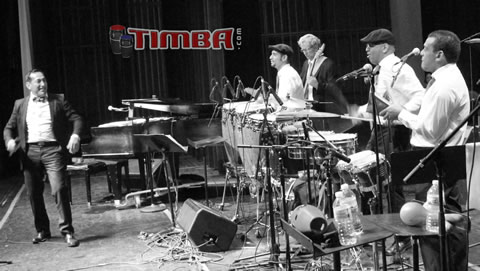 Apparently, someone wanted to make sure that we were really serious about this visit. The band's website had the wrong address for the performance (fortunately, both TIMBA.com and the local paper there had the correct one), and the light for the main sign at the Academy was off when I arrived. I drove around for perhaps 15 minutes before finding the entrance. Fortunately, several hundred other people also found their way in (and obviously had the right address from somewhere), but one wonders whether any potential audience members were lost in the shuffle. Still, a crowd of the size that many Chicago venues would kill for made it to the place ready for a good time.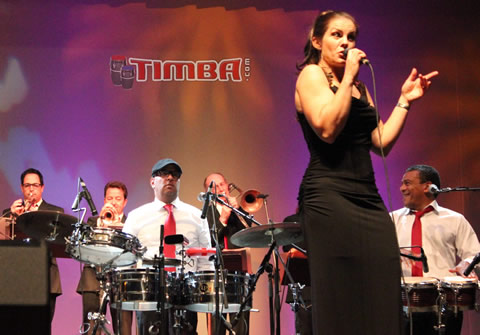 They got what they came for. Once inside, the theater was an excellent venue for this. Friendly staff, well-maintained auditorium, and an audience that was seriously ready for some Mambo. For the first part of the performance, the band would have benefitted from a better sound check beforehand but gave it their all anyway, and this proved to be enough to keep everyone into the performance until the sound system finally found itself and the band, at which time this became a high-energy show that kept the audience pumped up all the way through the rest of the evening. And this was a Show - not just a concert. (Anyone who doesn't know the difference has never seen a band do the former.) Grammy veterans Marlow Rosado, Tito Puente Jr. and Willy Torres helped put this over the top, but the PMO still would have been an impressive group even without them. Co-leader/pianist Christian Tumalan had a stage presence that at times is reminiscent of the Liberace that audiences fell in love with before all of those other stories about Liberace surfaced. The band as a whole roared through classics like Ran Kan Kan, and there were also a few modern touches including Stevie Wonder's Overjoyed a la Mambo and a special cameo appearance of the Roland Keytar, which Mr. Tumalan used in lieu of an electric guitar midway through the performance. Vocalist Alexa Weber Morales turned in excellent vocals (including a nice original song from the group, Bolero Cocomo, dedicated to the Café Cocomo in the band's hometown) as well. The band clearly enjoyed its guests and vice versa - when Marlow Rosado was at the piano or took turns directing the band, he became possessed until he had to step back away. Willy Torres was a lot of fun out front but even more so when he joined the percussion section while still singing. And Tito Puente Jr. - well, you'll be able to tell from the pictures.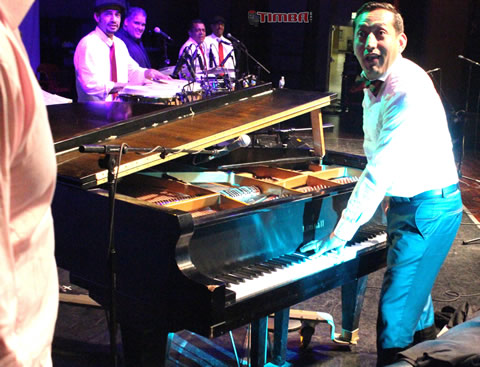 The absolute highlight of the program was a piano duel between Christian Tumalan and Marlow Rosado at the end of the show. Each took turns sitting at the keyboard trying to outdo each other, and they began throwing off parts of their suits (Marlow even kicked his shoes off) as things heated up. Somehow both they and the piano survived, but not for lack of trying to do each other and the piano in.
This band was clearly having a good time up on the stage, and the fun was infectious throughout the audience. Chicago's Maggie Garcia from the Chicago International Salsa Congress ended up on stage dancing with Willy Torres (this means, of course, that it is now on Gary to send its own folks over to dance on Chicago's stages.) The engagement should prove to be an excellent start to the rest of the PMO tour, and hopefully we'll see them back in the Midwest next year. Meanwhile, this is a highly-recommended show if you have a chance to catch it in other cities. If you lack the good fortune to be on their itinerary, there is always their CD (you can read a review here).
Chicago, Gary, we all really need to get to know each other better regarding our music scenes. What is it that keeps us apart anyway? It surely isn't the time and distance - some people travel farther and longer for those mucka-lucka-china drinks that provide coffee for people who don't really like coffee. Could it be the rapacious pirates at the Chicago Skyway Toll Bridge? The feral zombies snarling traffic on both sides of 80/94? Or perhaps the olfactory weapons of mass destruction rumored to be hidden among the refineries and mills along the Indiana Toll Road? (A thorough inspection of Hammond left me 90% convinced that the stories about their having a doomsday device stashed in their water treatment plant are pure fiction, so I now drive by without fear.) We have a love of music in common, and we can overcome these obstacles. If we started to work together more closely to get the word out in both places and make more of those drives both ways, perhaps more first-tier touring bands would come to our area more often, especially if we can start putting 500+ bodies in those indoor seats regularly between us.
And a word to the Wirt-Emerson folks: I LOVE what your school is doing, and you have a nice theater too. Seriously. I could get my head around the idea of more Chicagoans coming there for performances of this type. But I do have one little friendly suggestion. it would be easier for people like me if in the future you were take a tip from the Motel 6 commercials and leave the light on for us next time.
Pictures you want? Check out the photo gallery here..
Bill Tilford - martes, 05 noviembre 2013, 04:40 am