CD Review: Concierto de Frank Emilio en la Sala del palacio de Bellas Artes (EGREM)
Review by Bill Tilford, All rights reserved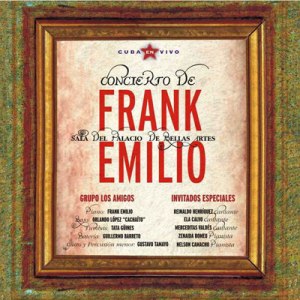 This double CD is a recording of a live 1978 concert at the Sala del Palacio de Bellas Artes in Havana. Frank Emilio and his combo, Grupo Los Amigos are joined by a few special guests. This is part of EGREM's Cuba En Vivo collection. An interesting mix of styles unfolds during this concert. For example, the classic Marta is rendered as an almost-straight-ahead Jazz selection. There are selections by Lecuona and Cervantes (some of the Cervantes compositions are played with four hands by Frank Emilio and Zenaida Romeu). These are performed in the classic style of the compositions. The concert closes with a series of Afrocuban classics.
This performance is an excellent showcase for the interrelationships between the Cuban music of composers such as Lecuona, Afrocuban music and Jazz. It was nominated for a Cubadisco in 2014 in the Música de Archivo category.
CD 1:

1. Presentacón del concierto por Frank Emilio
2. Eva
3. Marta
4. Gandinga, Mondongo y Sandunga
5. Presentación del Grupo Los Amigos y del Cantante Reinaldo Henríquez
6. Siempre que te miro
7. No es posible querer tanto
8. Presentación de Frank Emilio y Gustavo Tamayo
9. Serenata cubana Ignacio Cervantes
10. Zapateo cubano
11. Malagueña
12. Presentación de Ela Calvo por Frank Emilio
13. Carnaval de amor
14. Alfonsina y el mar
CD 2:

1. Presentación de la pianista Zenaida Romeu por Frank Emilio
2. Danza a Ernesto Lecuona
3. Presentacion de Tres Danzas de Ignacio Cervantes a Cuatro manos por Zenaida y Frank Emilio
4. La camagueyana
5. Los delírios de rosita
6. Los munecos
7. Sufrimiento
8. Crisantemo
9. En tres por cuatro
10. Presentación de Merceditas Valdés
11. Mamá, Son de la loma
12. Potpurrit de boleros en guaguancó:
Tenía que ser así
Confidencia de amor
Desconfianza
13. Presentación de Frank Emilio y Los Amigos
14. Coco con cocoa
15. Cantando, riendo y soñando
16. Descarga
17. Drume negrita
Musicians in Concierto de Frank Emilio
| Role - Instrument | Name |
| --- | --- |
| (Grupo Los Amigos) | |
| Piano | Frank Emilio |
| Bass | Orlando López "Cachaíto" |
| Tumbas | Tata Güines |
| Drums | Guillermo Barreto |
| Güiro and minor percussion | Gustavo Tamayo |
| Special Guests | Reinaldo Henríquez, Ela Calvo, Merceditas Valdés (vocals); Zenaida Romeu, Nelson Camacho (pianos) |
Bill Tilford - Wednesday, 06 August 2014, 11:31 PM