SpanishEnglishDuetto - (Bis Music) - Released 2011
CD Review: Duetto by Germán Velazco & Jorge Reyes (Bis Music 2011)
Review by Bill Tilford, All rights reserved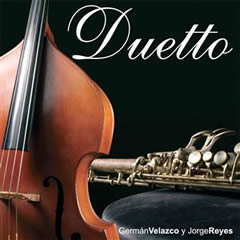 Even though many musicians in the United States have worked hard to vanish the myth that Jazz and Classical music are somehow incompatible, this strange belief continues to be held by some persons with inadequate exposure to both genres. In Cuba, by contrast, classical training for instrumentalists other than percussionists is virtually inevitable, and even Cachao played in the Philharmonic in addition to performing dance music.
Duetto is a delightful musical conversation between saxophonist Germán Velazco and bassist Jorge Reyes with percussionist Adel González playing an important supporting role in percussion. Mr, Velazco concentrates on soprano saxophone in this session. At times classical, at times Cubop, at times Afro-cuban, at times Brazilian, always sublime, this deserves to be in the collection of every bassist and saxophonist on the planet. Also highly recommended for other listeners, but almost mandatory for persons who play these instruments. This is music for musicians.
Duetto won a Cubadisco award in the Instrumental Music category in 2012.
Songs:
Duetto
Yambú pa'Miramar
Otro Más
Samba Amalia
Fuga de la TUmba
Dolores Blues
Allegro in D minor (a Párraga
Descarga 2010
Para Mily
Los Tres Golpes
Finale
Las Margaritas (Bonus Track)
Roster for Duetto
| Role- Instrument | Name |
| --- | --- |
| Soprano Sax, Musical Director | Germán Velazco |
| Contrabass | Jorge Reyes |
| Percussion | Adel González |
| Musical Production | German Velazco & Jorge Reyes |
| Executive Producer | Mayra María García |
| Recording, mixing and mastering | Alexeís Perez |
| Recorded at: | Estudios "Trabuco Record" |
Bill Tilford - Saturday, 10 May 2014, 11:15 PM