CD Review: EGREM 45 D'Lujo (Various Artists)
(EGREM 2009)
Review by Bill Tilford, all rights reserved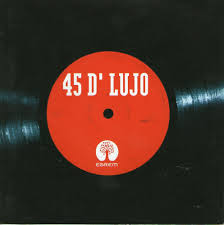 EGREM opened its vaults for this eclectic 10-CD anthology of 192 recordings made by various artists in various genres between 1961 and 2009 The organization of the anthology tends to be chronological rather than by genre or artist, and it really does contain a little bit of everything from Filin to various Jazz styles to traditional Cuban folk music to Timba and Nueva Trova. The song choices were researched by Jorge Rodríguez and Joaquín Quintero Valdés, and this was released in honor of EGREM's 45th anniversary. There are some nice liner notes in both English and Spanish by Frank Padron. These do not address the technical details of the individual songs so much as explain the rationale for the choices.

When one considers the scope of recorded music in Cuba, it would be impossible to capture everything in one anthology, and there is a case to be made for more collections like this. (55 D'Lujo later perhaps?) with a weighted focus on some genrres like the Nueva Onda from the 70s that would surprise a lot of listeners outside of Cuba (for just one example). For the listener, the experience of listening to this collection can be similar to what a younger stamp or coin collector experiences when sorting through a bag of mystery stamps or coins (minus the duplicates, of course) - some of the songs will already be in your collection, some will be in genres that may not be your favorites, but there will also be some pleasant surprises by artists that you never knew existed. Sometimes, these will be in genres that you weren't expecting to hear either.

Rather than list the 192 songs here, we are going to refer you to EGREM's website, where you can see the track lists.
Bill Tilford - Sunday, 30 March 2014, 07:58 PM