CD Review - Empezar de cero by JG (EGREM 2011)
Review by Bill Tilford, All rights reserved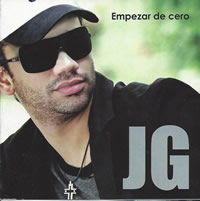 This is the debut Timba album by Juan Guillermo Almeida (or JG), who was previously a member of the group Gente de Zona, which he left in 2009 in order to start his own project. He also obtained a law degree in 2010 (perhaps a battle of the bands between JG and Manolin could give us the Salsa Lawyer vs. the Salsa Doctor?) He is also the son of prominent composer Juan Almeida Bosque.

This is a solid, well-orchestrated and well-arranged Timba album with some high-powered guest artists including Alexander Abreu and Amaury Perez in the brass section throughout the recording. It is also an interesting example of the way that more than one record company is now used on many recordings - this was recorded primarily in EGREM's Estudios de 18 but mastered at ABDALA.
Tracks:
La farándula
Me la llevo yo
Qué te a pasa a esa mujer
El jala'o
Empezar de cero
Me enloqueció
Tu vida loca
Me gusta tu amiga
Si te preguntan
Tengo un amigo
Yo le cojo la vuelta
Gracias a la vida
Personnel in Empezar de cero
| Role - Instrument | Name |
| --- | --- |
| Vocals, Leader | Juan Guillermo Almeida González |
| Congas | Luis Guillermo Palacio González |
| Timbales and Drums | Daniel Gerardo Rodríguez Rodríguez |
| Piano | Antonio Consuegra |
| Bass | Juan Vladimir Breake |
| Coros | Yassel Sánchez Yiera, Delmis Pérez Pérez, Hamiel Rodríguez |
| Guest Artists | Alexander Abreu (trumpet all tracks);Amaury Pérez (Trombone all tracks);Tomás Ramos "El Panga"(Percussion all tracks); Esteban Puebla (Keyboards 1,2,7); Norberto Rodríguez (Timbales 2); Marcos Alonso Brito (Guitars all tracks); Randy Malcom (Vocals 10); Ramon Lavado "El Chacal"(Vocals 12); Ariel Sardui, Iresei García, Tiffany Ceruto, Alejandro Rodríguez (Strings 6) |
| Producer | Juan Manuel Ceruto |
| Recording | Juan Raúl Varona Cansino (recorded at Estudios 18 EGREM & JG Record) |
| Mix | Orestes Aguila, Estudios SOUNID /Batule DJ (12) |
| Mastering | Victor Cicard, Estudios ABDALA |
Bill Tilford - Sunday, 26 May 2019, 04:43 PM