New Stuff
[hide]
Photos of the Day
[hide]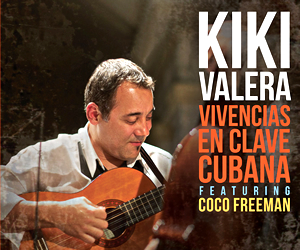 SpanishEnglishMagic Place - (Independent Release) Released 2011
CD Review: Magic Place by Alfredo Chacón (Independent Release 2011)
Review by Bill Tilford, all rights reserved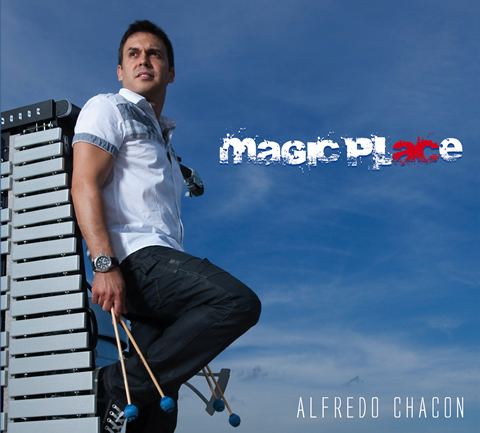 Alfredo Chacón gets around. His father was a classical orchestra conductor, and Alfredo began to play piano and read music when he was 5 years old. Later, he attended ISA in Havana, and he began playing Jazz as a vibraphonist in 1986. In 1991, he went to Stockholm, where he played and recorded with numerous groups, toured Europe and got involved in multiple genres of music in addition to Jazz. In 2004, he went to Madrid, again getting involved in multiple groups and genres, and this new recording with his own group reflects a mixture of all of those influences. All of the compositions in this project are by Mr. Chacón, and the recording as a whole proves that the vibraphone is still totally relevant in the 21st Century - in the right hands, it can be used in nearly any genre of music. However, this isn't just a vibraphone album; the piano, electronica and brass passages are prominently featured, and in most of the tracks with vocals, even the voices are used as instruments rather than for singing lyrics. The sound lives more in the general neighborhood of Grupo Afrocuba or Weather Report than that of Cal Tjader or most other vibraphone-based ensembles. Different tracks feature different aggregations of the musicians, and some of the participants in this project (Ivan Melón Lewis, Alaín Perez, Pavel Urquiza to name just three) will be well-known to Timba.com readers for their work in other groups.
As we said earlier, a number of different modern musical styles are featured in this recording. The opening track, Magic Place, is a 6/8 with a nice Weather Report kind of vibe. 40 Grados is a Mambo Jazz selection with some very nice vibraphone passages. Madrid at Night has a Funk/R&B feel with the vibraphone and trumpet working in unison, some very nice scat work and an excellent bass solo. Bossame Mucho is a very pretty, laid-back Bossa Nova. Ní pa ti, ní pa mi uses a nice brass duet to carry the melody. Lugn Och Ro (Paz y Tranquilidad) is an electronic ballad that could almost be described as smooth Jazz or New Age. Aguacero de Mayo starts as Samba Jazz and later segues into a ballad. Alfedo's Mambo is a descarga that will be totally danceable by salseros. Through the Window is a 6/8 with a vocal motif that sounds almost Native American. There is some excellent guitar work in this piece as well. Sunday Market is a Jazz-Fusion piece with a Weather Report/Return To Forever/Airto Moreira kind of vibe. Mi Barrio starts with Alfredo on congas and builds into a nice descarga with a J. P. Torres-caliber trombone solo from Julio Montalvo and a very nice bass solo as well. The piece ends with a beautiful multipart harmony a capella version of the opening track.
Magic Place was nominated for a Cubadisco 2013 award in the Jazz category. We have seen the group described as the Alfredo Chacon Groove in some places, and that is actually pretty descriptive of the sound as well. Highly recommended, especially for fans of the types of Jazz performed by the other groups we named earlier in the review.
Tracks:

Magic Place
40 Grados
Madrid at Night
Bossame Mucho
Ní pa ti, Ní pa mi
Lugn och Ro (Paz y Tranquilidad)
Aguacero de Mayo
Alfredo's Mambo
Through the Window (Chacaveramente)
Sunday Market
Conga Intro (Mi Barrio)
Mi Barrio
Magic Place (A Capella)
Personnel for Magic Place
| Role - Instrument | Name |
| --- | --- |
| Director, Vibraphone, Percussion, EWI | Alfredo Chacón |
| Piano | Gito Maletá, Iván "Melón" Lewis, Igor Tukalo |
| Drums | Georvis Pico, Fernando Favier |
| Guitar | Dayán Abad, David Tabares, Tony Carmona |
| Flugelhorn, Trumpet | Yarue Muñíz, Manuel Machado, Robertico García, Fernando Hurtado |
| Trombone | Julio Montalvo |
| Vocals | Julio Fowler, Gunilla Chacón, Pavel Urquiza, Elsa Carmona, Elena Medina, Paula Monteverde, Gema Corredera, Alaín Pérez, Luís Barberia, Yadam González, Alfredo Chacón |
| Bass | Iván Ruíz Machado, Alaín Pérez, Yadam González |
| Keyboards, Guitar Arrangement and Programming onLugn Och Ro | José Ramón Mestre |
| Tenor Sax | Segundo Mijares |
| Flute | Yasmin Banegas |
Kevin Moore - Thursday, 05 September 2013, 05:42 PM