New Stuff
[hide]
Photos of the Day
[hide]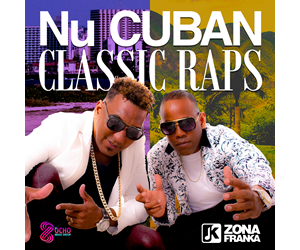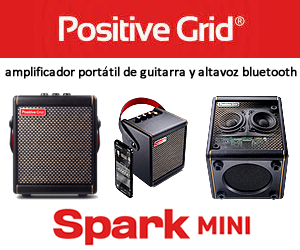 SpanishEnglishSólo se vive una vez - (Planet Records) Released 2014
CD Review - Sólo se vive una vez by Laritza Bacallao (Planet Records 2014)
Review by Michelle White , All rights reserved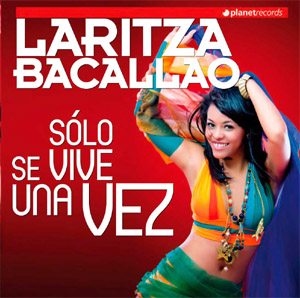 Cubadisco 2015 Winner - Opera Prima
Laritza Bacallao was born into music. Both her her father (Ernesto Bacallao) and grandfather (Felo Bacallao) were singers with Orquesta Aragón, and as a child Laritza sang with that legendary orchestra on more than one occasion. While her family history is permanently associated with the best in Cuban traditional dance music, Laritza's first solo album, "Sólo se vive una vez", can be described as Pan-Caribbean electronica. There is no salsa or timba and the only acoustic song is a bachata by Descemer Bueno. Instead most songs freely mix electronic versions of Caribbean rhythms such as plena, batucada, conga, merengue, bachata, ballada and reggaeton.
"Sólo se vive una vez" is certainly a lot of music for your money containing 16 songs. Several of the tracks have spent time at the top of the Cuban charts, most notably "Estrés", "Que suenen los tambores", "Carnaval" and "Nadie te lo quita (lo que está para ti)". The video for "Que suene los tambores" won in the Lucas 2014 Award (Cubans video awards) for Best Electronic Merengue and the album took home the Cubadisco 2015 "Opera Prima" award. Most of the songs were written by Osmany Espinosa with Martin Freddy contributing five songs. There is also a tribute to Juan Formel - a reggae inspired version of "El buey cansao".
This is not a music for dancing casino, but it is a contagious dance album. The songs have the simplicity of merengue with the intensity of electronica, making it tempting and easy for even the most left-footed to dance along. It will appeal to the younger crowd and fans of that illusive Tropical genre. You can purchase "Sólo se vive una vez" at Amazon, iTunes and Spotify.
| | | |
| --- | --- | --- |
| tr | title | composer |
| 1 | Estrés (Sólo se vive una vez) | Osmany Ernesto Espinosa Morales |
| 2 | Nadie te lo quita (lo que está pa ti) | Osmany Ernesto Espinosa Morales |
| 3 | Te amo | Osmany Ernesto Espinosa Morales |
| 4 | Malvada | Osmany Ernesto Espinosa Morales |
| 5 | La exclusiva | Martin Freddy Fenty Leonard |
| 6 | Que suenen los tambores | Osmany Ernesto Espinosa Morales |
| 7 | Que vive la fiesta | Osmany Ernesto Espinosa Morales |
| 8 | Carnaval | Osmany Ernesto Espinosa Morales |
| 9 | El buey cansao | Juan Formell Cortina |
| 10 | Tan sólo tú | Martin Freddy Fenty Leonard |
| 11 | Enamórate de otra | Osmany Ernesto Espinosa Morales |
| 12 | Si tu amor me va a matar | Osmany Ernesto Espinosa Morales |
| 13 | Una lágrima | Descemer Bueno |
| 14 | Obvio que te odio (La traición) | Martin Freddy Fenty Leonard |
| 15 | Avariciosa | Martin Freddy Fenty Leonard |
| 16 | Se te fué el avión | Martin Freddy Fenty Leonard |
Personnel in Sólo se vive una vez
Role - Instrument
Name
Vocals
Laritza Bacallao
Producers
Osmany Ernesto Espinosa Morales
J. Simon
Marvin Freddy Fenty Leonard
Pianos
Dayan Pérez

Cuban percussion
Elizardo Santos
Guitars
Julio Montoro
Rodney Blanco
Bass
Ernesto Bacallao
Trumpet
Arrechea
Trombone
Joel Cruz

Songs 1,2,3,4,6,7,8,9,10,11,16
Artistic Production:
Osmany Ernesto Espinosa Morales
General production, arrangemnets,

Recording, Mixing & Mastering:
Osmany Ernesto Espinosa Morales
J. Simon

Planet Records Coordinator
Manuel Rodda Payrol

Recorded at:
La Oficina Secreta & Estudios Scorpio
Songs
12, 13,14,15

Artistic Production:
Marvin Freddy Fenty Leonard

Recorded at:
Celula Music

Recording, Mixing & Mastering:
DJ. Unic & Lifak

Photography
Omar Leyva
Wadrobe and image
Ismael De La Caridad

Makeup
Manolito
Laritza's image
Mongui, EStrella, Joan, Miguelito

Laritza's personal assistant
Raciel Polo

Graphic Design
José Rojas
Michelle White - Thursday, 23 July 2015, 03:58 PM