CD Review: Viva Qva Libre by Qva Libre (Bis Music 2011)
Review by Bill Tilford, all rights reserved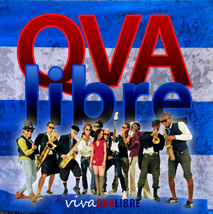 Qva Libre is one of Cuba's best current Alternative bands, occupying a niche similar to that carved out by groups like Elevense, Habana Abierta and Interactivo. Their repertoire has more Ska, Reggae, Reggaeton, Rock, Funk and R & B influences than those other groups, and if the musicians had been born in Southern California rather than Cuba, it is not inconceivable that this might have been part of the Third Wave Ska movement or something related to it in the Alternative spectrum. Viva Qva Libre is the group's second album, which won a Cubadisco award in the Fusion category in 2011 as well the Cuerda Viva award.

All of the tracks in this recording are excellent, but the song most likely to become a hit in the United States if it reached the right ears would be track 4 (Kumbia Funky), which, as the title hints, is, well, an extremely funky Cumbia. On the other hand, Track 7 (Super Héroe) almost has a Rolling Stones feel to it; this band moves in and out of various styles with ease. (Their cover of Azucar, for example, is still recognizable as having pnce been a Los Van Van tune, but they have customized the rhythm to make the song theirs.) Their version of Como Fue (a totally different song than the one made famous by Beny More) provides a rocking finish to the album.

The liner notes mentioned that there were two bonus videos as part of the disc, but these did not appear in this writer's copy and will not be mentioned in the song list below. Even as a straight CD, however, Viva Cuba Libre is a taste of the best of Cuba's most current music, keeping enough roots influence to make the sound distinctive but incorporating the best of the other genres out there today.

An interesting technical note is that the production of the recording reflects the evolution of the industry in Cuba - although Bis Music has the final product, the recording process was performed with smaller operations, and six of the tracks were mixed and mastered in the home of one of the engineers. (The audio quality is still quite good.)

Viva Qva Libre won a Cubadisco award in the Fusion category in 2011 as well the Cuerda Viva award. This recording is especially recommended for fans of Interactivo and other groups that perform true fusion music.
Songs:
1. 2012
2. Buena Suerte
3. La Vecina feat. Alejandro Vargas
4. Kumbia Funky
5. Divina Obscenidad
6. Disco Azucar
7. Super Héroe
8. Tú y yo
9. Obsesión
10. Cómo fue
Personnel in Viva Qva Libre
| Role - Instrument | Name |
| --- | --- |
| Electric and AcousticGuitar, Arrangements, Music Producer, Sequencing | Carlos Díaz Soto |
| Electric Guitar | Alejandro "el pollo Infane Guntin |
| Lead Vocal | Lenier Vera Parra |
| Vocals, Rap | Miguel Ángel "superruso" Ramos |
| Coros | José Carlos Pino Castillo |
| Bass | Daryl "el fino"Vaillant (1,4), Giordano Damián Serrano (2,3,4,5,6,7,8,9,10) |
| Drums | Marlon "el niño terrible" Yamian Marrero (1,2,4,6), David Smith (3, 5, 7, 8, 9, 10) |
| Minor Percussion | Livan "el timba" (3,5,7,10), Orlando "el contra" Medina Casanova (1) |
| Saxophones | Beiran Chaviano Gómez (alto 1-9), Rolando Marrón Bello (tenor 2-9), Heysell "fenómeno" Acosta (tenor 1), Omar Perón Llanes (baritone 1-9) |
| Trumpet | Rafael R. Galván (1) |
| Piano, Keyboards | Karina Guevara Mayo (1,2,4,6), Alejandro Vargas (3) |
| Bombo & Llanta | Esmidío Merencio Blanco (1) |
| Special percussion | Francisco Emilio Terencio (salidor 1), Alaín Varona Pérez (quinto 1), Rainiel Márquez Vinen (rebajador 1), Héctor Durete Tamayo (sartenes 1) |
| Recording | Alejandro Lugo in De P. Records (2,4,6), Celsio in Tamsel (3,5,7,8,9,10), Berty in PM Records (1) |
| Mixing and Mastering | Alejandro Lugo of De P. Records (1,2,4,6), Luís Durán in his home (3,5,7,8,9,10) |
Bill Tilford - Sunday, 06 April 2014, 05:51 PM