New Stuff
[hide]
Photos of the Day
[hide]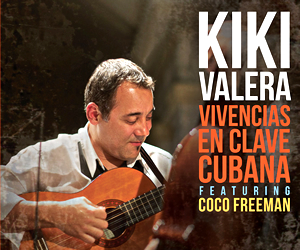 Martin Karakas - El Festival del Tambor Güillermo Barreto In Memoriam
by Martin Karakas - October 27-29, 2005 - Havana
Thursday Night - La Tropical
The Sixth Guillermo Barreto Drum Festival kicked-off Thursday night with a dream show at El Salon Rosado de la Tropical. The festival is organized by its artistic director, Giraldo Piloto, drummer and director of the one of the few timba bands in Cuba that continues to experiment and put out one exciting album after another. The festival runs from October 27 thru 29, culminating Saturday night at the National Theater with a concert by Chucho Valdes and the prize winners.

Thursday's line-up at the tropical is mouth watering: Rumberos de Cuba and Clave y Guaguancó as rumba appetizers, followed by La Charanga Forever, Klimax and Pupy y los que son son. There are no two bands more earnest or that make a better lineup at the Tropical than Pupy and Klimax.

One of the characteristics of the prodigal decade of timba, was that the creativity that fuelled this new salsa offspring seemed endless. Bands, competing to win over the dancers and the Cuban public, kept trying to outdo, not only the other orchestras but also their own previous albums. This intense forward motion of timba by nature would eventually reach an end, maybe leaving both musicians and fans burnt-out. In the post-era of timba, the majority of the leading bands have taken a step back to reflect on timba, this time from a more commercial and less creative vantage point. Not the case, however, with either Pupy or Klimax.

The Tropical is host to a lot of these multi-band evenings. Occasionally, they run from 8pm to 8am giving ample time for each band to play a good length set that allows them to set into a groove. But the tendency is to have each band play three or four songs; with a result less satisfying than having one band play a longer set. The ideal arrangement would have the Forever coming on early to get out of the way (hurts me as much as it hurts you), with the Rumba bands, playing in between sets. Then, either Pupy or Kilmax would play a solid hour plus set, to make way for a good two hour set to seal the evening. I knew I was dreaming.

Lately, it has been difficult to judge just how packed the Tropical will be and consequently, how early to arrive. Are the minuscule crowds that relatively big name timba bands have been attracting to the Tropical a sign that the Cuban public has grown tired of timba? I don't think so; but, back to the matter at hand. Pupy has got to be the most popular timba group at the moment; if they were playing alone, you could bet on a Van Van-sized crowd and on having to arrive early to deal with the few thousand people trying to get through one of two 3 foot wide doors at the same time. As it is, my guess is that there will be no fight getting in at anytime, especially given that it is a cold Thursday night.

Good thing too, because Cuban President Fidel Castro was on the nightly Round Table program with Diego Maradona, as well as Javier Sotomayor (Salsa Mayor's manager and backer) and a host of other Cuban sports greats. As it was, the discussion went on till after nine. What does this have to do with the show? Well, the fact that the Round Table program ran late, delayed the news, which in turn delayed the Brazilian soap opera, which, if you've been to Cuba or heard Los Van Van, you would understand my dilemma: either I would have to wait it out, or go to the concert alone…

By 12am, there is little wait to get in, the Tropical is pretty full, but not packed. The Forever, who have been wallowing for some years now, mostly hurting in the vocals, but also suffering from a less than steady flow of radio singles, are onstage playing their last song. The Forever are still a great band to catch live, especially for their retro-90s-timba sound.

Next up is Klimax, who play a spectacular set starting with a potpourri of their hits, including a bunch of songs written by Piloto that helped catapult La Charanga Habanera and Issac Delgado into fame, Me sube la fiebre, Mi estrella, No me mires los ojos, etc. As the founding drummer of NG la Banda, Issac Delgado's first solo musical director, and director and founder of Klimax, along with his work as a composer and arranger, easily make Piloto among the most important figures in timba.

Klimax is an odd group in that, while they seem to be completely outside of mainstream Cuban pop music, they steadily pump out songs that make the hit parade. How is this? Part of the reason is that, while innovation and experimentation are deeply grounded in timba, it is a still a cardinal sin to experiment too much, especially to the point of having, heaven forbid, jazz improvisation in your music —something that frustrates a lot of musicians, especially in the metales section. But Klimax don't only go too far down the jazz road for conservative Cuban tastes they also, do too many crazy rhythm changes and breaks, pushing the timba envelope even beyond Cuban standards; they do sick rhythm juggling making evident the fact that Klimax's director is also its drummer.

After their potpourri, Klimax move into the great Piloto song, first recorded by NG, Te confunde ser esta mujer, from Klimax's Oye cómo va, followed by La mujer de mi vida and an unidentifiable (new?) composition. After four long songs, Piloto graciously introduces Pupy, as my dream beings to materialize.

Se la lleva en la sangre, se te mete en los pies, cuando siento la tumbadora que me dice ven ven…

Since forming his own band Pupy has been one of the few bright lights of the post-timba era. He's been pretty prolific as well, putting out albums at almost a yearly pace, with a solid song in the top ten all the time. He has created an instantly recognizable sound –epitomized by the title De la Timba a Pogoloti and by the song itself.

De la Timba a Pogoloti typifies Havana cool, starting unassumingly, with a soft and percussive flute sound with syncopated drum beats, a beginning that in its peculiarity, immediately grabs one's attention before exploding into the thunderous, crunching hook of Pupy's piano tumbao enlarged by the bass playing the same tumbao. A surging drum roll signals the entry of the metales and, not even 20 seconds into the song, the listener has gone from intrigue to deep groove to unbridled dance fervor, out of which emerges the rumba-colored timbre of Mandy Cantaro singing:

"Yo naci en la Timba, rinconcito de mi madre, [I was born in Timba (marginal neighborhood in Plaza) where my mother lived]
y a los cuatros anos yo, ya jugaba con la clave, [already by age four, I was playing with the clave]
despues nos mudamos, y aprendí distintos toques, [we later moved, and I learnt different rhythms/styles]
porque mi crianza, la hice entera en Pogolotti [because my childhood, was completely in Pogolotti (another marginal neighborhood in Marianao]

Ven ven, no te confudas, el secreto te lo traigo yo, es una liga de mi son con rumba
[Come, come don't be confused, the secret that I bring you, is a mix of my son with rumba]
Ven ven no te confudas el secreto te lo traigo yo, es una liga de mi son con rumba

Un consejo quiero darte, no lo vayas a olvidar, [a piece of advice that I'd like to give you, don't forget it]
todo lo que bien se ha escrito, nadie lo podrá borrar, [everything that is well written, can never be erased]
hace tiempo mucho tiempo, vengo por mi caminito, [a while ago, a long time ago, I came along my little way]
dando pasos siempre firmes, [making steady progress],
suave suave y derechito. [calmly, calmly ahead]

The lyrics are Cesar Pedroso's description of himself. Born in the marginal neighborhood of La Timba and then, from age four, brought up in the working-class neighborhood of Pogoloti, a neighborhood well known for its rumba. Raised on the clave and learning several different rhythms from a young age, the song continues describing his life as an adult and musician, stating that his place in Cuban music history is well established, and that no one will ever be able to deny that, that he's been perfecting his game for a long time, taking little but steady steps, calmly, calmly ever forward.
In the second part of the verse, the song describes the elements that make up guaguancó and the fact that to be able to really play in the clave (of course llevar la clave can have several different interpretations) you have to be born with the clave. By that he means those neighborhoods, all over Havana, where you can see mothers dancing rumba while cradling newborns, young kids jamming rumba with their friends on buckets after school; neighborhoods where the presence of rumba, emanating from the solares, is ever present: "No me digas que se aprende ni que cayó de una estrella; la clave pa' que tu llevarla tiene que nacer con ella."

I like to over interpret, "No llores compai, no llores, ahora viene Pupy con la inyección de sabor para curar tu dolores," as Pupy's prognosis and cure for the current state of Cuban salsa.

The odd flute sound mixed with rumba drums —with which the song begins—, sounding almost unbalanced like a record at varying speeds, is immediately contrasted and complemented, with a very straight forward and resolute piano tumbao ("es una liga de mi son con rumba"), made more forceful with the support of the bass, a tumbao which embodies "pasos firmes... suave, suave, derechito." This opening tumbao is reminiscent of head-thrashing heavy metal power chords. At 00:10, that downbeat where Pupy comes in along with the bass, kick drum and snare, is like a fist slamming down on the table, the steps of a giant. This focused and steady approach is followed by the metales, as if mimicking the way Cubans wave their hands or fingers in the air to emphasize and exaggerate impassioned speech.

No llores comai

I remember reading an interview with Formell in a Havana publication where he spoke about the leaving of Pupy making way for a more virtuosic keyboard player. This may be the case; Pupy's strength is in his originality and the naturalness in which his tumbao's roll out, in which he beats all by miles. Pupy's sound is totally recognizable Although the comparison maybe irrelevant and even unfounded, especially given Van Van's almost four year contract dispute that kept them from releasing a studio recording, album by album, Pupy has far surpassed Los Van Van. I know… con calma, no te calientes…

Pupy's sound is hardcore, totally pop and dance oriented, and at the same time intelligent. Of course there are elements of Van Van but, Pupy has created a whole new sound, complex percussive textures, totally timba and totally reparto, de la Timba a Pogolotti, big and sophisticated.

Pupy's leaving Van Van is perhaps the best thing that has happened to Cuban music since the turn of the new century. Just to completely blaspheme, it sounds like Pupy is making up for lost time, his modern sound has taken over Havana.

Another quality that Klimax and Los que son son have in common, other than keeping it real, is the extent to which each director exudes the pleasure they get from doing what they are doing. An element that comes across even on their studio work and that no doubt helps the musicians buy into what their doing. Watching Piloto "bola de diente" on stage is great, with a constant enormous grin on his face as he whips his head from side to side looking at the tumbadora player on his right and then at the timbale player on his left. Cesar Pedroso, now completely in charge of his sound, seems equally content. The whole night at the Tropical, Pupy was smiling away, dishing out hard tumbaos a la Pupy and swinging and swaying confident and full of vigor. Even without the music, just by looking at Pupy on stage at the Tropical, one can tell he's at the top of his game.

Pupy has been able to maintain a pretty steady line-up over the last few years and has a powerful group of young musicians and young frontline of singers Mandy Cantero, Pepito Gomez and newcomer Jannier Rodríguez.

The show, which started with the theme Qué cosas tiene la vida, swept all annotations and focus away. Following was El vecino se mudó, Dice que dice, De la Timba a Pogoloti, La borrachera, La balla de Billy, followed by a blur of rum, dancing and other songs. A full set that went well into the night substituting one dream for another.
Friday-Teatro National

The following night, Friday, had Klimax at Havana's Teatro Nacional, this time playing a more Latin-jazz oriented set, starting with La mujer de mi vida, the biggest hit from their last album, Nadie se parece a ti. Contraste, written and arranged by Klimax keyboardist Yusef Diaz, was the night's highlight, featuring a remarkable solo by Giraldo Pilot. Manteca, the pioneering Afro-Cuban Jazz classic co-written by Chano Pozo and Dizzy Gillepsie, featured solos from Piloto, and two special Canadian invitees, drummers Aldo Mazza and Charlie Cooley. La chica perfecta featured a nice drawn out conga section. The night ended with performances from the young finalists in the drum kit competition.

The festival's artistic director, Giraldo Piloto founded the event in 2000 in honor of the great Cuban drummer Guillermo Barreto —Piloto's uncle— who had a significant influence on American popular music as a musician, composer and arranger for such groups as, Tommy Dorsey, Nat King Cole, Johnny Richards and Chico O'Farril.

Giraldo Piloto's took off were his uncle left off and has been no less influential as a drummer, composer and arranger. He co-founded the seminal Cuban salsa band NG la banda, then left along with Issac Delgado to become his director in his first solo project, before forming Klimax, one of the most original and revolutionary of the Cuban timba bands.

The festival's artistic director, Giraldo Piloto founded the event in 2000 in honor of the great Cuban drummer Guillermo Barreto —Piloto's uncle— who had a significant influence on American popular music playing, and composing and arranging songs for, Tommy Dorsey, Nat King Cole, Johnny Richards and Chico O'Farril among others.

Saturday's concert started of with a quartet featuring Chucho Valdes and Giraldo Piloto. From there a whole variety of groups played including a large ensemble under the direction of Bobby Carcaces, Caney from Venezuela and Rumberos de Cuba who played together with a Flamenco troupe.

The festival came to a close Saturday night with the awards presentation. The unofficial winners were as follows: Trumbores (Batá), Daniel Alonso del Valle; Timbales, Rosario Perdomo Blanco; Bongos, 6 year-old Jesus Estrada Gonzalez; Congas/Tumbadoras, Luis Andres Garcia Medina; and in Drum Kit, special mention to Guisi Garcia and First prize to Israel Morales Figueroa.

The competition part of the festival is aimed at fomenting young talent in Cuba; contestants have ranged from age 6 to 25. Prize-winners receive drums provided by the Canadian companies SABIAN, TAYE and KOSA.
Wednesday, 23 March 2011, 03:32 AM