Lo Nuevo
[hide]
Fotos Del Día
[hide]
Peter Maiden - Escovedo Family Concert
Pete Escovedo got his start playing music under Panamanian bandleader Carlos Federico in the 1950s during the Mambo craze, at gigs such as the tardeadas (afternoon dances) at the California Hotel in Oakland. Federico turned to teaching, and in the long run Pete became more famous than his mentor. In the early 1970s Pete made his name in Latin Rock with his brother Coke, founding Azteca.
I first saw Pete in the mid-1970s when he was recording two Salsa-styled albums with his daughter under the name Pete and Sheila Escovedo. They opened at a huge benefit festival in Berkeley for Cesar Chavez' United Farm Workers, where the closing band was Eddie Palmieri. Salsa was then reaching its zenith of popularity. Sheila soloed on congas and she took the crowd by storm. She boldly improvised with Afro-Cuban chops, and since she was a local, and a young woman, it was pretty unexpected. She was a fully formed artist, with fast hands, who structured her solo for dramatic effect. I believe she was only 19.
A year or so later I met Pete and Sheila when I was volunteering as receptionist at radio station KPFA. They came to be interviewed smiling and bedecked in turquoise. "I know who you are," I said, letting them in. "Pete and Sheila Escovedo!" They both smiled bigger. They liked being celebrities.
Later Pete built a solid big band, which nurtured many talented young players. To mention a few, there were John Santos, Rebeca Mauleón, and Wayne Wallace, now all leading music educators. Then there were Bill Ortiz, now with Santana, and Melecio Magdaluyo. It would be fair to say that the Machete Ensemble, which was led by Santos and featured all these musicians, was born in Pete's band. That was one of Pete's finest contributions, as Machete reached a pinnacle of achievement in Afro-Cuban jazz.
Pete was a hard working musician. Along with leading his big band, he could often be found downstairs at Larry Blake's in Berkeley, playing in a small group with guitarist Ray Obiedo, kind of in the way Jerry Garcia would play the Keystone with Merle Saunders when he wasn't busy with the Grateful Dead.
Meanwhile Sheila found mainstream success. In the 1980s she went out on her own as Sheila E., helped along by Prince, who was already a major star. She had a #1 hit with "The Glamorous Life." On national television she sang while playing timbales. It broke a barrier.
I interviewed Pete for the East Bay Express in the late-1980s, and he said his great dream was that he would join his musical kids, Sheila, Juan, and Peter Michael, in a family band. The dream was a reality in Stern Grove Sunday July 22, as the "E Family" showcased their new album, Now and Forever , which they released last year on their own label.
The show was in three parts. First, Pete's Latin Jazz band played. Then came the family band, going quickly through a few very nice tunes from the new album. Juan and Peter Michael showed their talents as multi-instrumental percussionists and charismatic performers. Finally Sheila played a funky hour-long set including some of her classic material.
The Escovedo family is a living representation of the vitality of the "Latin tinge" in the Bay Area. Call it jazz, pop, funk, or just originality, there's in it an acknowledged debt to Afro-Cuban rhythms and sensibility.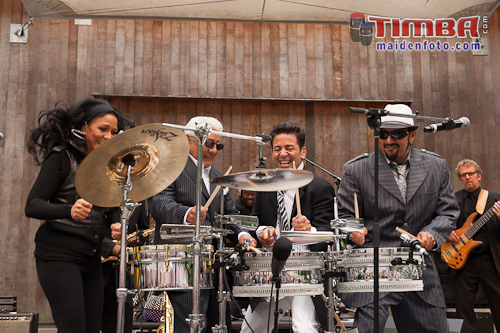 Four Escovedos Play the Timbales at Once! From left to right: Sheila, Pete, Peter Michael, and Juan Escovedo. Mark van Wageningen on Bass.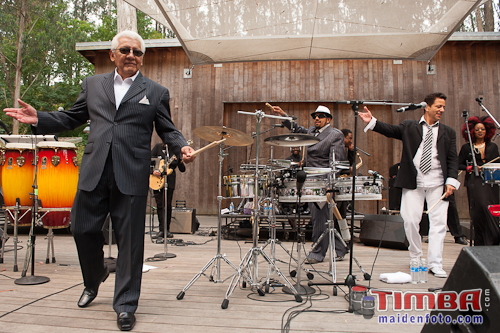 The Patriarch: Pete Escovedo, Juan (with hat) and Peter Michael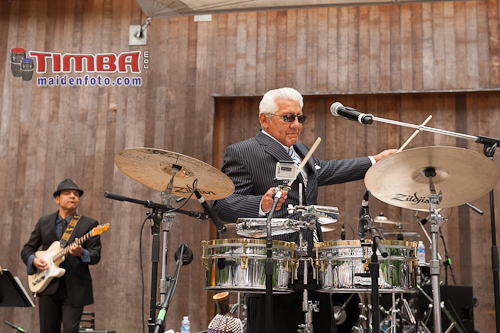 Pete Escovedo During his Latin Jazz Set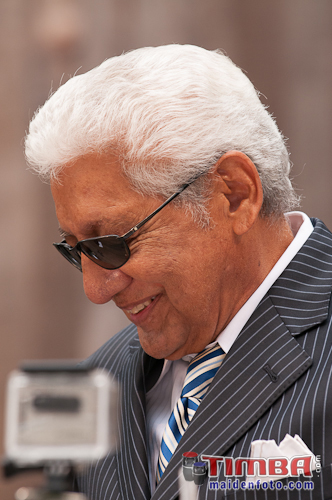 Pete Escovedo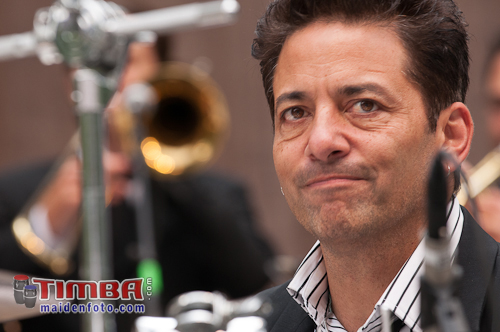 Peter Michael Escovedo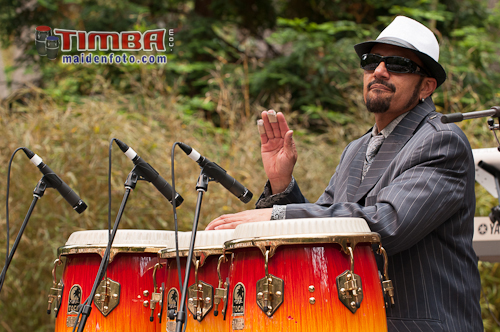 Juan Escovedo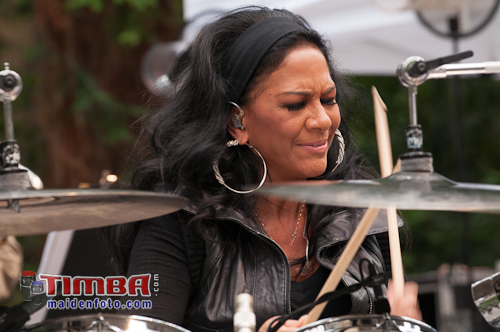 Sheila on Traps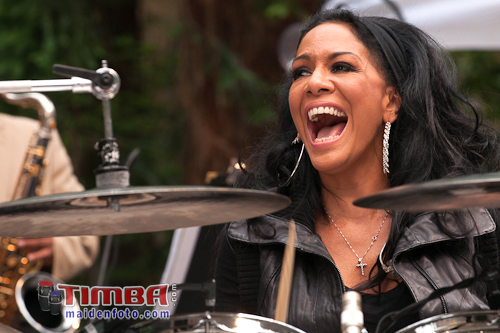 Sheila E.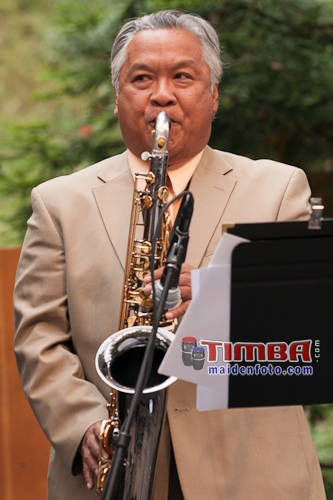 Melecio Magdaluyo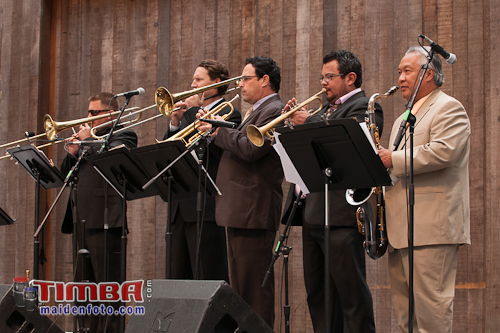 Pete Escovedo's Latin Jazz Band's Horn Section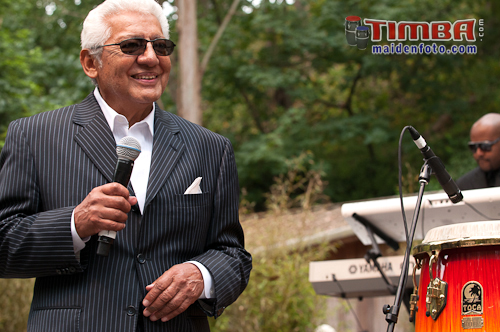 Pete Escovedo on Vocals


Pete Escovedo dancing with daughter Zina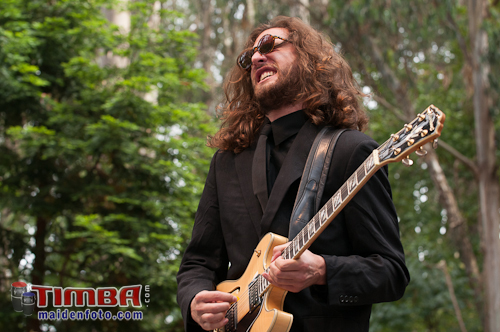 Sheila E.'s Guitarist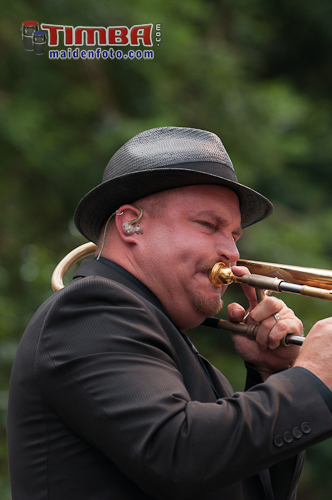 Sheila E.'s Trombonist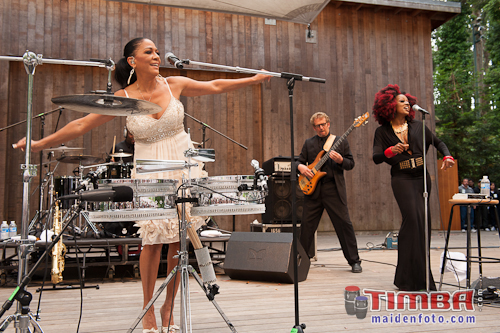 Sheila E. During her solo set


The Happy Crowd at Stern Grove, a Free Concert with a Great Vibe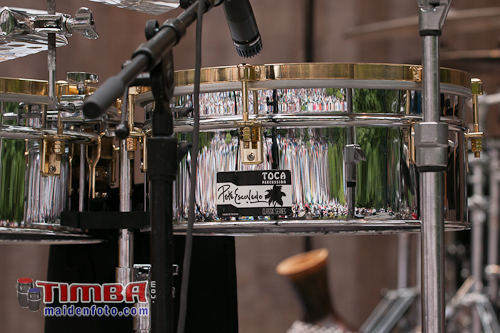 The immortal Pete Escovedo's Timbales, his own Signature Brand

martes, 24 julio 2012, 05:27 pm