Interview - 2001 - Miami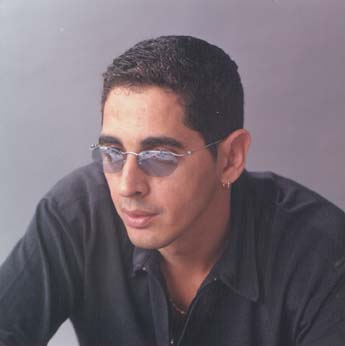 by Jacira Castro of Salsa Power.com
On January 25th, 2001, in Club Crystal, I had the opportunity to sit down and talk with Paulo F.G.
Jacira: How did you begin your musical career? How did you become a singer?
Paulo: It was a personal vocation, an 'itch', and my studies. At age 18, I began to study clarinet in Havana at the Ignacio Cervantes Conservatory.
Jacira: So, you play clarinet and besides that, what other instruments do you play?
Paulo: (He laughs!) No, I don't play clarinet! I play percussion and some piano.
Jacira: Did you have any formal training as a singer?
Paulo: Yes, I studied voice for two years.
Jacira: Have there been other musicians who have influenced you, both within and outside of Cuba?
Paulo: Yes, Beny Moré, of course, and all the older music, along with Los Van Van, Irakere, Rubén Blades and Oscar D'León.
Jacira: If we could look at your CD collection, who might we find there?
Paulo: All kinds of music, no matter the genre. I listen to everything, as long as it's good. I especially like Black American music and Cuban Salsa.
Jacira: There are a lot of really good musicians in Cuba, but you are a magnet for the young ladies. Why?
Paulo: Well, I don't really like it when they categorize me that way, but I suppose it is due to my stage presence. I am a musician of the people - for all kinds of public - all levels. This is what the people deserve.
Jacira: Do you collaborate musically with other musicians on the island or elsewhere?
Paulo: Yes, recently we did an album in homage to Celia Cruz with Issac's producer. We have done things with Azúcar Negra, Siboney and other productions, also with Formell.
Jacira: Tell me about your time with Adalberto Alvarez, Dan Den and Opus 13.
Paulo: These were necessary phases. My time with Adalberto was ephemeral. With Dan Den, I was the principal singer and with Opus 13, I left because I wanted to do something more dinamic. I left to form my own band. I like fusion, and I wanted to do my own songs... a more personal kind of music.
Jacira: A few years ago, you sang in a Fania production called "Bravo", where Celia Cruz also sang, among others. How did this come about?
Paulo: That was thanks to Jerry Massucci, who was a great blessing in my life. Before he died he wanted to push Cuban music and combine it with what he already had in his catalog. One of my songs was included in that album: "Tu no me calculas".
Jacira: What do you think about the way that the majority of the people in the USA perceive Cuban music as a genre?
Paulo: One must recognize the value in traditional Cuban music, which is what is most known here in the US, because if it wasn't for them, we wouldn't be here. But the new contemporary Cuban music is like a small child: good, sweet, but it's the child nobody wants to raise. It requires the sponsorship of the entire system, the distribution and promotion that it can afford you. Contemporary music is novel and we are looking for a space, a larger presence in today's market.
Jacira: Tell us a little about the history and the way that TEAM CUBA was formed in the spring of '98, and if that is still in force today.
Paulo: That was a group of the best musicians at that time and we did a tour of Europe. If that idea had been supported by a record label, if it had been promoted better, it would still be here today. It lacked production support and died.
Jacira: Is there a fraternity or a rivalry between you and Manolín, or between you and Issac?
Paulo: Absolutely not. There is no rivalry at all. On the contrary, we sometimes work together. As a matter of fact, in October, November and December of last year we collaborated with Manolín while he finished putting together his new group.
Jacira: As far as the personal goes, are you married? Do you have children?
Paulo: Yes, I'm married and I have two sons, ages one and four and one-half.
Jacira: Outside of Cuba, there seems to be a focus on the "traditional" Cuban music, and inside of Cuba, there is a focus on the tourists. Based on that, is there any future for the genre known as "Timba", which is a purely Cuban style? How has that been received by the mass markets outside of Cuba?
Paulo: Timba broke the pattern. It is the new popular music, but it has a passive character. It maintains the essence of Son, the Clave and the Rumba. It came from the people themselves.
Jacira: What are your plans for the future?
Paulo: Right now I am free. I don't have any contract with a record label. I just finished an independent production which was launched in Cuba (it is not yet available here in the US). It is called, "Una vez más ... por amor". I also have a production planned with HMC Productions in Miami.
Tuesday, 22 March 2011, 07:31 PM