Discography - 1995- Fruta prohibida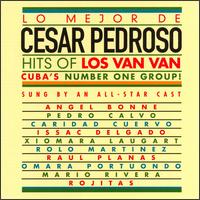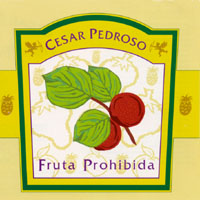 1995
Fruta prohibida
Lo mejor de César Pedroso

These two albums are identical, except for the covers and the ordering of the tracks. This album is at once very similar and very different from "Gracias Formell". Each features an all-star band, a variety of legendary Cuban guest singers, and rearrangements classic songs from Los Van Van composer.
The difference is that on "Gracias Formell" Juan Ceruto uses Formell's songs as points of departure for his own stunning, modern timba arrangements. Conversely, the arrangements on "Fruta Prohibida", if anything, are more traditional than the LVV versions. Compared to either Gracias Formell, or Pupy's two most recent CD's, "Fruta Prohibida" is nothing that's likely to raise the blood pressure of today's timberos, but it's a very pleasant album nonetheless. Ten beautiful songs, very well played and sung, and the recording quality is superb -- far better than most Cuban recordings from the 90's. Here's a quick review of the songs, following the track order of the "Lo Mejor" CD which is more readily available in outside of Cuba:
Seis Semanas - sung here by Rojitas - This was originally recorded in 1982 -- on the LVV album with the cow playing the guitar (most early LVV vinyl albums were simply entitled "Los Van Van"). It's now available as LVV Colección, Vol. VII. It was then given an eleven minute treatment, with a spectacular and commanding vocal performance by Mayito Rivera vocal on the Van Van masterpiece, "Ay Dios, Ampárame", recorded in 1995, the same year as "Fruta Prohibida". Finally, Pupy recorded an electrifying version with Los Que Son Son in 2002.
Será que se acabó - sung here by Issac Delgado and Angel Bonne - This one was originally recorded on the 1984 Van Van album "Anda, Ven y Muévete", now available as LVV Colección, Vol. IX. The new version is very nice, and it's also very nice to hear Issac and Angel Bonne together -- two singers with a similar aestethic and a strong gift for finding the warmest, sweetest notes in any song.
Me gusta pero no puede ser - sung here by Xiomara Laugart -- This was the opening track of the 1988 LVV album "El Negro no tiene na". Xiomara started out as a backup singer for Pedro Milanés and wound up having a successful international career.
Tranquilo, Mota - Pedro Calvo sings lead, as he did on the original recording from the 1989 album "Crónicas" ("Colección, Vol. XIV"). This is one of Pupy's best LVV compositions. The 1995 version is a bit tamer and quite a bit shorter, but has considerably better recording quality and no dated-sounding electronic percussion.
Esto está bueno - sung by Issac Delgado - Oringinally sung by Pedro Calvo, this was one of the best songs from 1990's "Aquí el que baile gana" (Colección, Vol XV) and is also one of the best songs on "Fruta Prohibida". Issac really makes it his own.
Fallaste al sacar tu cuenta - sung here by Caridad Cuervo - It's back to 1982 again for this slower and very traditional sounding number. Caridad Cuervo, another important singer of traditional Cuban music unfortunately passed away several years after recording this album.
Después de casaste - Continuing with the theme of honoring older Cuban dignitares, this song, originally from the 1983 LVV album which featured "Sandunguera" (Colección, Vol. VIII), is sung here by BVSC singer Raúl Planas.We're getting a long way from Timba here!
El buena gente - Originally from 1985's "La Habana, Sí" (Colección, Vol. X), it's sung here by Rolo Martínez, very familiar to US and European audiences as the charismatic older singer with Cubanismo. Again, the recording quality is better, but this version doesn't have the fire of the original seven-minute Pedro Calvo/LVV version.
Disco Azúcar - This is a definite high point of the album. Buena Vista Social Club diva Omara Portuondo is absolutely inspired on this Timba Classic from the 1994 album of the same name. It's really quite an amazing performance. Without attempting to "timbafy" her style in any way, she sounds perfectly modern and appropriate singing one of Timba's hottest arrangements. Hey Omara, we hear Bamboleo has an opening!
Calla, calla - Originally from 1987's "Al son de caribe" (Colección, Vol. XII), this version features one of the first recordings of Mayito Rivera, who had only recently joined Los Van Van. The song itself is a long cry from Timba, but like Issac, anything Mayito touches turns to gold.
Tuesday, 22 March 2011, 07:31 PM