Pupy y los que Son Son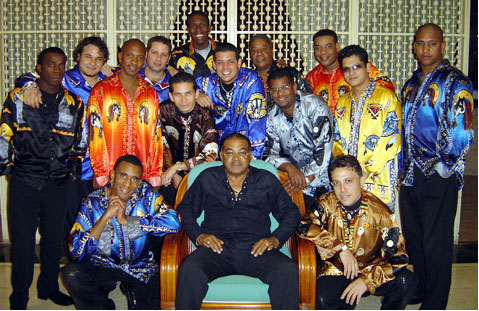 photo courtesy of Eli Silvrants
César "Pupy" Pedroso (aka, "Pupi Pedroso") was one of the key figures not only in Timba, but in the last 40 years of Cuban pop music. As well as being one Cuba's best and most prolific composers, he played a seminal role in revolutionizing the art of salsa piano playing. He passed away on July 17, 2022.
He started with Orquesta Revé and then became a founding member of Los Van Van. In the summer of 2001, he left to form his own group, "Pupy y Los Que Son Son", which has now released four of the best CD's of the decade.
Highlights of timba.com's Los Que Son Son section:
"De Roldolfo Cárdenas y Pupy Pedroso" by Ilán Greenfield. One of Pupy's favorite collaborators was the late great lyricist Rodolfo Cárdenas, who wrote such LVV classics as "Que le den candela". Be sure to read (and listen to) Ilán's moving retrospective of this great musical partnership.
Que cosas tiene la vida -- Bassist Pepe Martínez wrote this exceptionally insightful review of Pupy's first CD after leaving Los Van Van. Includes multiple audio examples
2004 Video Interview - In Michelle White's video interview Pupy goes into detail about the unique style of Los Que Son Son.
Click here for a live audio clip featuring guest singers
Mayito Rivera, Roberto Hernández, and Pedrito Calvo!
Kevin Moore - domingo, 17 julio 2022, 10:59 am