Discography - 199x - De Timba a Pogolotti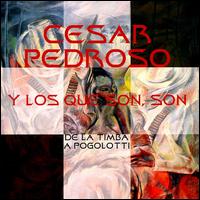 Pogolotti is a Havana barrio known for producing more than its share of rumberos, including Sr. Pedroso himself. I'm still researching this album, which appears to be a live recording from La Tropical. The cover says "Los Que Son Son", but it was clearly done well before Pupy began to conceive of Los Que Son Son as we know the group today. It's an excellent group -- Changuito on timbales, and beautiful horns, especially if it's really live. There's no crowd noise, but each track fades out and it has the sound of a board mix, albeit an extremely good board mix! Like "Fruta Prohibida" it features mostly older, pre-Timba singers like Raúl Planas and Pía Leyva.. Angel Bonne is the only Timbero here.
Ya tu campana no suena - originally from 1986's "Eso que anda" (Colección, Vol. XI) - sung here by Angel Bonne. A nice strong version.
Habla claro camará - originally from 1984 (Anda, ven y muévete/Colección, Vol IX) - sung here by "Tiburón" from Son 14.
Discúlpeme señora - originally from 1986 (Eso que anda/Colección, Vol. XI) - sung here by Raúl Planas.
Eso huevo quiere sal - The singer here is Los Van Van flautist Jorge leliebre. It's one of the more interesting tracks, with a nice strong groove.The song, however, is written by none other than Rodolfo Cárdenas, a name which keeps popping up on the backs of Timba CD's! He's most famous for writing one of LVV's biggest hits ever, "Que le den candela". He also wrote the "sequel", "La protesta de la gallinas" from "Lo Ultimo en Vivo", "La Shopomaníaca" and several other LVV songs. My favorite Cárdenas song is "El coleccionista", recorded by none other than Charanga Habanera on "Tremendo Delirio".
Parece mentira - Again, this doesn't seem to have been recorded by LVV. It's a very good song and Angel Bonne sings it beautifully -- the most valuable song on the album unless you're a BVSC buff.
Me falta un año - Speaking of BVSC, the next one is sung by Pío "El Montunero" Leyva, the charming, diminuitive octogenerian singer made famous by Ry Cooder's movie and CD's. Me falta un año was originally recorded in 1988 on "El negro no tiene na" (Colección XIII). He actually sounds a lot like Pedro Calvo may sound in another 30 years!
Rico Timbalero - Raúl Planas returns to sing this basic Son arrangement, also written by Rodolfo Cárdenas.
El Bate de aluminio - Tiburón begins this one with "Hey You, Sammy Sosa!", leading the astute historian to the conclusion that this may have been recording during or shortly after the summer of 1998, when Sosa slammed 66 homeruns, only to come in second. The coros owe a bit to Issac's live version of "La vida sin esperanza", but it's a great track, and it's too bad it fades out after only 3:45.
Tú quisieras ser la fiera - This one is sung by Miguel A. Rapsal of Pachito Alonso.
Homenaje a Ma' y Pa' - This is primarily an instrumental with coros, features solos by the various excellent members of the all-star bend, including NG's great trumpeter Elpidio Chapottín.
Special Thanks to: Robert Schlotzhauer for providing information on this disc.
martes, 22 marzo 2011, 07:31 pm