SpanishEnglishDiscography - 2001 - Qué cosas tiene la vida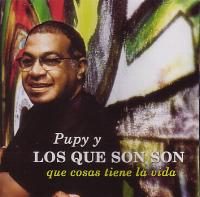 by Pepe Martínez - edited by Kevin Moore

"Qué cosas tiene la vida" is just stratospheric -- a great album, and in my modest opinion one of the best "Timba" albums ever. It has three marvelous singers, very nice songs and high energy playing.
This album is an example of the beauty of simplicity -- no complicated songs or mega-sophisticated arrangements -- no crazy bloques or mambos a la "Earth, Wind and Fire" -- just classic lines, but they all sound great because they have such melodic imagination. This recording gives credence to the well known statement that not everything in a given musical style can be written down. Pupy has been able to make music with the basic elements and parameters which rule a concrete style and has done it so brilliantly that all the tunes will probably be classics -- no small accomplishment. Most of the cuerpos and coros use standard Cuban melodic lines but they're not the type of overused cliches which tend to make more knowledgeable listeners lose interest. On the contrary, they sound extremely fresh and fluent -- you can easily feel that this music comes directly from the heart and not from a cold laboratory. Pupy has made his music and songs as they were made in the days before computers -- instead of making a musical "product", he writes songs which grow out of his personal experience. He also has that magical ability to "create hooks" -- joining together lyrics and melody in a way that sounds authentic and "Cuban street" flavored, and at the same time elegant and classic.
He achieves the same balance with his singers. Pupy has been really intelligent in choosing his partners. He gets a "rumbero" flavor with Armando Cantero [audio example], a "son"and "monte" feel with Pepito Gómez [audio example], and "guapería habanera" with Tirso Duarte [audio example]. It's an amazing combination -- you have everything you need with these three guys to make a great front line.
Tuesday, 22 March 2011, 07:31 PM