New Stuff
[hide]
Photos of the Day
[hide]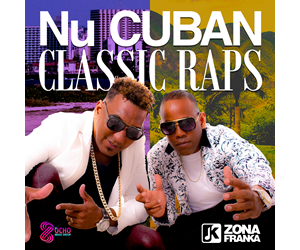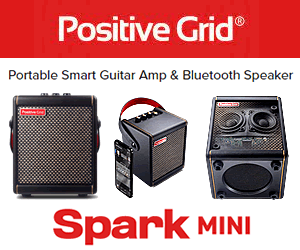 Entrevista - Video - San Francsico - April 2007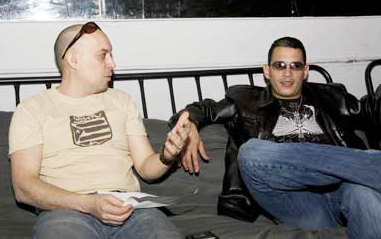 April 5, 2007
questions: Michael Lazarus & Kevin Moore
photography: Tom Ehrlich
INTRODUCTION
Danny Lozada is among the most important figures of the timba era. He wrote and/or sang many of the songs from Charanga Habanera's epic fourth album Tremendo delirio, and later collaborated with CH arranger Juan Carlos González on another of timba's most important discs, Tanto le pedí. Of the many projects he's begun since moving to Miami in 2006, two are of special interest to timba fans: the release of a remixed and remastered version of Tanto le pedí, and a planned reunion with musical soulmate Juan Carlos González to produce and record a sequel.
We interviewed Danny on Thursday, April 5th, 2007 - just before an amazing 4-hour rehearsal at San Francisco's Secret Studios. The interview is in Spanish, but I've summarized the highlights for English readers.
THE INTERVIEW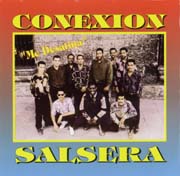 Antes de la Charanga - DSL - modem - Danny's first major gig was with Conexión Salsera, where he caught the attention of many timba fans during the group's run at the famous Disco Azúcar club in Cancún.
Lozada's dynamic stage presence and the1995 breakout hit "Beso de queso" caused David Calzado to offer him a job with Charanga Habanera. He joined in early 1996 and immediately started contributing songs such as Usa condón, Dime si te quedarás, Lo siento por ti, and Qué quieres de mí, all of which would appear the the 1997 masterpiece Tremendo delirio.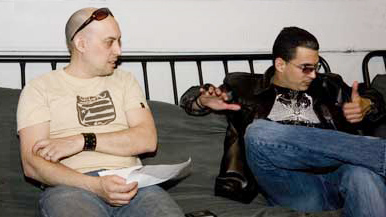 Describing the arranging process to Mike Lazarus
La suspensión - DSL - modem - By the summer of 1997 la Charanga's creativity, stage show, and popularity had reached new highs and they were chosen to headline a nationally televised concert at La Piragua attended by many visitors who were attending an important political conference. The group arrived by helicopter, wearing flashy North American attire and displaying the capitalist insigniae of Nike and various US sports franchises. They proceeded to perform their nightclub act, complete with erotic dancing and thinly veiled double entendres. It was the first time that many government authorities had seen the group in action and it created such an uproar that the television broadcast was cut short and the group was famously suspended for 6 months.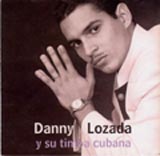 Juan Carlos González and the formation of Danny Lozada y su Timba Cubana - DSL - modem - The genius of David Calzado was his vision for the image of the band, his business and promotion skills, and his perfectionism in terms settling for nothing less than complete and flawlessly brilliant arrangements and recordings. But it was a musical genius, Juan Carlos González who contributed the great majority of the actual musical gems which constituted the sello -- the trademark style -- of la Charanga. González never felt he had received sufficient recognition for his arrangements and the suspension was the catalyst which led him, and Danny, to leave la CH and form their own band. It was Juan Formell who suggested the name "Danny Lozada y su Timba Cubana".
The departure of Juan Carlos for Europe - DSL - modem - Tanto le pedí was a masterpiece and the group had landed a lucrative gig in Cancún, but the explosion of economic opportunities for timberos in Havana was beginning to subside and in 1999, González fell in love and moved to Europe, where he remains to this day, although he returned to Havana and did a brief stint with Charanga Forever in 1999, resulting in their second album on the Fantastica label.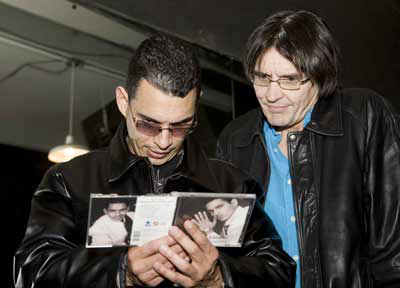 Danny Lozada with Kevin Moore
A reunion with JCG? - DSL - modem - Perhaps the most exciting news to come out of this tour and interview is the mutual desire of Lozada and González to reunite and create the long-awaited sequel to Tanto le pedí.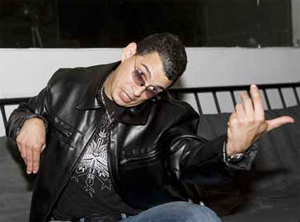 The Creative Process - DSL - modem - Whenever the opportunity to do an interview arises, I always try to get the person to talk about the creative process. This time, thanks to interviewer Mike Lazarus, the results were very enlightening indeed. They'd begin with a rumba clave click track and Danny would sing the song and play a simple bassline as JCG experimented with his keyboard.
Usa condón - DSL - modem - At the hands of DL and JCG, Calzado's idea of creating a safe sex musical public service announcement turned into one of timba's greatest anthems, and the vehicle for some of the greatest performances of the original Charanga Habanera, the subsequent Tirso Duarte incarnation, and now, of Danny new group. Usa condón is perfection in arranging - the cuerpo, the bloques, the tumbaos, and the dramatic pacing are enough to send any red-blooded timbero into orbit.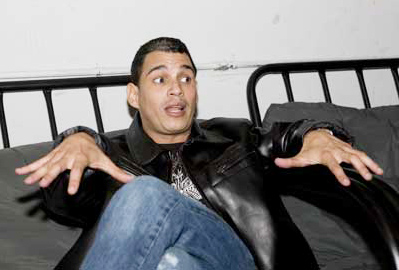 "The Rolling Estone" - DSL - modem - Danny's take on the reformed Charanga Habanera
Pedro Pablo - DSL - modem - When the bass tumbao was part of the arrangement, like the first and last tumbaos of Usa condón, it was Juan Carlos who came up with the idea, but the majority of the tumbaos you hear behind the cuerpos, coros and mambos were the work of the masterful Pedro Pablo, timba's most melodic and in-tune bassist, now the leader of the group Rebambaramba.
Los bloques! - DSL - modem - Since Arsenio Rodríguez and Ritmo Oriental, no other band has been as creative and prolific in the field of bloques as Charanga Habanera. Danny gives credit to Eduardo Lazaga (the son, interestingly, of the founder of Ritmo Oriental) and conguero Vitico Sagarra.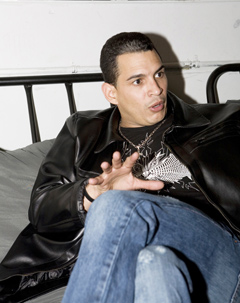 Más bloques! - DSL - modem - Tanto le pedí was also loaded with wild bloques which were the result of a collaboration between drummer Raúl Hernández (now somewhere in Europe), Pepe Espinosa, and the great conguero El Panga (Tomás Ramos), who played briefly with La Timba Cubana between stints with Paulito and Cubanismo.
El Menor de la Salsa - DSL - modem - The 1997 front line of Danny, Sombrilla and Michel Maza was arguably the greatest 1-2-3 punch in timba history. DL wrote two wonderful songs for Michel to sing on Tremendo delirio - Dime si te quedarás and Lo siento por ti. Both Danny and Michel have re-recorded the latter in recent years.
La letra - DSL - modem - Like Formell and so many others, when Danny needs lyrical inspiration he looks to the Cuban street.
Livin' la vida timbera - DSL - modem - I've long had a pet theory: the reason so many Cuban musicians have failed to continue producing great timba after leaving the island is the lifestyle. Danny agrees wholeheartedly.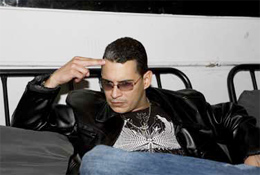 Timba en la Yuma? - DSL - modem - But is there hope? What will it take to squeeze more great music out the rapidly growing number of expatriate timberos? Here's a quick list of the most creative figures who now reside outside of Cuba: DL, JCG, Manolín, Issac, Luis Bu, Chaka Nápoles, los Pututi I-II-III, Reinier Guerra, Tomasito Cruz, Yoel Páez, Joel Domínguez, Melón González, Alain Pérez, Georvis Pico, Pepe Rivero, Mipa Cuesta ... ay!
So then why did you leave Cuba??? - DSL - modem - Hear it for yourselves!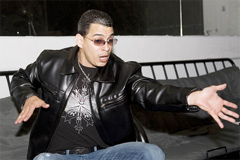 Danny's non-timba projects - DSL - modem - Polémicoa is Danny's rather odd idea of mixing Latin music and gay lifestyle themes! But don't despair, ladies, DL himself is thoroughly heterosexual! His other new project is Bacha-son, a mixture of Dominican style bachata and Polo Montañez-style Cuban pop.
On Juan Luis Guerra - DSL - modem - I've always thought DL's ballads, such as Como te tuve yo, had a lot of the same flavor as those of Juan Luis Guerra, my favorite non-Cuban Latin artist. Danny likes him too.
Tuesday, 22 March 2011, 07:31 PM