Danny Lozada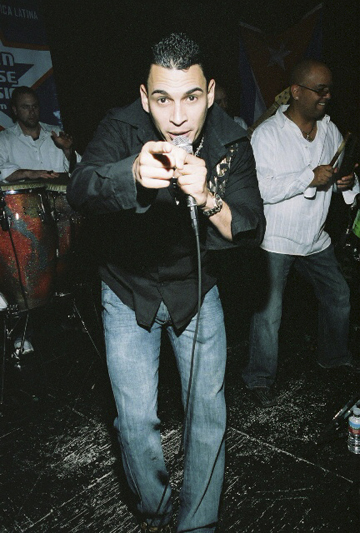 photo by Peter Maiden
Danny Lozada Guzmán is one of timba's best singers, composers, and bandlears. As of 2007, he's living in Miami and periodically playing around the country with various bands.
He was born in Havana, Cuba on April 27th in 1973 and began his musical career in 1991 with a group called Salsa de Esquina. However, he didn't gain public recognition until 1994 when he made a name for himself as a vocalist and composer for the group Conexión Salsera.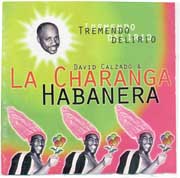 In early 1996, after hearing Danny's first big hit, Beso de queso, David Calzado hired him to sing lead and composer with Charanga Habanera. Danny developed an incredible creative chemistry with pianist/arranger Juan Carlos González, with the two of playing defining roles in the landmark album Tremendo delirio. For that album, Lozada wrote Dime si te quedarás, Lo siento por tí, Qué quieres de mí and Usa condón and sang lead on No estamos locos, Charanguéate, and El coleccionista. He also wrote the controversial Mango song which was banned after its first performances.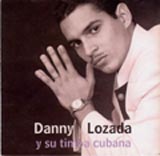 When Charanga Habanera was suspended in August of 1997 after a nationally televised concert at La Piragua on the Malecón, Lozada and González set out to form their own group, which, at the suggestion of Juan Formell, they called "Danny Lozada y su Timba Cubana". The created an extraordinary album entitled Tanto le pedí, which remains to this day a cult classic among timberos around the world. All the songs were written by Danny and arranged by Juan Carlos. Danny has the master tapes in Miami and a plan is in the works to remix and remaster the album, hopefully in 2007.
After González moved to Europe in 1999, Danny played sporadically in Havana and made another album, Lo mejor de mi corazón, which was a mixture of some timba and various forms of pop. In 2005 he moved to Miami, and in 2007 played his first West Coast tour, which was documented in great detail here at timba.com. His performing and bandleading abilities are second to none and seeing him in concert is a must for any red-blooded timbero!
Danny and Juan Carlos are now back in touch and hope to reunite to create a new timba album along the lines of Tanto le pedí and hopefully play together again.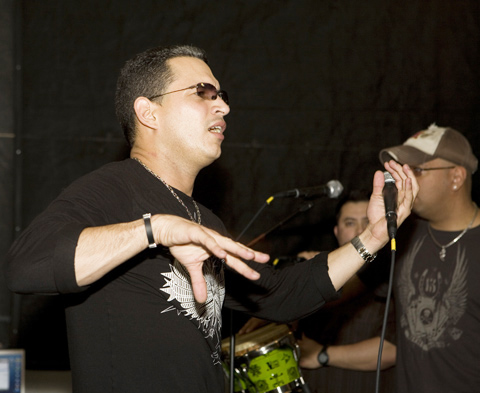 photo by Tom Ehrlich
Kevin Moore - Wednesday, 03 August 2011, 03:45 AM