New Stuff
[hide]
Photos of the Day
[hide]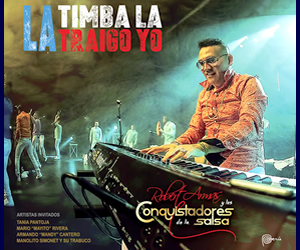 by Kevin Moore ©2001
Piloto's right-hand man, the other primary creative force in Klimax, is keyboardist/composer/arranger Yusef Díaz, the only founding member still in the current lineup. Piloto himself sums Díaz' contributions best in his timba.com interview: "He's a great person and a great musician who has added a lot to the Klimax genre. You can't talk about Klimax with talking about Yusef, and his compositions and arrangements from the first record to this recent one."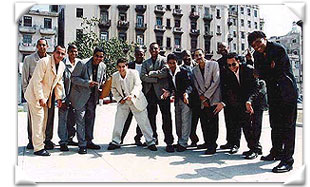 Each of the first 3 Klimax CDs featured a different pianist. The first was Tony Pérez, another Issac alumnus, who has earned so much respect in Cuba that Chucho Valdés chose him to take his place in Irakere. Pérez has also played on dozens of Latin Jazz CD's, including Juan Ceruto's recent tribute to Emiliano Salvador, "A Puerto Padre". Pérez invented a number of innovative and influental montuno parts and also wrote the arrangments for two of the best tracks on the first CD, Corazonada and Consejo a una Amiga, an amazing piece of music which the band still plays in concert. When Pérez left after the first CD to pursue his jazz career (to the great dismay of Timba fans!), he was replaced on the second CD by Luis Andrés Rodríguez-Carillo, better known simply as "Wicho". Wicho quickly became a very exciting Timba pianist, but like so many brilliant young Cuban musicians, gave in to the temptation to leave "la vida dura" of Havana behind and relocate to Spain. We've tried to find out what he's been up to, but we fear that, separated from the fertile musical scene in Havana, he's fallen into creative obscurity like so many other great expatriate musicians before him. His departure opened up the coveted piano chair for 22 year old Marcos Crego, who recorded the third CD and is still with the group today. Marcos, the son of the legendary NG trumpeter José "El Greco" Crego, is also a brilliant Jazz pianist and has recorded with his father's group ("Top Secret"), and with Julio Padrón, among others.
In spite of its personnel changes Klimax has retained a very consistent musical identity because, unlike many of the singer-led bands, Piloto and Díaz write very detailed arrangements and rely much less on their musicians to create the "hook" montunos and tumbaos that are so critical to the Timba style.
Roberto Riverón played bass on all 3 Klimax CD's before leaving for Cubanismo to take the place of the great Carlos del Puerto. Riverón, like Pérez, has become a top studio musician, playing on both Issac's and Ceruto's latest projects. He also did some writing and arranging on each Klimax CD, and was the arranger and co-writer (with Piloto) of the 3rd CD's breathtakingy beautiful "Regalo de Amor". His brother, Roicel Riverón, is the electrifying drummer of Manolito y su Trabuco. Klimax's current bassist is Omar González, who recorded part of the 3rd CD and is currently still with the group.
Like Los Van Van and many other Timba bands, Klimax has always featured three lead singers. Manuel Denis sang on the first two CD's, adding a handful of compositions, before leaving to form his own group, "Denis y su Swing", which now has a CD out which includes remakes of two of his Klimax compositions as well as new originals, with arranging contributions from Tony Pérez and Riverón. Denis was joined on the first CD by Alexander Díaz and Ernesto Manuit.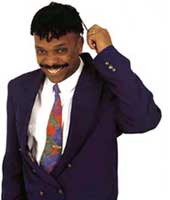 Manuitt got married and moved to Berlin and was replaced by Juan Carlos Hechevarría who is still with the group today. Díaz, who is now a corista with Issac Delgado, was replaced by the phenomenal Carlos Calunga, who after the 3rd CD, wound up with Manolito in the bizarre game of musical chairs that took place when Pedrito Calvo quit Los Van Van. Calunga has sung many of Klimax's biggest hits, including the title track of the second CD, "Juego de Manos". He has soaring, versatile voice with an incredible high range that stretches to high C# and beyond. It's wonderful to compare the studio version of "Catarro Chino" to Calunga's live version on the "Concierto Eurotropical" CD. He sings many of the same guías from the studio version up a diatonic third, creating a very exciting effect.
When Denis left the group, Leo Vera, a well-respected alumnus of both La Charanga and Irakere, agreed to postpone his planned solo career to spend a year with Klimax and to sing on the 3rd CD, "Oye Como Va".
As of 2001, t he current lineup included Hechavarría, Adan de Dios Bonné, and Ebblis Valdivia, who is also a television actor in Havana.
The percussion sections of Piloto, Jorgé Luis Torres and Yonder de Jesús Peña on drums, congas and timbales, respectively, stayed constant on all 3 CD's, but the latter two have both gone abroad and have been replaced by Julio López and Roberto San Crístobal.
Sunday, 07 October 2018, 10:14 PM