Interview - Juan Ceruto - c. 2002
by Kevin Moore and Luis "JazzBuffalo" Moreno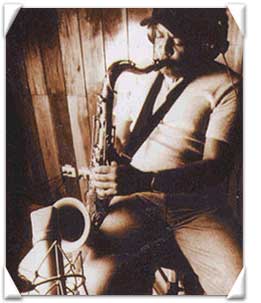 TIMBA.COM: We'd like to start by asking you about your life before you became one of the most respected musicians and arrangers in Cuba. What was your musical childhood like? Where and with whom did you study? Who were your early musical role models?
CERUTO: I started studying the violin at the age of 7 but switched to flute at 12 and graduated as a flautist. Next I studied at the ISA (Superior Institute for the Arts) for period of 3 years. I was always a part of classical groups during my first few years at school, but later on I joined pop groups, which is what got me interested in orchestration. I started arranging for groups formed by the other students. This is also when I developed my interest in Jazz music, especially Maynard Ferguson, Duke Ellington, etc.
TIMBA.COM: What groups did you work with when you started playing professionally?
CERUTO: I was a founding member of Opus13. Later I became a founding member and musical director of "Paulo F.G. y su Elite".
TIMBA.COM: What was your first arrangement?
CERUTO: My first professional arrangement for a recording was for "Anda dime por que" for Opus 13 .
TIMBA.COM: It seems logical to divide your work into four categories:
1) The Emiliano Salvador Project
2) The Gracias Formell Project
3) The arrangements for Paulito F.G.
4) The freelance arranging you've done since leaving Paulito for Issac Delgado, Hayla Momprie and others.
Let's start with the most recent, "A Puerto Padre", a beautifully-packaged and recorded CD containing your arrangements of nine compositions by the late great Cuban pianist Emiliano Salvador, performed by an all-star Cuban band and featuring a large number of guest performances from Issac Delgado, Chucho Valdés, Ernán López-Nussa Tata Güines and many others.
How would you describe the role of Emiliano Salvador in the history of Cuban music?
CERUTO: For me, Emiliano Salvador is the most important composer and musician of Cuban Jazz. He covered all the genres of Cuban music: Son, Bolero, Contradanza, Danzón, etc. - even Salsa, which is why he left such mark on Cuban music. His influences can be heard in the work of many internationally known Cuban musicians. Emiliano mastered the three elements of music: harmony, melody and rhythm.
TIMBA.COM: Do you remember when you first became aware of Emiliano Salvador? Did you know him personally? What personal experiences can you share about your encounters with him and his music?
CERUTO: I wasn't lucky enough to meet him personally although I've known about him since my school days. I heard him performe in Jazz festivals in Havana on several occasions. To know and study his work has left a mark on my concept of Cuban Jazz. I learned a lot from his harmonic approach and melodic movements.
TIMBA.COM: How did the idea for this CD come to you?
CERUTO: As Cuban musicians, Emiliano had such a great influence on our musical careers that I felt that we owed it to him to rescue his work.
TIMBA.COM: The "Puerto Padre Big Band" is a "who's who" of the very best musicians in Havana. Can you tell us about some of the members, how you came to select them, and what it was like working with them? Is there any chance of a tour materializing with this group?
CERUTO: The members are:
Tony Pérez (Piano)
Roberto Riverón (Bass)
Raúl Pineda (Drums)
Tomás "EL Panga" Ramos (Congas)
Jose "Pepe" Espinoza (Timbales)
Alex Abreu (Trumpet and Flugelhorn)
Carlos Betancourt (Trumpet and Flugelhorn)
Carmelo Andrés (Trumpet and Flugelhorn)
Carlos Pérez (Trombone)
Amaury Pérez (Trombone)
Roman Filiu (Alto Sax)
Henry Hernández (Baritone Sax)
Juan Manuel Ceruto (Tenor Sax)
The musicians that recorded this album all have great experience in this genre and are well known in the world of Latin Jazz. It was also a very nice learning experience to have record with the guest artists such as Chucho Valdés, Tata Güines, Gérman Velazco, Issac Delgado, Ernán López-Nussa, and others. They all gave it their best. We're open to proposals about performing live with this band.

TIMBA.COM: One of the most striking aspects of "A Puerto Padre" is the sheer number of wind instruments, up to eight, and the complex and beautiful voicings you've written for them. In addition to the harmonies themselves, you've done some wonderful things with orchestration, combining the timbres of the various winds in unique ways that sound almost symphonic at times. When we had the opportunity to visit you in your studio, we were shocked to learn that you use neither a computer nor a piano in your arranging, but simply write the scores out in pencil without the need to listen as you compose. How did you acquire this "Mozartean" ability to hear the music in such detail in your head? When you initially rehearsed the scores, did you make many changes after hearing them actual performance?
CERUTO: With the experience of so many years of arranging, one develops ease in this creative process. Before I sit down to write I get ideas in my mind which become more organized as time goes by. I always hear everything in my mind before I write it, which makes it easy to put it on paper. On this recording I didn't do any last minute changes, I had already conceived the ideas beforehand.
TIMBA.COM: On one trip to Cuba, we brought you the materials for a free-lance arranging job for a U.S.-based Timba band called Chámbo. We gave you a cassette tape with several songs, performed with only the vocal and clave and in the space of a few days, you came up with fully scored and extremely-inspired arrangements. How on earth do you write so quickly? Do you write the musical ideas as they come to you or do you rehearse each section in your head before committing it to paper? Do your ideas come to you while walking or driving, or while you sit at your desk with pencil and score paper?
CERUTO: The idea is always in my head, but sometimes when I sit down to write a song I get new ideas right then and there. The speed at which this is done comes with practice.
TIMBA.COM: We'll keep practicing!
TIMBA.COM: This is not the first time you've done an entire CD in tribute to a single composer. The first was in 1998 when you released the classic "Gracias Formell" disc. You dramatically re-arranged ten Los Van Van songs and recorded them an all-star band featuring the likes of Iván "Melón" González, Joel Paez, Angá and many of the same great horn players who play on "A Puerto Padre". The songs are sung by nine of the most famous singers in Cuba, including Issac Delgado, Paulito, Mayito Rivera, Roberto Guayacán, Hayla Momprie and Tony Calá. The final track, "Somos Van Van", has all of these singers together, trading phrases of the song and later trading guías. Tell us about the making of "Gracias Formell" and how you first got the idea for the project.
CERUTO: "Gracias Formell" was my first project on my own. Juan Formell is the most important Cuban musician in the last 20 years when it comes to dance music. He's influenced all the dance bands in Cuba. The project started with putting together the band - then we selected the most popular singers in Cuba during the year 1997. Of course no one wanted to be left out since we all owe Juan Formell so much.
TIMBA.COM: If you were to continue this idea of using other famous Cuban musicians' works as a jumping-off point for your own work, what other composers would be possible candidates?
CERUTO: This year I'll produce a recording dedicated to Elio Revé, with the help of his son who asked me to produce and arrange it. Towards the end of the year we'll record a tribute to the Cuban Trova.
TIMBA.COM: You wrote almost all of Paulito F.G.'s arrangements over a period of quite a few years. How did you first start working with him?
CERUTO: In 1992 when we were working with Opus13 he asked me to join his new group and become his musical director. To work with Paulo F.G. was a great benefit to my career. With him I had the chance to write for a huge public, since he's such a popular singer. When I wrote for him I always thought of the people.
TIMBA.COM: You and Paulito obviously had a very strong creative chemistry. Tell us about the process a song like Y Ahora Qué, Y San Toma Qué or De la Habana went through from the initial idea to the final recording.
CERUTO: The process was usually the same - first we would find a central line and then he'd give me some suggestions and I would sit down with paper and orchestrate the song. Then, before we performed it in public, we'd rehearse it and decide what which parts would stay and which wouldn't. After it had been performed in public we would work out the final details for the recording.
TIMBA.COM: Paulito has always had one of the best groups in Cuba, but the absolute peak had to be the band that recorded "Con la Conciencia Tranquila", a disc which many consider to be one of the very best and most creative timba CD's ever released. The previous disc already had many of the greatest musicians in the timba scene: Joel Paez on drums, Tomás Cruz on congas, and Alexander Abreu on trumpet, but when Joel Domínguez and Sergio Noroña took over on bass and piano you had "la combinación perfecta". How long was this band able to stay intact?
CERUTO: When these young musicians joined the band it added a new touch of flavor and Cubanía. For example, pianist Sergio Noroña is a natural at Cuban music, his Timba style is unique and has its own personality. These musicians had a lot of strength on stage too - they attracted the audience due to their great talent, and this lasted about two years.
TIMBA.COM: "Con la Conciencia" was the first Paulito disc to be recorded with a click track. What was the reason for the change and why do you prefer to use a click?
CERUTO: I think that it was the first Timba CD recorded with a click track. I also think that if a song is written in 120 BPM, it shouldn't end at 200 bpm! Sometimes in the studio musicians tend to rush the songs if you don't have a good reference point.
TIMBA.COM: Looking back on your work with Paulito, what are your favorite arrangements?
CERUTO: Some of my favorites are "Tu no me calculas", "EL Bueno soy yo", "Amiga no", and "De La Habana".
TIMBA.COM: Do you feel comfortable discussing your reasons for leaving Paulito's band in 2000?
CERUTO: I left the band so I could work on my own projects with more time and leisure.
TIMBA.COM: After leaving Paulito, you worked on Issac Delgado's new disc and toured with him briefly. Do you plan to write more timba arrangements for Issac or others in the future?
CERUTO: Issac and I have developed a good working chemistry in terms of production work. I think we'll record many more, and we already have another one as a future project but I won't get into that at this time!
TIMBA.COM: At the end of last year you were working on an Issac Delgado production of a Celia Cruz tribute CD featuring Hayla Momprie. What's new with that project?
CERUTO: Hayla's CD is about to be released - in fact, it's probably already out in Havana.
TIMBA.COM: What are your immediate and long range musical plans for the future?
CERUTO: My immediate projects are: "Algo Común" by Amaury Prez (salsa), Yoli (pop singer), Hector Tellez (bolero singer) Marlín Ramazzini (salsa-pop), and the tribute to Elio Revé we talked about earlier. I'll be arranging and producing on all these projects.
TIMBA.COM: Is there anything we haven't covered here that you'd like to add?
CERUTO: I am happy to know there is so much interest in Cuban Music around the world, I think that is gaining a well-deserved place in music around the world. We will continue to bring forward our TIMBA.
PART 2: Questions from Luis "JazzBuffalo" Moreno - record reviewer, radio show host, webmaster of JazzBuffalo.com and moderator of the legendary Latin Jazz Discussion List groups.yahoo.com/group/latinjazz.
JazzBuffalo: Many Cuban musicians divide their time between Timba and Jazz projects.
What is the relationship between Timba and contemporary Cuban Jazz?
CERUTO: Latin Jazz and Timba have many common points - they're both based on Cuban rhythms, the clave, etc. Many of the harmonies used in Timba come from Latin Jazz and, like Jazz, Timba also has a bit of improvisation.
JazzBuffalo: In the last couple of years there have been about ten debut releases by
very young Cuban jazz artists. Is it possible to speak yet of a new school
of Cuban Jazz? If so, what are its emerging characteristics?
CERUTO: I think that there's a continuity in the school of Cuban Jazz that started many years ago with people like Chano Pozo, Mauro Bauzo, Bebo Valdés, and others. The heritage is still the same. It is possible that today's musicians, with their great musical training, have more technical possibilities for improvisation, but in the end it's all a continuity of Cuban Jazz.
JazzBuffalo: Do you feel that for creative growth Cuban Jazz musicians need to travelto Europe or New York?
CERUTO: The musicians that go to Europe are probably looking to get more exposure in the eastern world. Ultimately it helps expose our music to the world.
JazzBuffalo: What other Latin Jazz projects would you like to develop?
CERUTO: I'd love to work in a combined project with North American musicians.
Tuesday, 22 March 2011, 07:31 PM