SpanishEnglishEntrevista - Alexander Abreu - April, 2004
by Michelle White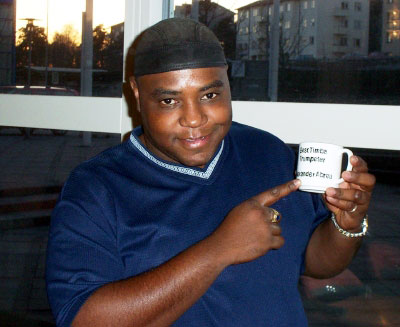 Alexander with his award
Timba.com: Congratulations from Timba.com for being voted Best Timba Trumpeter of all time. Is there anything you would like to say to your fans who voted for you?
Alexander: Well, first of all, thank you very much, thank you very much, thank you very much for following my work. In the 27 years of my life and approximately fourteen years of life as an artists I have tried to do it with a lot of sacrifices and thank you very much for following it. I can't find words. It's an award I never thought of having with the stature of the trumpeters who were on the list. I think there is a list of many trumpeters that deserve this award as much as I do. Thank you very much, thank you very much, thank you very much, thank you very much.
Timba.com: Why did you decide to play the trumpet? Why the trumpet and not the congas or something...?
Alexander: Ahh, it is an interesting story. The trumpet was by chance. It wasn't...the instrument that I liked was the flute. And at first I was into sports. Later my mother stepped in and took me to a school where you could take aptitude tests. I got the maximum marks and started to study the trumpet, as...when I was 11 I began to study. Then a flute course was offered at the school where I was, in order to go to the capital to study. And the professors...I wanted to go to study the flute and leave the trumpet. The professors told me no and they talked with my parents, they talked to everyone and they made me continue the same studies, I continued studying.
And it seems that everything gave results, but, well, everything thanks to my mother who was the one that was there the whole time behind me...Study! that is, leading, following my career step by step, by step, by step. 100% of the achievements and the fruits of my artistic career I dedicate and I owe to my mother.
Timba.com: And in your family...are there other musicians?
Alexander: Yes, my grandfather who has passed away, my uncle who has also passed away. My family has a tradition of musicians from the time they are small. But they are all músicos aficionados, musicians that didn't go to a school, that didn't study, empirical musicians. They had a conjunto in a little town in the countryside and lived on that.
Later everyone went on to live their lives in different ways, and only two continued on the road of music: my grandfather was the one who more or less helped me also in my training. But yes, I have a family of musicians.
Timba.com: And for the trumpeters, what is your secret?
Alexander: They were hours of study a while back. Now they are hours of work. The recording studio has helped me a lot, because it is a place where things have to be very, very exact. And I study, I study systematically two and half hours, three hours everyday...everyday. I sleep with the trumpet next to my bed.
And to the trumpeters who are coming out now, to those of my generation too because there are many good ones: Julito Padrón, Miguel Valdés, Orestes Machado, Raúl Rodriguez, Pavel Díaz, that is, of my generation many, many, many trumpeters that study too. Bueno, everything is in the studying, everything is in the studying.
Timba.com: And now you play two hours every day?
Alexander: Two and a half, three hours a day I have to play. But I'm almost always working, that is, daily, I'm almost always working. I have a lot of work in Cuba with the recording studios. I have a lot of work in Cuba with the orchestras. I also work with Irakere, it is a Jazz group in Cuba, that is very...that has a musical path...I would say that is the firmest, the most productive of our country. From this group have come many, many, many orchestras that are elite orchestras in Cuba. Now I'm working with Maestro Chucho Valdés. And well, with Issac Delgado, which is the orchestra with which I'm doing a fixed work.
Timba.com: They tell me that you've also written some coros.
Alexander: Coros? Oh yeah... because a couple of years ago Mr. Amauri Peréz, a famous songwriter in Cuba ... who sings...he's a trovador, he belongs to the nueva trova movement but he's a songwriter, made a salsa CD. And...I did the coros, all of the coros on the CD. On the rumba CD "La Rumba Soy Yo" that took a Grammy there is also a number that has my coros.
I like it because once in a while I can sing...in fact I want to make a CD and when the CD comes out I want to sing four songs. That is, I have a little inclination to that, I compose, I have my songs, my themes, I make my arrangements once in a while and...that...I play my guitar, that is, to bandiar, but well, I also make coros.
Timba.com: How many instruments do you play?
Alexander: How many instruments do I play? Maybe...that is, I play the trumpet very well. But, well, more or less I play the guitar and the tres. I play the tres well because my grandfather taught me, that was my grandfather's instrument, and so he taught me to play it. Tres, guitar and trumpet.
Timba.com: Thanks a lot, and congratulations on your award.
Alexander: I wanted...a little while ago I said that 100% of the achievements of my career I dedicated and owed to my mother spiritually. Musically there are two people who have marked...I wanted to...that is, that this is very important to me, what I'm going to say, two people that have marked my musical life because they have had everything to do with it's development, that is, with my development 100%. These people are Juan Manuel Ceruto and Mr. Carmelo Andrés, my teacher. I consider this man as one of the greatest trumpeters, not that Cuba has given, but that the earth has given; because of his ability, because of his charisma, because of his sound, because of his way of transmitting things and because he is my teacher. This is very important..
Timba.com: You know that Carmelo was second?
Alexander: Yes. I would have liked it to be the other way around. I would have liked to be second and that he had been first.
Timba.com: Thank you very much.
Alexander: You're welcome.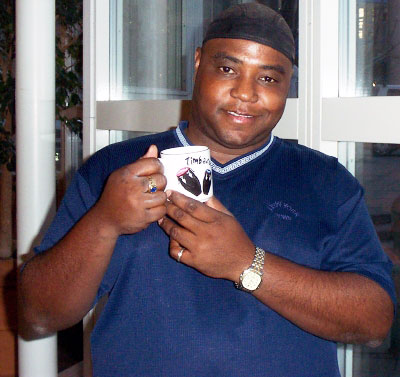 Tuesday, 22 March 2011, 07:31 PM