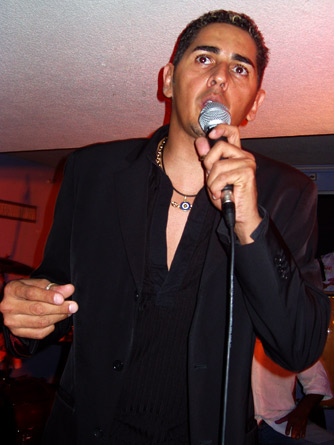 Paulo FG in Zurich - photo by David Doogue
Your last CD "Te Deseo Suerte" was a little calmer and had a lot of elements of pop and ballads in comparison to your previous productions. Now with your new songs are you returning more to Timba?
PFG: "Te Deseo Suerte" was a little experiment that I did. I went a little more towards a softer style, because I noticed that Timba was really aggressive. So I went a little more towards Salsa, and now I've moved again a little towards Timba, but more moderate. Now I'm combining it with certain elements of what is being heard everywhere such as Reggaeton, but without losing my essence which is timbero. What I'm doing is to mix these two elements, and it works well with me when I switch to very melodic schemes, with a stable and calm beat without a lot of strong harmonic changes and with more calm.
Is your new CD ready now and when will it be released in stores?
PFG: Yes, the new CD is almost ready. I want to release it in August. We're trying to get it out in August. It all depends on the work commitments I have, because I have a very strong commitment to the beer brand "Cristal". And we have a very strong compaign now during the summer in Cuba and I have to go back to do this job, but I hope that I will at least have time to finish the CD and that the CD, which is called "Un Poquito de To'", can be released.
And you have another CD of boleros?
PFG: Yes, this CD has to be released first. It should be released now this month of July on the recording lable "Bis Music" and we're going to sell this CD with this company throughout the entire world. It's a CD of anthological songs from Cuban music; songs that Beny More sang, Fernando Alvarez, Bola de Nieve, important Cuban singers from all times. And I brought a more contemporary context. We did arrangements with all of this fusion that I have in my head. We are combining it with Jazz, with Blues,...even with Hip-Hop because I have, for example, a bolero that breaks the format for a moment, and I go into a type of Hip-Hop with Yotuel, the singer from Orishas, who collaborated with me on this production.
You said that you have a lot of elements of fusion in your music. How do you keep your mind open to so many styles and tendencies in contemporary music and at the same time not lose the essence of traditional Cuban music?
PFG: The fundemental thing is to always combine it with one's original elements and essence. Maintaining one's essence is what is important, because this always identifies you. I have always listened to a lot of music of all types, and I think that I have a lot of influence from all types of music such as Jazz, Funk, Pop... music in the universal sense. All music has been good for me, I tried it, I listened to it and I assimilated it.
Well, Paulo, thank you very much for this interview.
PFG: Thanks to you and much luck!
Tuesday, 22 March 2011, 07:31 PM