Calle Real @Fasching 2017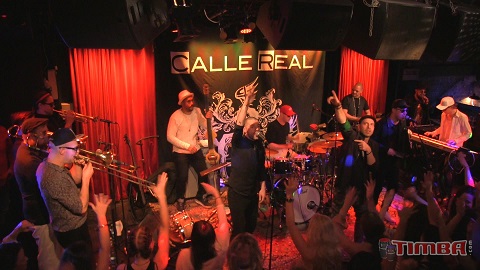 On Friday, February 10, 2017 Calle Real kicked off the 2017 tour season with a sold-out concert at Fasching in Stockholm. FAsching is an intimate club which lets you get up close and personal with the band but really means first come, first serve to the tickets and unfortunately some fans were left outside in the cold Stockholm winter. As a friend of mine said "They've outgrown Fasching".
The audience was a mix of dinner guests who probably expected jazz, but found their view of the stage blocked by the enthusiastic Stockholm casineros and salseros. Early in the evening DJ Isra got the dancefloor grooving with a great mix of pure timba. The concert began at about 9:30pm because there was an hip-hop club booked to start at midnight. The repertoire was mainly from their latest CD " ¿¡Dime Qué?!" but also included hits from their first two albums "Con Fuerza" and "Me Lo Gané"
Fasching is a long, skinny rectangle so the space right in front of the stage is at a premium and there was a lot of jostling as Calle Real took the stage. They opened with "Somos El Team" and by the end of the song the dancefloor was full of despelote and tembleque. As Thomas began greeting the audience El Dony began playing "Donymood", so I finally got to see how they intended to use it as an intro to "Te lo di", an audience favorite. By the time "Te lo di" ended no one was left standing still.
Te lo di
Continuing with the ¿¡Dime Qué?!" repertoire, they performed "Bienvenidos a mi país", which was written as a response to the political success of a nationalist, populist party in Sweden, but which resonates more than ever with current international political developments. One of the great things about the salsa scene is that it is such a mix of people — "Oye, porque yo quiero mi traiguito bien mezcla'o".
Then they slowed things down a bit with the romantic "Los dos sabemos" from "Me Lo Gané". featuring Magnus "El Narigón" Almqvist on bongos and a trombone solo by Peter "Speedo" Fredriksson and then closed the first set with the hit "Ábreme la puerta" also from their second CD. This time it was Kristian "El Niño" Persson's turn to give us a trombone solo.
Los dos sabemos
The second set started with a change to more relaxed clothing and "Pelicula en color" also from the new album. It has this sweet little bass solo at the beginning played by Alfredo Nuñez (ex-Adalberto Álvarez). There was much despelote and much manos pa'rriba. Then they slowed things down with piano and voices only intro to "Entre la espada y la pared". this is the first time I've seen this live and it is another of my favorite songs from the ¿¡Dime Qué?!" album.
Entre la espada y la pared
The it was time to take things all the way back to Calle Real's first big hit — an eleven-minute version of "Princesa" from "Con Fuerza" . Of course they couldn't have a concert without playing "Ya lo sé" with Thomas on guitar, El Dony on tres and Jonas Pomo on keyboard. They ended the second set with "Somos Calle Real" during which two ladies went on stage to do a bit of despelote. The audience called for more, so the callejeros came back to do "Sueña Conmigo" as an encore. There was a very special moment during this song was when someone was Facetiming with founding member Patricio Sobrado, who is living in Chile. Thomas took the phone on stage so Patricio could get a look at the audience who responded with cheers and applause.
It was a great concert and really the only complaint is that they had to end the salsa night as soon as the encore ended to prepare for the hip-hop club. It would have been a perfect night if we could have stayed until 3am dancing to DJ Isra's tunes.
Thursday, 16 February 2017, 09:00 AM