SpanishEnglishIntervew with Alexander Abreu - 2009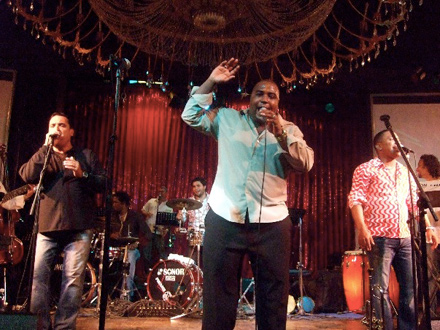 The album is finally out and their first European tour is underway. At last everyone outside of Cuba can find out for themselves what those lucky enough to have already seen the band in their homeland already know: Alexander Abreu's Havana D'Primera, although not even two years old, are one of Cuba's most exciting groups.
At the age of just 33, Alexander is already a veteran, having played for many years with Paulito FG, and recorded with just about every group of renown in Cuba. With his first job as director of a band, he is singing, playing, composing, arranging, and directing some of Cuba's best known musicians.
Their first album, Haciendo historia, is destined to be a classic, ranging confidently through salsa, timba, son, pilon, conga and pan-Caribbean styles, as well as containing obvious nods to funk and jazz.
On the eve of their first European tour, I spoke to Alexander during a rehearsal with the band in Guanabacoa in Havana. He talked about their first album, his musical influences, and why he incorporates bits of reggaeton hits in his live shows.

Gabriel Wilder: Why have you included so many different styles on the album? Son, timba, salsa...?
Alexander Abreu: I was looking for a way to bring back the tradition of Cuban music in every sense. We took on son [for Después de un beso], because son motuno is a well-known genre in the world and is very Cuban - very Cuban. But we looked for a more modern form to focus on. We wanted it to be son montuno and to be modern, with an interesting theme.
As for the more progressive songs like Historia verdadera and Niña bonita, we were looking for a fusion of Cuban rhythms with more Caribbean styles, such as those from Martinique ... those places. I think it gives a different flavour to the group and to the CD. They are things that are not often done and that can work.

GW: You recorded Mi música with Grupo Danson, why did you decide to record it again?
AA: Mi música is a song that I love very much. So I recorded it with Grupo Danson, and it became popular in Europe. But I felt the need to record it with Havana D'Primera, because it was the only way to consolidate it; to do it with perhaps a little more quality – with Danson it turned out very well – but with more quality, because inside of me, it has evolved; the song has developed more. So to do it again would be a way to tell the people what the song really means to me. And I think that as I no longer work with Grupo Danson and I work with Havana D'Primera it was good to make it known in Cuba, where they didn't know it, not with Havana D'Primera, nor with Grupo Danson. So I think that these songs, that for me were interesting, like Historia verdadera and Mi música, they deserved to be recorded again. That's why I did them again.

GW: Las cosas de un amigo is very funky song, but it also seems to have three distinct rhythms at the beginning.
AA: It has influences of pilón and conga. Las cosas de un amigo is like a conga ... I was looking for a way to bring a conga and do it [with] another rhythm. But it has a lot of pilón ... The lyrics – almost all that I write is based in fact. At the beginning, when I started with the group, many said, to my face, "how great, how great", but behind my back they said, " that's awful, that's awful". [This song] tells of the friend who says one thing to your face and another behind your back. That's what it's about.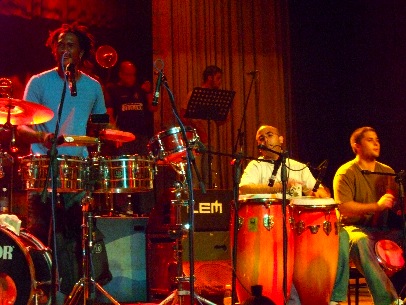 Havana D'Primera percussionists Rodney Barreto, Guillermo del Toro and Miguelito Ruiz Garcia
GW: Which artists and groups, from Cuba or elsewhere, have influenced you?
AA: I come from a group ... from Paulito FG y u Elite. I played with them for a long time, I played seven years with that band. I think they were the biggest influence on me ... Because at that time, there was a kind of music being made that had a lot of feeling, I would say. They were writing very pretty lyrics and something great was happening with the music. This is why I did the song called Resumen de los 90, where I sing lines [from different songs] and talk about things that happened during that time; it's a way to relive that age again. I think that this period, and specifically, this group, had the biggest impact on me.
Now there is a group in New York that is an inspiration to me, because I saw many great musicians reunited and touring throughout the world, making a disc together; well-known musicians and singers playing together. I saw them in Copenhagen and they gave me the inspiration to return to Cuba and they left me thinking, I can, I can do it.

GW: What was the group called?
AA: The Spanish Harlem Orchestra. They served as inspiration to do something similar, I mean ... it's the same idea - it's their idea actually – to do a similar thing in Cuba, with the musicians that live in the recording studio ... session musicians, as we call them here in Cuba. From this idea more or less, was born Havana D'Primera.

GW: But your music has lots of other influences too, like jazz and funk. There aren't any groups from these genres...?
AA: Yes, that also is part of the need that musicians have to express their virtuosity. And it makes it more commercial, so that the majority of the people that listen to it understand it. Also it makes the concerts special because, modesty aside, not many groups have virtuoso musicians that can play solos in a concert as we do. There might be one, two, three in a band, but here, almost everyone can do it. So it seems to me that to combine [these factors] with the music that we are doing, results in an interesting product and that it's also something differenct to what has been done before, and what continues to be done with this music.

GW: Where did the idea come from to include reggaeton in your live shows?
AA: The idea ... to combine a bit of what is happening with reggaeton ... I listen to it, and I dance to it and I think that it's interesting because it addresses many aspects about the realities of living in Cuba. It's often very relevant, that's why it has become so popular. The same here as in Puerto Rico where it started. Also it addresses many things from the street – slang – and the rhythm is very appealing in the sense that it's very easy to dance to, you dance to it any way you want. In Cuba, [the reggaetoneros] are very witty and the themes are very funny and interesting.
So I do it in Cuando el rio suena [live] because I already quote from a reggaeton song by Don Omar that says: "Aunque digan que soy, un bandolero donde voy..." So from here, I make a kind of performance because I know that the people like it, I know that it's something different and it energises the song. In Europe, I don't know if it will work because many people aren't familiar with reggaeton. I will do the song as it is on the disc – perhaps with two or three coros more and then develop another idea with the song.
But here it works. Cuba is another thing, and that's why many people want to come and see the groups play here, because it has a different energy, it's more dynamic. So that's why I do it, it's something that's popular right now and as I already quote from a Puerto Rican reggaetonero, I continue from there and I continue quoting things and making things from there.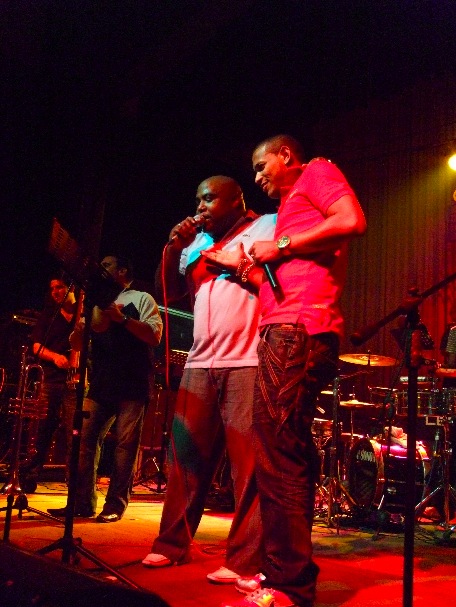 Alexander sings La figura with Alexander from Gente D'Zona at la Casa de la Musica.
GW: And you also do a version of a Gente D'Zona song, Lola.
AA: La figura, it's called. In reality, the song is mine. We took a chorus from reggaeton: "Como te gusta mami, vacilar con la figura" Then we invited Alexander, from Gente de Zona [who recorded the song that it comes from] to do a concert with us, and he told me that the song, as they sing it, what it has between the choruses are bits of people rapping. They are some reggaetoneros that I believe are called Alerta Maxima that made the song with them [Gente D'Zona]. So I thought that if I'm going to make it a salsa I have to do some lyrics. And so I wrote the lyrics that I sing in the song: "Será que andas por ahí viviendo de una manera que nadie se explica. Será que el mundo se te está cayendo y los problemas se te multiplican. Será que vives con aquel salsero que todos conocen, que cuando baja el brazo de ese hombre se te sube el nombre…"
I was looking for a lyric that had something to do with the group and with the coro that they sang originally; something appealing, that anyone, on both sides of the world, could dance to, and could become a hit. I'm even thinking of recording it. So the chorus is by them; from their song. But I wrote the rest of the lyrics.


GW: Why did you decide to do it?
AA: What I was saying a little while ago. In Cuba there was always salsa. Salsa salsa salsa – the salseros were at the forefront of everything. And we are still fighting for that. Then the genre of reggaeton appeared, and became a hit. So a division has been created between the two. And what I am looking for is a way to unite the two forms. I think that it's also a way to enrich the music.

GW: In concert, the songs have more coros and more tumbaos - many more additions to them than on the disc. Are these things created before you record, but you find they have to be edited out during the recording process? Or do they develop over time during the concerts?
AA: That's how they work live. Live they wind up with these extra things. Because the disc only has a certain duration. I think that actually on my disc, one of the ways in which we push the envelop is with the duration of the song, because in this music there is a lot to say and it's very difficult to put all of the things that you have to say inside three minutes and a half, four minutes. So in the disc you cut out things, you try to make the song as coherent as possible and as short as you can, but, live, in the concerts, you can develop the theme. I think this gets the people in. That's a typically Cuban thing. I think that in other places in the world where they make this type of music, salsa [and they play it live], they make it more like the disc, they make the things more exact - it's very professional on their part and at times we do it like that too. But we, as Cubans, have more things to say sometimes and this makes the songs a little longer. But I think that it livens up the concert; it gives the concert a positive energy and this is what I look for, the positive energy. It doesn't matter how long I play for ... I would play for three hours if I could. If they let me, I would keep playing for a long time.

GW: How do you see Havana D'Primera in comparison with other Cuban groups?
AA: [Laughs]

GW: Why do you laugh?
AA: Because this is a delicate subject. In Cuba great groups exist. Groups that have influenced me a lot, as is the case with Los Van Van. For me, they are the greatest group in Cuba. That's how I see it, because they are one of the oldest, like Reve, they are the oldest, and for this I respect them. They have been in charge of delivering this music for many years, while we have been doing it for only one. We will see if we can do it for such a long time. We will look for a way of doing it as they have managed to do it. To keep evolving musically since [the 60s] until now is a very difficult task. So I respect them a lot.
But Havana D'Primera is a group that has been born with much talent. The difference between Havana D'Primera and the rest of the groups is that ... we have a hallmark ... We are trying to find lyrics that are the sweetest possible, that even when you read them, you think that they are pretty; like a poem. However, when you put it into practice on the stage, when you take to the dancefloor, you enjoy it like nothing else in the world and you feel it like an emotional charge so strong, so strong; like some words that you can see. So I think that the difference is there. To combine the strength, the energy of the rhythm with poetry. Thats why I say in Resumen de los 90 that "vengo con el paso de la conga y un libro de poesía". That is the difference.

GW: When people come to see Havana D'Primera, what is it that you'd like them to feel or think?
AA: I want them to the think that they are seeing a strong musical phenomenon, I want them to enjoy the lyrics. I want everyone to understand what I have to say, the message that I bring. I want them to enjoy the concert like nothing else; I want them to want to go, as has happened to [you] that goes everyday, all the days – and this motivates me. That's what I want, simply that. That is what I am looking for in this tour, that we are going to Europe ... I'm going to look for a way to do this, to make a show that involves all the European people, so that even the people that don't know salsa can undertsand me. I want to find a way to do it because I have done it in Cuba. There are people that listen to rock, that dance to rock, people that don't have anything to do with the world of salsa, yet they go to my concert because they find something different in the subjects, in the things ... There is a lot of poetry. I am a lover of that, to say pretty things, to express it in this form. But also I have a lot of energy and I carry the rhythm inside me. So I express it like that, in this way.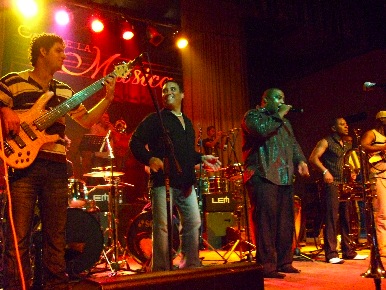 Havana D'Primera perform at Casa de la Musica, May 17, 2009
GW: I remember last year that you said that you were keeping the admission prices of your gigs low, so that Cubans would be able to go and could get to know the group. Do you think that you achieved this?
AA: No, that's a difficult task in Cuba. The task of promotion in Cuba is difficult. I think that there are many Cubans that don't know the group. In Europe, it's more well-known, much more well-known than here in Cuba. In Cuba the work of promotion has been poor and it's very hard work, it's very difficult to promote it thoughout the whole island. It's work that takes years. Many years. In Europe they listen to so much salsa and the people are always looking for the latest thing; all you need to do is put an interesting product on the market and the people are going to consume it; and so it evolves rapidly. In Cuba it's very difficult because throughout the years you have had lots of good things; I mean, to be able to get people to trust in what you are doing is difficult.
For now, what we have achieved, is that the new people that come, they want to come back. So of course, we are not as were a year ago ... we are at a middle level, where we can now ask a more adequate price so that the musicians can earn a little more for their concert and not do it just for the love of the art.
What we have achieved is that everyone who comes to see us wants to come back. And well, I have a weekly matinee, and in the matinee there is always an audience, there are always people that come and there is a great atmosphere. Sometimes we play at night in some places where a lot of the people don't know the songs. And well, a disc makes concert, and Havana D'Primera's disc still hasn't come out – I think it will be released this week ... and the Egrem shops are going to start selling it throughout Cuba. So that's a step forward. Perhaps inside one year, we will do this interview again and things will be different.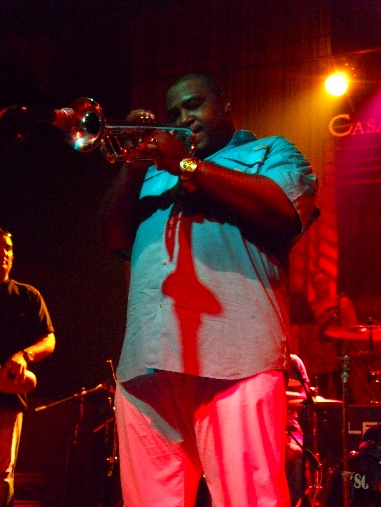 GW: Where do you see the group one year from now?
AA: Bearing in mind what we have done this year and that some changes perhaps will be made in terms of production so that things function better, bearing in mind the results that we have seen this year, I think that next year will be better. I can see the group in Cuba with the same level as those that have been established for many years. I mean, the group has it; but well, a [higher] level as far as publicity goes. I can see the group in the market in Europe – that is, above all, what inspires me to do this; to be a breakout hit, where the people are going to be crazy for it and they go looking for more music and more music and more music.
I keep creating music, doing lots of different things that are all going to come out. And so, what I hope for one year from now is to see the fruits of the positive work.

GW: Do you have plans for another album?
AA: Yes.
GW: You need to do a live album.
AA: I want to record a live DVD; to do a live concert. O rather, I want it to be audio-visual because I think that the group on CD is great, but live ... I want to do that too. Perhaps I will do it for the middle of the year, but at the end of this year, perhaps October, I will start to record the next CD. There is a lot of music and you have to express it.

GW: Do you continue to write?
AA: Yes, all the time. Everyday there is a new song. Even on my Facebook page sometimes I put pieces of lyrics to see the reaction of the people and it's pleasing to see that everyone likes what I'm doing. They say I am a poet, but in reality they are pieces of songs ... that I am doing and well, this will all come out before too long.
There is more; much more.

Thanks to Paulina Vidal
© Copyright Gabriel Wilder; used by permission
Tuesday, 22 March 2011, 07:31 PM