Indice - Table of contents
New Stuff
[hide]
Photos of the Day
[hide]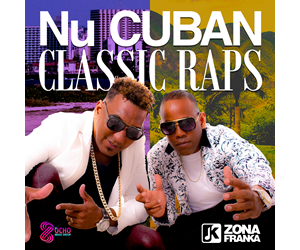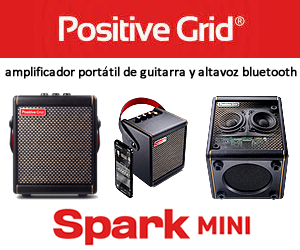 Concert Report - 2002 Summer Tour - Yoshi's, Oakland
V. JUNE 9, 2002 ­ ISSAC AT YOSHI'S IN OAKLAND




photos by Peter Maiden

The Timba experience at Yoshi's is quite different from Havana, or Tampa for that matter -- no earplugs necessary, no distortion to be heard from the $100,000+ sound system, no cigarettes, shows start on time, exquisite food, and not a bad seat in the house. And Yoshi's has addressed the principal complaint of the past by opening up the dance floor.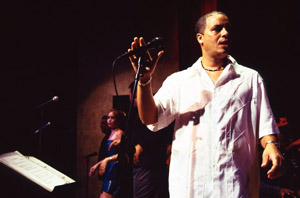 The only downside, which took Issac and Co. a little while to get used to, was that unlike Tampa and Miami, 90% of the crowd had not just moved here from Havana, and as such didn't sing along with the coros very well, which cramped Issac's style a bit, since his arrangements depend so much on audience participation. But the crowd's lack of bilingual expertise didn't dampen their enthusiasm as each of the eight sold-out or nearly sold-out shows concluded with a thundering demand for an encore, something which never happens in Cuba. (photo by Peter Maiden).
After a somewhat tentative first set on Thursday, the band caught fire and tore it up for the next seven shows. Everything is subjective, but I thought the second show on Saturday was the emotional peak -- the Afro-Cuban folkloric breakdowns, such as the one on "Deja que Roberto te toque" were devastating.
Each set was different. Two of the most exciting were the first sets of Friday and Saturday which featured "Nadie me quiere bailar" from "La fórmula" as a vehicle for solos. Carlos Averhoff Jr. was stunning both nights, with the type of broad phrasing, a la Kenny Garrett, that's too often missing in Latin Jazz. Averhoff plays more than just flurries of notes and brought each solo to an powerful emotional peak. And on Friday, Ceruto followed him with a flute solo which combined the same type of broad rhythmic phrasing and emotional climaxes with a gorgeous melodic opening. There were also terrific solos by bassist Alfredo Hechevarría, drummer Rodney "Barretico" Yllorza, conguero Denis "Papacho" Savón, Pavel Díaz on flugelhorn, and of course, the great Rolando Luna on piano.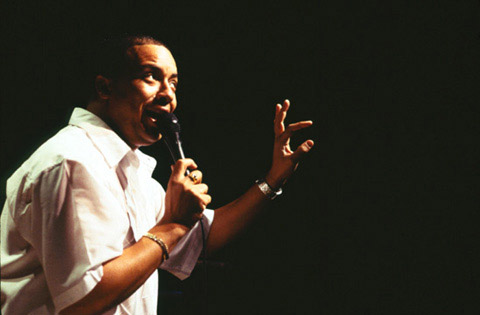 photo by Peter Maiden
Unfortunately, Issac didn't play as much of the material from the upcoming album as he did in Florida, but he did play at least one or two new pieces per set. Like "La fórmula", "Versos en el cielo" promises to be a gorgeous and sophisticated album, full of great vehicles for live Timba.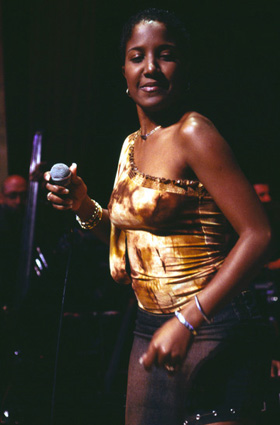 photo by Peter Maiden
Haila Mompié was particularly impressive at Yoshi's. Waiting backstage for two thirds of each set seems to get her exceptionally fired up and she set the band and crowd on fire each time, especially with the Timba anthem "Yo no me parezco a nadie".
Next up for Yoshi's is César "Pupy" Pedroso y Los Que Son Son in September.
Friday, 24 December 2021, 10:57 AM