Cubadisco 2014 International Symposium
Cubadisco 2014 International Symposium / Simposio Internacional Cubadisco 2014
Percussion / La Percusión
Centro de Investigación y Desarrollo de la Música Cubana (CIDMUC)
La Habana, Cuba, 19-23 de Mayo, 2014
By Bill Tilford, all rights reserved / todos los derechos reservados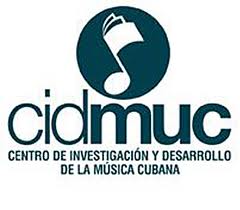 ENGLISH: One of the most important events associated with Cubadisco is the International Symposium, which takes place in the main facility of the Centro de Investigación y Desarrollo de la Música Cubana (CIDMUC) in Havana. This conference Is sponsored by CIDMUC, the Instituto Cubano de la Música (ICM) and Cubadisco. It lasts for five days and is attended primarily by musicologists, music industry experts, music educators, and journalists. Musicians who are giving demonstrations at the conference are also in attendance. I attended the 2014 Symposium as a participant and was very impressed by the the quality of both the presentations and the discussions, which were often quite spirited when some of the more challenging topics were addressed.
Since the theme for Cubadisco 2014 was Percussion, many of the presentations were related to that subject, which was addressed from multiple perspectives. One of these presented an extensive catalogue classifying and showing the interrelationships between numerous percussion instruments. On an international level, some of the highlights included presenters from Puerto Rico (Viento de Agua), Venezuela (Herencia) and Colombia (Terradentro) who both explained and demonstrated instruments that are distinct to their cultures. Many of the Venezuelan percussion instruments, such as the tambor Cumacao, which is nearly 5 feet long, the Macuaya, approximately a meter long, and the smaller tambor Clarín, are seldom if ever seen in the United States. Colombian instruments included a unique cousin to the maraca which is much larger, played as a single instrument rather than in pairs and can produce more tones than the more common maracas found in most countries. Although it may not be quite as versatile as a chekere, its function can be similar to that. The Colombian gaitas, wind instrumenta that more closely resemble a long shepherd's flute that the bagpipes which also carry that name, were also explained and demonstrated. There were also demonstrations by representatives of Martinique and Trinidad and Tobago.

A Changüi ensemble also gave a demonstration. Two of the most interesting aspects of this were the bongo, which is different (and played in a different style) than the more stereotypical bongo seen in the United States, and the use of two clarinets, which is seldom seen in this music when it is performed north of Cuba. (The clarinet was also featured in the Puerto Rican demonstration.)

The Guest of Honor country, Trinidad and Tobago, sent a delegation which gave a presentation advocating "One Caribbean Voice", a collection of proposals for joint projects to promote the music of several Caribbean countries.
ESPAÑOL: Uno de los eventos más importantes asociados con Cubadisco es el Simposio Internacional, que tiene lugar en la instalación principal del Centro de Investigación y Desarrollo de la Música Cubana (CIDMUC) en La Habana. esta conferencia está patrocinada por CIDMUC, el Instituto Cubano de la Música (ICM) y Cubadisco. Tiene una duración de cinco días y está asistido principalmente por musicólogos, expertos de la industría de la música, profesores de música y periodistas. Músicos que están dando conferencias y demostraciones también asisten. Asistí al Simposio 2014 como participante y quedé muy impresionado por la calidad tanto de las presentaciones y de los debates, que a menudo eran bastante vigorosas cuando se abordaron algunos de los temas más dificiles.
Dado que el tema de Cubadisco 2014 fue Percusión, muchas de las presentaciones se relacionaron con ese tema, que se abordó desde múltiples perspectivas. Uno de ellos presentó un extenso catálogo clasificando y mostrando las interrelaciones entre numerosos instrumentos de percusión. A nivel internacional, algunos de los aspectos más destacados incluyeron presentadores de Puerto Rico (Viento de Agua), Venezuela (Herencia) y Colombia (Terradento) que explicaron y demostraron los instrumentos que son distintos a sus culturas. Muchos de los instrumentos de percusión venezolanos, como el tambor Cumacao, que tiene una longitud cerca de 150cm; el tambor Macuaya, con una longitud de aproximadamente un metro, y el tambor más pequeño, el tambor Clarín, se ven en los Estados Unidos rara vez (sí alguna vez). Instrumentos de Colombia incluyeron una forma única de la maraca, mucho más grande, que se toca como un solo instrumento y no en pares y puede producir más tonos que las maracas más comunes que se encuentran en la mayoría de los países. Aunque quizás no sea tan versátil como el chekere, su función puede ser similar a ello. Además, las gaitas colombianas, instrumentación de viento que se asemajan más a una flauta muy larga de un pastor que las gaitas que también llevan ese nombre en otros países, se explicaron y demostraron. Representantes de Martinica y Trinidad y Tobago también presentaron su música.

Un conjunto Changüi también dió una demostración. Dos de los aspectos más interesantes eran el bongó que es diferente (y tocalo en un estilo diferente) que el bongó más esterotipado visto normalmente en los Estados Unidos, y el uso de dos clarinetes, que rara vez se ven en esta música cuando se toca al norte de Cuba (el clarinete también fue ofrecido en la demostración de Puerto Rico).
El Invitado de Honor, Trinidad y Tobago, envió una delegación que presentó una proposición abogando por "One Caribbean Voice", una colección de propuestas de proyectos conjuntos para promover la música de varios países del Caribe.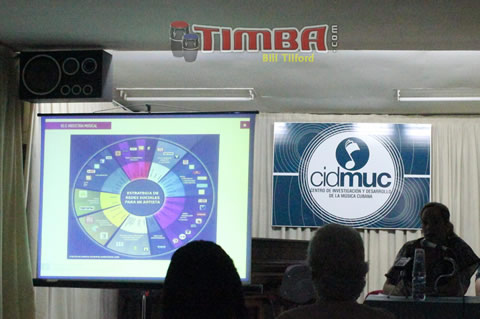 ENGLISH: Some of the most spirited presentations and discussions concerned Cuban music and the Internet. In addition to sessions dedicated to social media such as Facebook and YouTube, there was a session dedicated to Suenacubano.com, a relatively new (and growing) Cuban portal dedicated primarily to currently-performing Cuban popular musical groups. There are also a few Jazz musicians in the website. It is already an excellent information resource regarding the groups that it features. New releases of recordings made in Cuba are also beginning to appear more frequently in I-Tunes, and if this activity continues to increase, new recordings may become much easier to purchase globally in the future. The website for Revista Clave, an academic journal of the Instittuto Cubano de la Música which is now available on line, was also featured. After observing the discussions during the symposium, this writer believes that a greatly expanded use of social media such as Facebook is likely to continue in the future, but any significant increase in the number of websites dedicated to individual artists is likely to remain a topic of debate in Cuba, at least in the short term. You can read more about Cuba's Internet pages dedicated to music here.
ESPAÑOL: Algunas de las presentaciones y discusiones más briosas abordaron la música cubana y el Internet. Además de las sesiones dedicadas a las redes sociales como Facebook y YouTube, hubo una sesión dedicada a Suenacubano.com, un relativamente nuevo (y creciente) portal cubano dedicado principalmente a los grupos que están tocando la música popular cubana en directo en la actualidad. El sitio tambien incluye un par de Jazzistas. Ya es una excelente fuente de información con respecto a los grupos que se dispone. Nuevos titulos de grabaciones realizadas en Cuba también están comenzando a aparecer con mayor frecuencia en I-Tunes, y si esta actividad sigue aumentando, las nuevas grabaciones pueden llegar a ser mucho más fácil de comprar a nivel mundial en el futuro. El sitio web de la Revista Clave, una revista académica del Instituto Cubano de la Música, que ahora está disponible en linea, tambén se presentó. Después de observar los las discusiones durante el simposio, este autor cree que un uso ampliado en gran medida de las redes sociales como Facebook probablemente va a continuar en el futuro, pero cualquier incremento significativo en el número de sitios web dedicados a los artistas individuales probablemente siga siendo un tema de debate en Cuba, al menos en el corto plazo. Se puede leer más acerca de la paginas de Internet en Cuba dedicadas a la música aquí.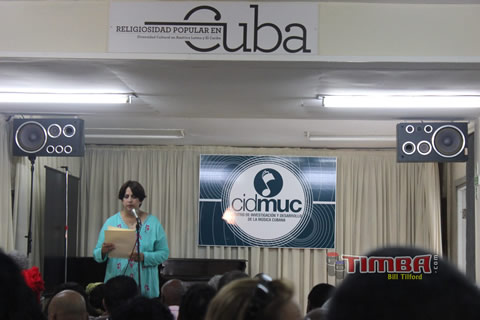 Laura Vilar, President of the Cubadisco Symposium (musicologist)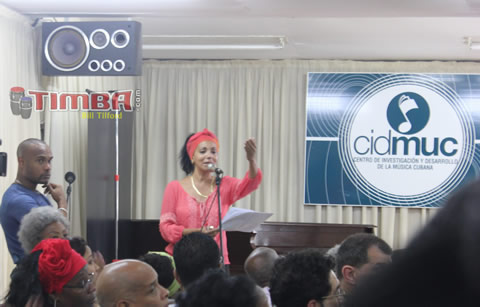 Cary Diez, Vice President of Cubadisco (musicologist)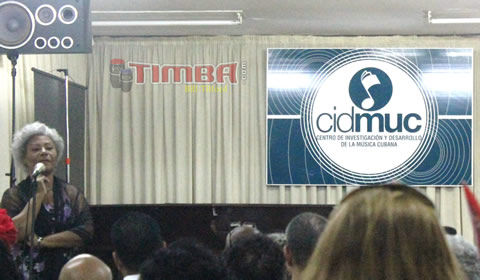 Alicia Valdés, Coordinator of the Cubadisco Symposium (musicologist)

ENGLISH: Another especially interesting presentation concerned the images of women that are being presented in modern Cuban popular music. At times, this discussion reminded me of similar discussions in the United States regarding the portrayal of women in Hip Hop, Reggaeton and similar genres. I will not be surprised if we eventually see the emergence of a cadre of a Cuban version of artists like Queen Latifah to present the female point of view in these genres, but I left the simposium with the impression that this development has not yet taken place. It is worth mentioning that much of the current leadership of Cuba's musical infrastructure is female, but many, perhaps most, of these leaders have usually been focused on more musically significant genres such as Jazz and Classical. Nevertheless, the existence of those leaders will probably serve to impose some long-term constraints on the types of lyrics about women that attract similar controversy in the United States.
ESPAÑOL: Otra presentación especialmente interesante abordó la imágenes de las mujeres que se presentan en la música popular cubana moderna. A veces, esta discusión me recordaba las discusiones similares en los Estados Unidos con respecto a la representación de la mujer en el Hip Hop, Reggaeton y generos similares. No me sorprendería si al final vemos la aparición de un cadre de una versión cubana de artistas como Queen Latifah para presentar el punto de vista feminino en esos géneros, pero salí del simposio con la impresión de que este desarrollo no ha tenido lugar hasta la fecha. Vale la pena mencionar que gran parte de la dirección actual de la infraestructura musical en Cuba es feminina, pero muchas, quizás la mayoría, de ellas se han centrado por lo general en géneros más significativas (musicalmente) como el Jazz y Clásica. Sin embargo, la existencia de estas líderes probablemente servirá para imponer algunas restricciones a largo plazo de los tipos de letras acerca de las mujeres que atraen controversia similar en los Estados Unidos.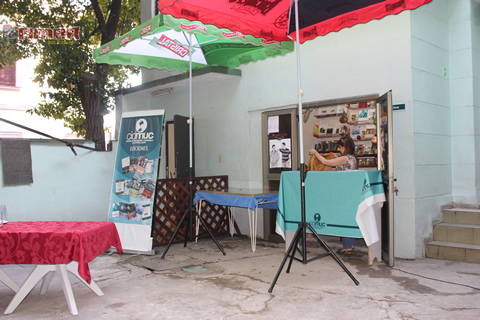 CIDMUC's Store

ENGLISH: The symposium also featured a small store at which books, magazines and some recordings were available. I purchased several, and I would recommend that readers especially seek out Cuadernos CIDMUC and Revista Clave. In addition to articles about music, Cuadernos provides some fascinating insights into the continuing evolution of the music industry in Cuba.
ESPAÑOL: El simposio también contó con una pequeña tienda en la que los libros, revistas y algunas grabaciones estaban disponibles. He comprado varios de ellos; yo recomiendo que los lectores busquen especialmente Cuadernos CIDMUC y Revista Clave. Además de los articulos sobre la música, Cuadernos ofrece algunas ideas fascinantes acerca de la evolucion continua de la industria de la música en Cuba.
PHOTOS/FOTOS (Click on the images to enlarge them / Haz clic en las imágenes para ampliarlas):
Row/Fila 1: Changúi
Row/Fila 2: Terradentro (Colombia)
Row/Fila 3: Terradentro, Viento de Agua (Puerto Rico)
Row/Fila 4: Herencia (Venezuela)
Row/Fila 5: Herencia, Simeon Sandiford, Representative of Trinidad & Tobago
Row/Fila 6: Percussion, Viento de Agua
The full official schedule of the symposium is / El horario oficial completo del symposio está here/aquí
You can read much more about Cubadisco 2014 here.
Se puede leer mucho más acerca de Cubadisco 2014 aquí.























Bill Tilford - domingo, 27 julio 2014, 06:16 pm