Cubadisco 2016 Awards Ceremony
Cubadisco Awards Ceremony, Tropicana, Havana, Cuba May 2016
Photos by Patrick Bonnard (page) and Bill Tilford (gallery)
Commentary by Bill Tilford
All rights reserved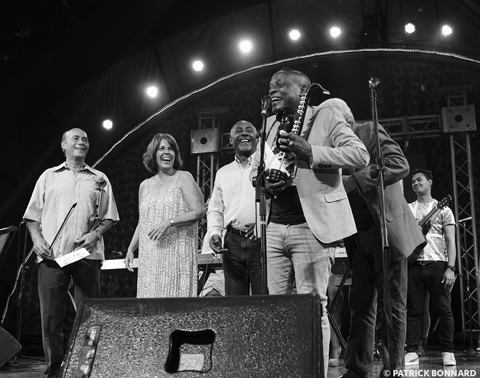 Elito Reve wins a Gran Premio (photo Patrick Bonnard)

ENGLISH: Cubadisco 2016 was dedicated to Música Bailable (Dance Music), and Timba and Changüi had prominent places at the table this year. Elito Revé was awarded one of the two Gran Premios along with the award for Música Bailable -Maestros for the album La Salsa Tiene Mi Son (you can read a review here). El Noro and 1ra Clase won the Música Bailable - Nuevo Talentos category for Sin Escala (review here), and NuJazz artist Zule Guerra won the Opera Prima (Best New Artist) category for Blues D'Habana (review here). The other Gran Premio went to Caribe Nostrum by Guido López-Gavilan y Orquesta Música Eterna, Aldo López Gavilán & Trio Concertante. A Premio de Honor was awarded to José Alberto "El Canario", whose projects with Cuban artists include the recent Latin GRAMMY® and Cubadisco winning No Quiero Llanto (review here) with Septeto Santiaguero. Eduardo Sandoval won the Jazz Category for Caminos Abiertos (review here), and Cesár Lopez won the Instrumental Music category for Sonajero (review here), which is also an excellent Jazz album. The President of the Awards Committee, Jorge Gómez (also the leader of Grupo Moncada), also presided over the ceremonies.

2016 is the 20th Anniversary of Cubadisco, and there were a few category changes - for example Jazz Cubano and Jazz were merged into Jazz. Música Bailable was again divided by Maestros and New Talents. The awards ceremony once again took place in the Tropicana, with Elito Reve y su Charangon performing live at the ceremonies. As has frequently happened in recent years, Colibrí received the most nominations and awards:

Unicornio (Abdala) received 10 nominations and 2 awards
Bis received 24 nominations and 7 awards
EGREM received 27 nominations and 10 awards
Colibri received 39 nominations and 11 awards.

Additionally, various independent labels and projects received a total of 35 nominations and 9 awards, and 8 other international prizes were awarded. Both Gran Premios were awarded to projects associated with more than one label: the Reve project carries the Bis label in Cuba and the SONY label internationally; The Gavilán project carries both the Colibrí and La Ceiba labels.
The overall quality of the entries this year is excellent, and in addition to the radio stations in Cuba, another place to hear a lot of the music in many of the categories (especially Música Bailable, Jazz, and Concert Music) is From the Isle of Music, which broadcasts on shortwave from the United States on Monday nights and from Germany on Tuesdays. (Yes, there are ways to listen on line during the broadcast is you don't have a shortwave.) This program always includes some nominees and winners from Cubadisco 2016 along with some interviews with musicians. For more information, see the From the Isle of Music Facebook page here.
This writer does have one friendly suggestion for the Awards Committee of Cubadisco:
Here in the United States, we have also had a number of disputes regarding whether there is really a need for both a Latin Jazz and a Jazz category, so it is not a surprise that there are similar disputes in Cuba regarding whether to have both Jazz and Jazz Cubano, especially since all of the musicians are Cuban. However, as you are hearing with your own ears, Jazz recorded by Cubans, especially those who are working in other countries, is evolving to incorporate a number a styles not normally associated with Latin or Cuban Jazz. As we have discovered in the US, it may be difficult to have other styles of Jazz and Cuban or Latin Jazz compete effectively in the same category. I would urge you to watch this closely every year, and in years where there are enough submissions to justify two categories, it may be worth having two. Jazz is, after all, a genre where Cuba truly excels.
YOU CAN DOWNLOAD THE OFFICIAL CUBADISCO BOOKLET OF WINNERS AND NOMINEES HERE. (Many thanks to Lourdes Martínez of Periodicos Cubadisco and to the Instituto Cubano de la Música)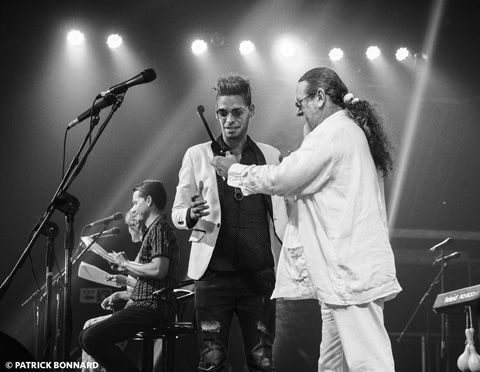 El Noro wins Música Bailable - Nuevos Talentos (photo Patrick Bonnard)
ESPAÑOL: Cubadisco 2016 fue dedicado a la Música Bailable (Dance Music), y Timba y Changüi tuvieron lugares prominentes en la mesa este año. Elito Revé fue galardonado con uno de los dos Gran Premios, junto con el premio a la Música Bailable -Maestros por el álbum La Salsa Tiene Mi Son (pueden leer una reseña aquí). El Noro y 1ra Clase ganaron la categoría Música Bailable - Nuevos Talentos para Sin Escala (reseña aquí), y NuJazz artista Zule Guerra ganó en la categoría de Opera Prima (Mejor Artista Nuevo) por Blues D'Habana (reseña aquí). El otro Gran Premio fue Caribe Nostrum por Guido López-Gavilán y Orquesta Música Eterna, Aldo López Gavilán y Trío Concertante. Un Premio de Honor fue otorgado a José Alberto "El Canario", cuyos proyectos con artistas cubanos incluye el reciente Latin GRAMMY® y Cubadisco - ganando No Quiero Llanto (reseña aquí) con Septeto Santiaguero. Eduardo Sandoval ganó en la categoría de Jazz con Caminos Abiertos (reseña aquí), y César López ganó en la categoría de Música Instrumental con Sonajero (reseña aquí), que es también un excelente álbum de Jazz El Presidente del Comite del Premio, Jorge Gómez (también el líder de Grupo Moncada), también presidió las ceremonias.
2016 es el 20 aniversario de Cubadisco, y había unos pocos cambios de categorias - por ejemplo, Jazz Cubano y el Jazz se fusionaron en Jazz. Música Bailable se dividió una vez más por maestros y nuevos talentos. La entrega de premios tuvo lugar una vez más en el Tropicana, con Elito Reve y su Charangon compartiendo su música en vivo durante las ceremonias. Como ha ocurrido con frecuencia en los últimos años, Colibrí recibió el mayor número de nominaciones y premios:
Unicornio (Abdala) recibió 10 nominaciones y 2 premios
Bis recibió 24 nominaciones y 7 premios
EGREM recibió 27 nominaciones y 10 premios
Colibri recibió 39 nominaciones y 11 premios..
Además, varios sellos y proyectos independientes recibieron un total de 35 nominaciones y 9 premios, y 8 premios internacionales fueron galardonados. Los dos Gran Premios fueron otorgados a los proyectos asociados con más de un sello: el álbum de Reve lleva el sello Bis en Cuba y el sello SONY internacionalmente; El álbum de Gavilán lleva ambos Colibrí y La Ceiba.
La calidad general de la música de este año es excelente, y además de las emisores radiales en Cuba, otra oportunidad de escuchar un montón de la música en muchas de las categorías (especialmente Música Bailable, Jazz, y Música Concertante) es From the Isle of Music, que se emite en onda corta desde los Estados Unidos los lunes por la noche y desde Alemania los martes. (Sí, hay maneras de escuchar en línea durante la transmisión si no tiene una onda corta.) Este programa siempre incluye algunos nominados y ganadores de Cubadisco 2016, junto con algunas entrevistas con los músicos. Para obtener más información, consulten la página Facebook de From the Isle of Music aquí.
Este escritor tiene una sugerencia amigable para la Comite de Premio del Cubadisco:
Aquí en los Estados Unidos, también hemos tenido una serie de disputas sobre si realmente existe una necesidad de una categoría de Jazz Latino y una categoría de Jazz, por lo que no es una sorpresa que hay disputas similares en Cuba en cuanto a si tener Jazz y el Jazz cubano, sobre todo porque todos los músicos son cubanos. Sin embargo, como están escuchando con sus propios oídos, Jazz grabado por los cubanos, especialmente los que trabajan en otros países, está evolucionando y incorporando una variedad de estilos que no se asocian normalmente con el Jazz Latino u Cubano. Como hemos aprendido en los EE.UU., puede ser difícil tener otros estilos de Jazz y Jazz Cubano u Latino competiendo de manera efectiva en la misma categoría. Pienso que la situación merece observación de cerca todos los años, y en los años en los que hay suficientes albumes para justificar dos categorías, quizas vale la pena tengan dos. El jazz es, después de todo, un género donde Cuba verdaderamente se destaca.

Pueden descargar el folleto oficial con los ganadores y nominados de Cubadisco 2016 aquí. (Muchas gracias a Lourdes Martínez de Periodicos Cubadisco y al Instituto Cubano de la Música.)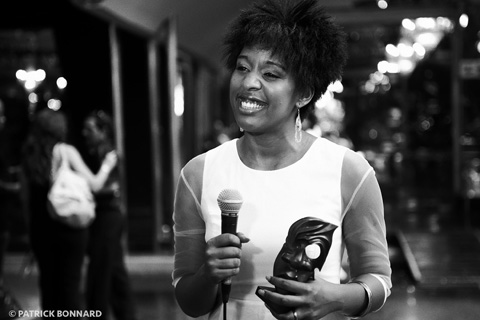 Zule Guerra wins Opera Prima (Best New Artist, photo Patrick Bonnard)
ENGLISH: To view a gallery of more photos from the awards ceremony, click on the images below to enlarge them. (All of the photos in the gallery are by Bill Tilford)
ESPAÑOL: Para ver una galería de más fotos de la premiación, haga clic en las imagenes de abajo para ampliarlas. (Todas las fotos en la galería son por Bill Tilford)














Bill Tilford - lunes, 31 octubre 2016, 12:49 pm