SpanishEnglishNo Quíero Llanto -Tributo a Los Compadres
CD Review: No Quíero Llanto - Tributo a Los Compadres
Septeto Santiaguero & José Alberto El Canario (Los Canarios Music/EGREM 2015)
Review by Bill Tilford, all rights reserved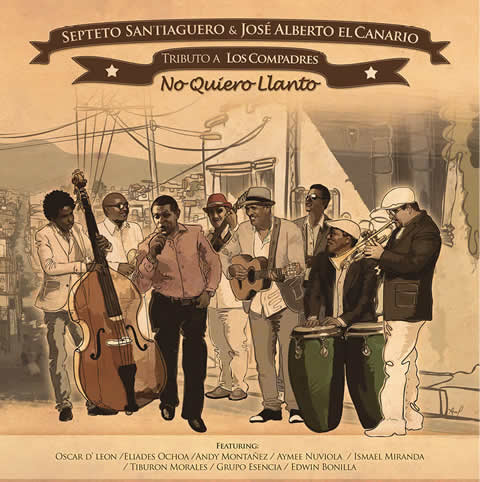 Septeto Santiaguero has a history of successfully collaborating with artists from other countries while maintaining an authentically Cuban sound, but I have to confess that when I first read about the scope of this new project, I was a little skeptical until I began to listen to the finished product, which is a joint project by Septeto Santiaguero and José Alberto "El Canario". Not only is there an international roster of guest artists, but there are several invited ensembles, and while the core of the project was recorded in Cuba, several pieces of it were recorded in various locations in Puerto Rico and the mainland United States. Projects with this many moving parts frequently end up sounding bloated and sterile, and the process of making this recording would be a fascinating subject for a "making of" video.

HOWEVER,
No Quiero Llanto not only escapes the sad fate of less-fortunate projects of this scope, it is also Septeto Santiaguero's best recording in many ways. The additional musicians add something vital to each of the tracks in which they are used. For example, the high-octave work of guest trumpeter Eduardo Bringuez makes El que usted conoce no soy yo grab your attention and hold it. El Canario's whistling brings an extra dimension to some of the songs without sacrificing authenticity. The addition of the group Conga de Los Hoyos and the corneta china of Joaquín Solórzano makes Su señoria la conga explode in a way that no basic septet would be able to accomplish without help. Each of the songs in this release has something musically distinctive about it while remaining authentic and faithful to the spirit of the original songs.
The concept of the album, which is composed of 2 CDs, is a tribute to the legendary Los Compadres. Approximately two thirds of the songs are compositions by Los Compadres members, and the remainder are by artists who who influenced by Los Compadres. The liner notes contain a brief history of the duo (which actually involved three musicians, Lorenzo Hierrezuelo, Máximo Francisco Repilado "Compay Segundo" and Reinaldo Hierrezuelo "Rey Caney", during its history).
Septeto Santiaguero is commemorating its 20th Anniversary, and No Quiero Llanto is expected to have very good distribution in the United States soon. For those who love this style, this is a must-have.
No Quiero Llanto won a Cubadisco 2015 award in the Traditional Son category as well as the 2015 Latin Grammy® for Best Traditional Tropical Album . Here is an official video:
Songs:

CD 1:
1. Hay un runrún con Los Compadres (feat. José Alberto El Canario)
2. Con la espuela (feat. Edwin Bonilla)
3. Mi son oriental (feat. José Alberto El Canario & Oscar D'Leon)
4. El lunar
5. Pensamiento (feat. José Alberto El Canario & Ismael Miranda; with Orfeón Santiago & Cuarteto de cuerdas de la Orquesta Sinfónica de Oriente)
6. El que usted conoce no soy yo
7. Metiste la pata (feat. Aymee Nuviola)
8. No quiero llanto (feat. José Albero El Canario)
9. Su señoria la conga (with Conga de los Hoyos)
CD 2:

1. Baja y tapa la olla (feat. José Alberto El Canario & Andy Montañez)
2. Sabroso
3. Rita la caimana (feat. José Alberto El Canario; with Estrellas de la Charanga)
4. A Georgina (feat. Eliades Ochoa)
5. Amor silvestre (feat. José Alberto El Canario)
6. Sarandonga (with Grupo Esencia)
7. Se secó el arroyito
8. Pruebe este tono (feat. José Alberto El Canario & Tiburón Morales)
9. Gusto y sabor (with Magic Sax Quartet)
Roster of musicians, producers and engineers in No Quiero Llanto
| Role - Instrument | Name |
| --- | --- |
| Musical Director | Fernando Dewar |
| Septeto Santiaguero | Fernando Dewar (tres, coros, lead vocals, maracas, campana); Inocenia "Chencho" Heredia (lead vocals, minor percussion, second voice, coros); Rudens Matos (guitar, coros, lead vocals); Giraldo "El Flaco"Bravo (lead vocals, minor percussion, tres, coros); Alberto Castellanos (congas, bongó, campanas, pailas); Dairon Robert (contrabass & baby bass); Alaín Dragoni (trumpet); Alden González (percussion & coros in Su señoria la conga) |
| Guest Vocalists | Jose Alberto El Canario, Oscar D'Leon, Andy Montañez, Aymee Nuviola, Eliades Ochoa, Ismael Miranda, Tiburón Morales |
| Other Individual Guest Artists | Alejandro Almenares (requinto); Eduardo Bringuez (trumpet); Edwin Bonilla (conga, bongó & campana); Jesus Fernandez (laud); Tony Rodón (coros); Luis Albero Veranes (pailas); Joaquín Solorzano (corneta china); Manuel "Fosforito" Collazo (bongo y campana); Miguel Cintra (clarinet); Angel "Happy"Gutierrez (percussion & coros); Julius Vázquez (congas, bongo & guiro); Reynier Silega (bass vocal); David Sin (coro) |
| Invited Groups | Conga de Los Hoyos (Su señoria la conga); Grupo Esencia (Sarandonga); Magic Sax Quartet (Gusto y Sabor); Orfeón Santiago (Pensamiento); Estrellas de la Charanga (Rita la caimana); Cuarteto de cuerdas de la Orquesta Sinfónica de Oriente (Pensamiento, A Georgina) |
| Executive Producers | Fernando Dewar, Alden González, José Alberto El Canario & José Raposo |
| Producers | Fernando Dewar & Alden González |
| Mixing | Maximo Espinosa, Fenando Dewar, Alden González & Michael Lazarus |
| Mastering | Michael Lazarus of Latinmusicmastering.com |
Bill Tilford - Sunday, 20 October 2019, 11:55 PM