New Stuff
[hide]
Photos of the Day
[hide]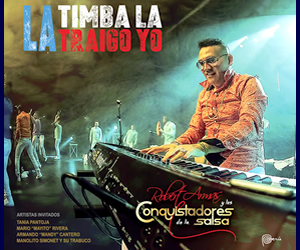 Michel Herrera at La Zorra y El Cuervo
Michel Herrera at La Zorra y El Cuervo, La Habana, Cuba, 16 May 2014
Photos and commentary by Bill Tilford, all rights reserved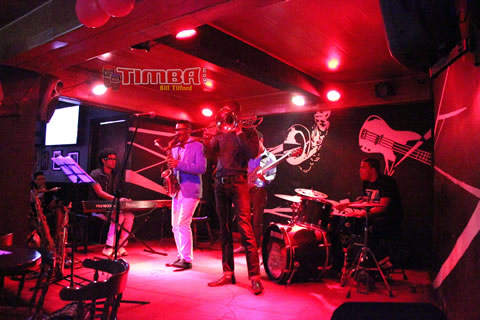 ENGLISH: An important difference between restaurants and clubs in Havana is that there are privately-run restaurants, known as paladares, but at this writing, the clubs are all operated by state companies. I have not been to many of the dance clubs, but the quality of the Jazz clubs I have visited is quite good. One of the oldest and best is La Zorra y El Cuervo, which is in a basement location on La Rampa that has hosted music for more than half a century and became a club dedicated to Jazz in 1997. The ambience - intimate, at times a little smoky, excellent sound - reminds me of some of the better Jazz basement clubs in Chicago in the 1970s and 1980s such as the Jazz Bulls and the Rush Street incarnation of the Jazz Showcase. The cover charge is usually 10 CUC, which includes two drinks, the crowd has been mostly serious listeners when I have been there, and you can purchase CDs.

At age 30, Michel Herrera represents the best of the new generation of Cuban Jazzistas. He already performed with an impressive collection of Cuba's best Jazz artists and Timba bands, and recently, in addition to directing his own group, Joven Jazz, he has also been performing with the Jazz band of Joaquín Betancourt and the Habana Jazz Collective directed by Yasek Manzano. The sessions that I heard this night were by his own project.

I have been remarking for some time now that the new generation of Cuba's Jazz musicians would transform the world's perception of their music once it became known to wider audience. Michel's group is at the tip of the spear in this movement. At one moment, it can play My Funny Valentine with conviction; at the next, it can make you suspect that the musicians listened to a lot of avant garde and post-bop Jazz, and then just when you are ready to label it a conventional Jazz band, it throws in some R & B passages to prevent you from defining it too strictly.
You will be hearing a lot more from this young man in the future, and he is one of the performers who are going to convince you to include Havana on your short list of the most important cities for Jazz on the planet if you have not already done so. HIs newest recording, Madre Tierra (our review is here), was made with the goal of reaching a global audience. It deserves to do precisely that.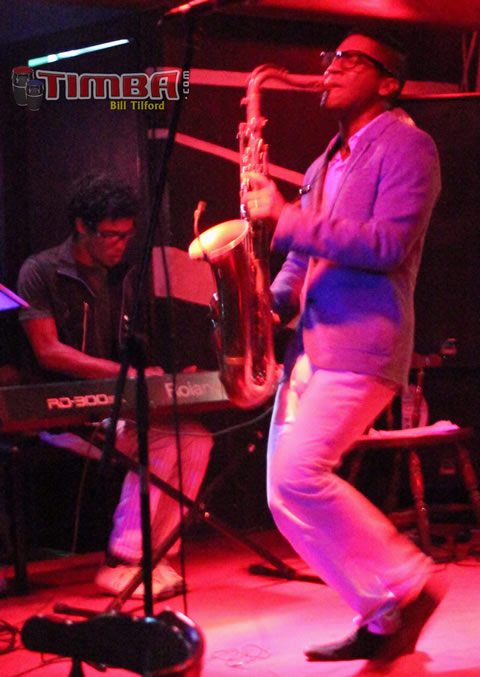 ESPAÑOL Una diferencia importante entre los restaurantes y los clubes de La Habana es que hay restaurantes de gestión privada, conocidos como paladares, pero en este momento, todos los clubes están operados por empresas estatales. No he estado en muchos de los clubes de baile, pero la calidad de los clubes de Jazz que he visitado es bastante buena. Uno de los más antiguos y mejores que presenta el Jazz es La Zorra y El Cuervo, que está en una una ubicación sótano en La Rampa. Se ha acogido la música durante más de un medio siglo y se convirtió en un club dedicado al Jazz en 1997. El ambiente- imtimo, humeante a veces, excelente sonido - me recuerda a algunos de los mejores sótanos de Jazz en Chicago en los años 1970 y 1980 como los Jazz Bulls o la encarnación en Rush Street del Jazz Showcase. El cover suele ser de 10 CUC, que incluye dos bebidas, el público ha sido (cuando he estado allí) en su mayoría oyentes serios, y se puede comprar CDs.
A los 30 años, Michel Herrera representa lo mejor de la nueva generación de jazzistas cubanos. Él ya ha trabajado con una impresionante colección de los mejores jazzistas de Cuba y bandas de timba, y recientemente, además de dirigir su propio grupo, Joven Jazz, también ha estado tocando con el grupo de Jazz de Joaquín Betancourt y el Habana Jazz Collective dirigida por Yasek Manzano. Las sesiones que escuché esta noche eran de su propio proyecto.
He estado comentando desde hace algún tiempo que la nueva generación de músicos de jazz de Cuba va a transformar la percepción del mundo de su música una vez el público más amplio la escuche. El grupo de Michel está en la punta de lanza de este movimiento. En un momento dado, puede desempeñar My Funny Valentine con convicción; en la siguiente, puede hacer que usted sospecha que los músicos escucharan una gran cantidad de avant garde y post-bop Jazz, y luego sólo cuando esté listo para etiquetarlo como una banda de Jazz convencional, ellos añaden algunos pasajes de R & B para evitar una definición demasiado estricta.
Ustedes van a oir mucho más de este joven en el futuro, y él es uno de los artistas que van a convencer a usted para incluir Habana en su corta lista de las ciudades más importantes de Jazz en el planeta si no lo ha hecho de modo. Su más reciente grabación, Madre Tierra (nuestra reseña está aquí), se grabó con el objetivo de atraer a un público global. Se merece lograr precisamente eso.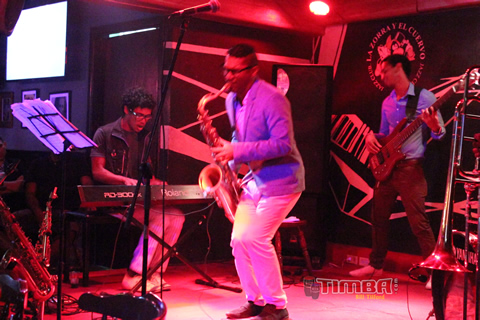 Click on the images below to enlarge them / Haz clic en las imágenes para ampliarlas.





















Bill Tilford - lunes, 04 agosto 2014, 06:06 pm