SpanishEnglishMadre Tierra - (Colibrí) - Released 2013
CD/DVD Review: Madre Tierra by Michel Herrera and All Stars de Jóvenes Jazzistas
(Colibrí 2013)
Review by Bill Tilford, all rights reserved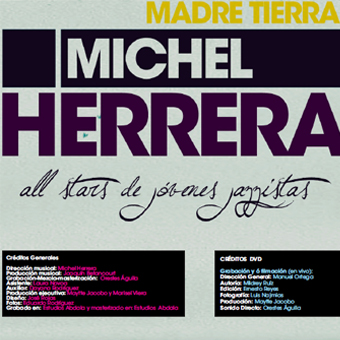 Madre Tierra is another recording in Colibrí's consistently-superb Jazz Young Spirit collection. There are two different packages in circulation with the same contents but different packaging and a different track order. Both are of excellent quality. The leader of the project, 30 year old saxophonist Michel Herrera, is one of the most important forces in today's youth movement in Cuban Jazz, and the Producer, Joaquín Betancourt Jackmann, has been an important mentor to the new generation as well as leading one of the Jazz bands (Habana Jazz Collective) currently in Cuba's musical vanguard. Although there is a Cuban core to this music, it does not confine itself to historical musical boundaries in any respect. There is extensive use of odd meters, elements of music from all corners of the world (including a Bossa Nova rendition of Pequeña serenata diurna and a Middle Eastern dumbek in Intensidad), wonderful post-Bop sections, moments of Free Jazz and Hip Hop, echoes of Coltrane and rich orchestrations in the ballads. One of the songs, Noche de Paz, is given a treatment that could do for it what John Coltrane did for My Favorite Things - there is pure ecstasy in Michel's soprano sax solo here. Afro changüi pa' mi gente is a miniature suite with several different movements. My Funny Valentine is interpreted faithfully as a Jazz song but also has a nice, slow R & B groove in the rhythm section that would also justify radio play on R & B programs in the United States.

The DVD includes an interesting Making Of section (in Spanish with English subtitles) along with a photo gallery and some of the songs.
Madre Tierra is a masterpiece, and if you really want to understand what is so exciting about the current Jazz scene in Havana, this is an excellent place to start.
Colibri's technical memorandum, which includes the credits for each song and for the project as a whole, is here.
Alternate CD Track Order:

1. El aventurero
2. La flor de la juventud
3. Intro - Madre Tierra
4. Madre tierra
5. Yo vengo a ofrecer mi corazón
6. Pequeña serenata diurna
7. Afro chantui pa'mi gente
8. My funny valentine
9. Noche de paz
10. El reparador de sueños
11. Pa'la cima
Alternate DVD Order:

Madre tierra
Pequeña serenata diurna
My funny valentine
Intensidad
Extras:

Making Of
My Funny Valentine Clip
Photo Gallery
Credits
Bill Tilford - Monday, 04 August 2014, 06:03 PM