Lo Nuevo
[hide]
Fotos Del Día
[hide]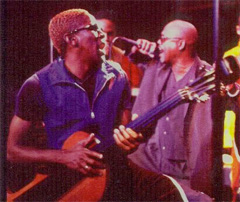 isntrumento/instrument: bajo/bass
grupos/groups: Charanga Habanera, Bamboleo, Los Chicos de la Salsa
grabaciones/recordings: Charanga Habanera: El ciclón de la Habana; Charanga Habanera: Chan Chan Charanga; Charanga Habanera: Charanguero Mayor; Charanga Habanera: Soy cubano, soy popular, Rolo Martínez: Para bailar mi son, Los Chicos de la Salsa: soon to be re-released, Matt Morrish: Trinket Lover; Broken English: The Carribean Cruise
lugar de nacimiento/birthplace: La Habana
formación musical/musical background: Amadeo Roldán
lugar actual de residencia/current residence: Europe?
Randolph Chacón Paz entró como bajista en la Charanga Habanera en agosto de 1998.
Nació en La Habana, el 6 de abril de 1977. Es un muchacho alto, delgado, risueño y con un gran sentido del humor. A sus 24 años es ya padre de Estelle, quien tiene un añito de vida.
Randolph estudió contrabajo en la escuela "Guillermo Tomás" de Guanabacoa y más tarde se graduó en el conservatorio "Amadeo Roldán", con 2 premios en diferentes concursos de contrabajo que se realizaron en los años 1989 y 1992.
Su primera experiencia laboral fue con el grupo juvenil creado en Amadeo, "Los Chicos de la Salsa", donde tocaba bajo eléctrico. Después de la disolución de este, y de la conclusión de sus estudios, decidió explotar sus conocimientos de la música clásica, trabajando con un quinteto en el hotel Cohíba. Tampoco dudó en incursionar en el jazz, y se sumó junto con Helder Rojas al quinteto "Latin Project" de Jesús Fuentes. De todas formas parece que este no era su destino, y la vida lo llevó a Bamboleo, aunque por muy poco tiempo. Con esta orquesta grabó el CD de Rolo Martínez "Para bailar mi son".
Para su dicha, David Calzado le propuso tocar con la Charanga Habanera hace casi 4 felices años, trabajo que combina de vez en cuando con producciones discográficas realizadas en Cuba, con figuras nacionales e internacionales. [Majela Serrano]
En 2006 Randolph se fue de la CHhranga y estaba un tiempo en Europa. Actualmente no estamos ciertos donde está ni que hace. [Michelle White]
Randolph Chacón Paz began playing bass with Charanga Habanera in August of 1998.
Michelle White - miércoles, 23 marzo 2011, 03:31 am