New Stuff
[hide]
Photos of the Day
[hide]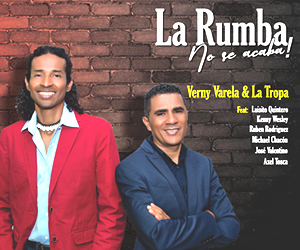 SpanishEnglish15th Latin GRAMMY® Nominations
15th Latin GRAMMY Awards Nominees Announced
by Bill Tilford, all rights reserved
(Disclaimer: The opinions expressed in this article are Bill Tilford's and not necessarily the official opinions of Timba.com)
Although there is unquestionably a lot of excellent music in the current crop of nominees, for followers of Cuban music, the news is less exciting this year. There is nothing to match Juan Formell's Lifetime Achievement Award from last year, and LARAS is still behind NARAS when it comes to recognizing Timba and the new Jazz being produced by Cuban artists both on the island and in the diaspora. Still, there are some items worth mentioning:
Most nominations by a single artist: Calle 13 with nine. One of their songs, Ojos Color Sol, is a collaboration with Silvio Rodríguez in the Song of the Year category.

Most nominations for A Cuban artist: Descemer Bueno with five, including for Record of the Year and Song of the Year, Best Urban Performance and Best Urban Song for Bailando with Enrique Iglesias and Gente d'Zona, as a songwriter for Loco with Enrique Iglesias. Worth noting: This was released with both English and Spanish versions,, it peaked at number 12 in the Billboard Top 100, and it was released by Universal, a major label. For those of you who haven't seen it, here are both versions:


Best Comtemporary Tropical Album: This is the category where we would have liked to have seen some Timba among the nominees. The closest thing to it is the Afro-Cuban Funk of Palo!, which was nominated for Palo! Live. here's a slice of the video associated with that album:


The other nominees in this category are Todo Empieza Soñando by Julio César, El Color de mi Locura by Jorge Luis Chacin, Soy El Mismo by Prince Royce, and Mas + Corazón Profundo by Carlos Vives

Best Salsa Album: There is a serious Cuban-American entry, First Class To Havana, by Aymee Nuviola with some serious collaborators like Gonzalo Rubalcaba. The other nominees include 3.0 by Marc Anthony, Dejame Así by Maite Hontelé, Mis Mejores Recuerdos by Tito Nieves and 50 Aniversario by Mario Ortíz All Star Band. I haven't heard Maite's album yet, but I did see her hanging out in La Habana during Cubadisco 2014. (She was born in the Netherlands and now lives in Colombia).

Best Traditional Tropical Album: The lone nominee from a Cuban artist on a Cuban label this year is El Eliades Que Soy by Eliades Ochoa y El Cuarteto Patria on Bis Music, one of the major labels in Cuba. This has actually had very good on-line distribution, and Eliades also has the Buena Vista Social Club connection. The other nominees in this category are Sentimiento Anacobero by Alquimia La Sonora del XXI, Grandes Exitos de las Sonoras, con la Más Grande, La Sonora Santanera, by Sonora Santanera, Solo Pa' Los Jóvenes ... de Corazón by Pijuan & Los Baby Boomer Boys and Opus IV by Viento de Agua. This last group turned up at Cubadisco 2014 for a workshop and concert.
Best Jazz Album: LARAS has for the most part been snubbing the new Jazz in Cuba and the new wave in New York. It's not that the music being nominated isn't worthy, but an ongoing revolution in the genre is largely being ignored. NARAS is actually doing a better job with that. That said, Cuban-Americans Paquito D'Rivera and Arturo O'Farrill do appear here with excellent recordings. The nominees are Song For Maura by Paquito D; Rivera & Trio Corriente, Normas by Juan García-Herreros "Snow Owl", The Offense of the Drum by Arturo O'Farrill & The Afro Latin Jazz Orchestra, and 3rd Element by Luisito Quintero. (Arturo O'Farrill also received a nomination for Best Instrumental Album for Final Night at Birdland.)
Pablo Milanés has been nominated for Best Vocal Album for Renacimiento, which was released by Universal Music Mexico.
So far, Cuba's fine Classical Music output isn't appearing on the radar here, but Leonardo Gell appears as one of the Producers for Musica De Compositores Costarricenses, Vol. 1. Leonardo has made a mark in the classical music world in several countries, especially Cuba and Costa Rica.
If there is a lesson in these nominations for fans of Cuban music, it is that more radio play and distribution in North America will be necessary in order to improve this picture. Fortunately, both of those things are beginning to happen. Cuban websites such as Suenacubano.com, other websites such as Timba.com and radio programs such as Domingos Felices will be helpful in this effort.
For the complete list of nominees, see Latingrammy.com
Thursday, 25 September 2014, 10:11 PM